Motocross des Nations Preview
September 19, 2006 1:40pm
Oh 'ello! Lord Alfred Weigandt here to comment on the immense travesty that is finally going to end this weekend at the World's Greatest Motoring Spectacle in the Motoring Spectacle World, the Motocross of Nations! (Apparently, some of you Yanks didn't get Giuseppe's memo on turning it back into a proper English race and now the French des Nations you've preferred since President Bayle reigned over Colonial MX.) For the past year, I have been living in me 'ole WWII bunker underground, enduring the endless tragedy that was upon us. Like a meteor sweeping down, pummeling the earth and killing the dinosaurs, the sorry victory by the American MXoN team last year placed an ash cloud over the sport and threatened to end the supply of power to the motocross world. But ah, these dinos die hard, and the mighty Brits have remerged stronger than ever! With this year's race just a few days away, I can finally awaken from hibernation and celebrate with glorious glee. Plans have already been set forward, as surely the Peter Chamberlain Trophy has been sent back to its rightful home in GREAT Britain, where sadly it had to suffer through a full year under the careless watch of the Septic Tanks (Yanks).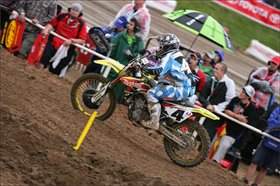 The World's Fastest Novice?

Luckily, poor Peter's tarnished memory will soon be restored when the Brits take it back, the cleansing agents of champagne and tears (joy for us, sorrow for them) bringing the traditional lustre back to the grand old cup. And what a Sunday, bloody good Sunday it will be! The win will not only bring Peter back home, it will also break the very temporary tie atop the all-time des Nations leader board between the Brits and the Yanks.
The year has been a microcosim of this Dark Age of Motocross—a far cry from the glory days of BSAs and Triumphs and British dominance of the sport. Now is a time when stadium cross and flashy neon pink girly leathers have softened a sport once reserved only for the mightiest of souls. Luckily, this will end when the Brits prevail on home soil this year, putting the final touches on a plan that has been in motion for years.
It started with a magnificent MXdN hosted in England at Foxhills in 1998. When the heavens opened, the hopes of a young Richard Carmichael II were dashed in his first appearance on European soil (or should I say his hopes were soiled—along with his drawers, most probably!) The stinging there left a mark on his spirit that surely hasn't healed today. Save for a lucky performance in France in 2000, when double World Champion Fred Bolley was struck on the nose with a missile of sorts, thus ending the home French team's chances for a win, Carmichael and the Americans have struggled in Europe.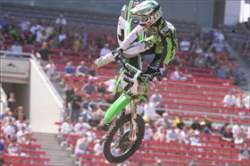 This is James Stewart, showing his "sideways" style over a "stadium cross" jump.

Carmichael returned in 2003, and this time the Americans were soundly trounced right in front of the King of Belgium (well, Stefan is the real King but due to the stately prominence of a monarchal system in Belgium, the royal King was there, as well). The brilliant team riding of Sir Everts (who chose to let Carmichael flail away at the front on a highly-modified works Honda CR250 one-off to win a moto while he guided his team to victory) basically scared the American team away. The Yanks actually stayed home in 2004 to lick their wounds, as their GOAT looked much more like a scared puppy then!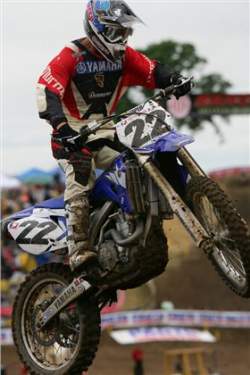 Chad Reed is one of many proud racers to battle in the MXdN, but then stop participating after moving to the U.S.

At that point the American hopes were well and truly crushed for good. The only saving grace came in a fit of irony and happenstance. Americans' poor performances overseas actually tempted many a talented GP jockey over to the U.S. scene, where they would unfortunately be betrayed by the lavish lifestyle and devastating stadium cross conditions in the States.
And this movement led to the American team winning against a weak field at last year's MXdN. The home French team consisted of the mere shells of once-mighty warriors Pichon, Vuillemin and Tortelli. The trio had long-since made the grievous error of leaving the green pastures of Europe for the green lazer lights of American "football" stadiums. Those Yanks can soften the hardest spirit and lull riders into a sense of rock ' roll existence the likes of which the English rock 'n roll forebearers had never intended. The Frenchmen are not immune—anyone seen Last of the Mohigans?—and the charred remains of this talented trio were unable to fight for victory last September.

What's worse, their sad state continues on to another generation. Chad Reed was a motocross star in Europe, competing for the 250 title during his days here (although he was unfortunately saddled with the impossible task of beating Pichon, who was as close to perfect in motocross as a rider could be). Reed then came to the U.S. to avoid the competition. How fondly I remember Reedy, with a Union Jack embedded in his Aussie flag, trouncing the world at the des Nations in a moto in aught one! But that was Reedy pre-U.S. Sadly, he has not ever gone back to the event, and has bowed out again this season. While once seeming to posses the same talents of Everts, Reed has never been able to measure up, and now he's left without a factory ride. Sadly, he's created his own team named, oh what's this? "L&M Yamaha." Hmm… wasn't Mr. Everts already utilizing that title half a decade ago? Pity the lad.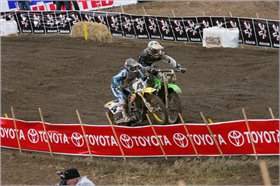 Can these two get along for the weekend?

Similar fates have reached
Michael Byrne
, and the latest Aussie casualty, Sharky McFarlane. We won't be seeing them this weekend. I'm sure we won't see the once-mighty
Grant Langston
, either. And even after leaving America, the fear of the MX of Nations continues for riders like Darryl Hurley, who will "choose" to miss the race again this year, even though the Kiwis would have a genuine shot at it with BT and Coppins en route.
Oh wait, what's that? BT has been living at the RC ranch? Then he may well have lost the bollocks to step up and race. He has been mysteriously absent from racing all season, long due to a bad ACL and a shoulder problem. Oh dear, weren't those the two injuries that slowed Mr. Carmichael? Curious, that.

In fact, it appears that although the Americans can't actually beat the GP riders, they can literally beat them up, as in injuring their body and spirit. Many a GP star has found riches in America, but they all traded success and pride to get it.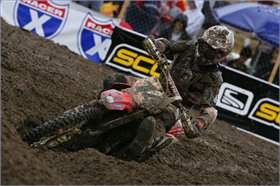 Kevin Windham has been winless since last year's des Nations victory.

Luckily for the European stars that remain, the Americans have depleted their own arsenal as well.
Kevin Windham
and Gio Tedesco were great racers a year ago, enjoying triumphs and even championships on their home turf. But ever since they ventured to Ernee last year, they have both been shut out of victory lane. Can the psychological damage inflicted on them last year be reversed? Doubt full.
And there will be another factor with which to contend this weekend. Mother Nature! Foxhills was a beautiful oblivion, as one American rag called it. And so it is that Carmichael is playing a yes/no game. He knows all too well that the British weather is unpredictable. Shall it piss down again this weekend, his shoulder will surely feel too weak to race. Probably if it's dry too.

And where is the true sportsmanship for the American team? Carmichael has injured himself by racing with his own so-called teammate, Jimmy Stewart. The mighty Brits made sure to use the Belgians as their season-long sparring partners, never taking chances in tandem that could ruin the whole team. How many times did 'ol Thorpey hurt himself while battling Lord Kurt Nicoll? Not even once, and remember, the battles between those two were probably the fastest and most intense ever in the history of this sport!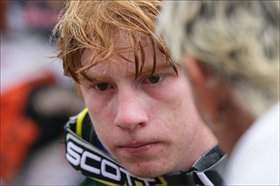 Villopoto has got to be thinking about young Brit Tommy Searle.

Such glory is not far from striking twice. This weekend's event will begin the dynasty anew and the return to power for the British Empire. In the MX2 class, teenaged sensation
Tommy Searle
will have his worldwide coming-out party. Like the many amazing tiddler rides in the past history of this event, including amazing performances by a pre-Americanized Tortelli and the all-time 1-2-5 ride by Paul Malin, Searle will wax the world's best this weekend and set the course of total world domination into action. Sadly for the Yanks, the many comparisons made between young Mr. Villopoto and Mr. Carmichael will only ring true, for Searle's victory will only set the course of history forward for another eight years. Let this be Villopoto's Foxhills!
And all of this brings me to the most significant member of the American team. With Carmichael looking for an out, and Villopoto saddled with Prince Searle, the Americans will have to pin their hopes on Stewart. And this, friends, is a dangerous game. He simply can't seem to keep the bike straight or upright, especially over jumps, and surely such a hideous style will result in a crash heard 'round the world. Perhaps some film of Thorpey or Lord Kurt's jumping style would serve Young Mr. Stewart well. Lord Kurt never let his open-class Kawasaki get sideways on him over a jump, by God!

Indeed the Americans will lose this one by fighting too many wars on too many fronts. While they introduce GP riders to their scene in the hopes of sapping their powers, they can't stop the constant flood of new talent that is being created much faster than they can ruin it. Let the youngest hero of British MX, Tommy Searle, cast the spell that brings 'old Peter back home where he belongs!

All hail England!
(Lord Alfred Weigandt is the Uncle of Racer X contributor Jason Weigandt. The Lord sends us these rants every so often. He really, really likes his homeland of England. That's all we know about the guy.)