Bench Racing Ammo: The Gang's All Here
September 19, 2006 3:03pm
If you have ever been to Unadilla in the fall you may be of the impression God is a motocross fan. The air is crisp and clean and the colors are extraordinary, all of which are embraced by a backdrop of peaks, valleys and punctuated by streams and rivers.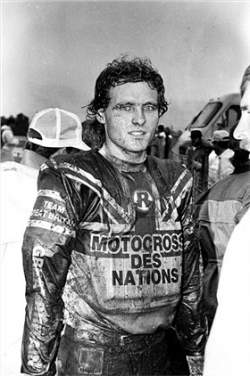 A DNF in the first moto (500cc class) did more than put a look of frustration on his face, it dimmed the chances for a UK victory under the already darked sky
If you have ever been to
Unadilla
in the fall you may also be of the impression that Mother Nature just ain't into it. At least it's been her prerogative from time to time to put a real damper on it. So why should Team USA's homecoming for the 1987 Motocross des Nations receive any a shot at amnesty, even if was technically still summer?
Reflecting trackside at the Broome-Tioga National in 1988 Ward S. Robinson, world-class promoter of the famed
Unadilla
facility shared with me, "No one had been on that track for almost a year-and-a half. The track was in the best condition it had ever been."
Oh, well, so much for the best laid plans…
Fast track to 1987. Drenched, soaked, deluge—feel free to take your pick to describe the conditions that weekend, September 12-13th, 1987. I hazard to guess how many inches of rain actually fell that weekend, but water-logged or not, anticipation and expectations ran high. National pride was at stake here.
Jim Pomeroy was all smiles - he was tripping with excitement. "This is great! Can you believe this!?" He had first-hand knowledge of the range of emotions and sense of responsibility team selection carried with it, having been a member of Team USA a decade-plus some years earlier.
When the gate drops, the bullshit stops, but controversy and second-guessing go hand-in-hand with team selections, so why not make the most of it before the gate hits the ground. To do so, Bob Hannah was selected to the team, and to add to it, they put him in the 125cc class. What?
So, while Team Honda's two-time 125cc national champion Mickey Dymond is getting dissed, and packing his bags for Team Yamaha, Hannah was packing his bags and heading for Pennsylvania. That's right. Pennsylvania.
While Team USA mates Rick Johnson (Honda 250) and Jeff Ward (Kawasaki 500) teamed up and practiced in New York, Hannah was of in the Keystone State making due. At
Unadilla
on race weekend, Hannah didn't even pit with these guys.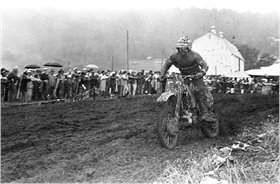 Eric Geboers
Team Belgium had every reason to smile. Eric Geboers (Honda 250) had just won the 250 world title, and Georges Jobe (Honda 500) had also closed the books on another 500 world title. Marc Velkeneers (Honda/125) was a long-time journeyman with years of
Unadilla
250cc GP experience. Things were looking good for them.
Team Netherlands was headed by Gerrit Wolsink (5-time 500cc USGP winner). No slouch at
Unadilla
himself, and a longtime teammate and subsequent rival to DeCoster throughout their 1970s. Wolsink's reason to strut were just as valid: John Van den Berk (Yamaha 250) had just claimed the 125cc world title, and '86 125cc World Champion Davey Strijbos (Cagiva 125) was naturally a strong contender. And of course, their mentor, Kees Van der Ven (KTM 500), the '82 250cc USGP overall winner at
Unadilla
—the only European to ever actually win a moto at
Unadilla
in 250cc USGP competition—probably knew his way around this track, wet or dry, faster and better than any active Euro there that weekend. Yep, things were looking good.
Naturally the French had to figure in to it, and they did, featuring some new kid with reportedly a wealth of potential, Jean-Michel Bayle (Honda 125). Yannig Kervella (250) and Patrick Fura (500) had both laid fast track in the valley in years prior, albeit much dryer times.
Mud being the equalizer that it is, everyone had a shot at the title, and come Sunday, they would all be throwing it around, and laying it on thick. Speaking of which, long-time announcer Larry Maiers also laid it on pretty thick on occasion. Throughout the weekend, the mighty pontificator flung the adverbs, adjectives and color rhetoric for anyone who would listen, or couldn't figure it out for themselves.
Despite the rain and the mud that otherwise warm Sunday afternoon would not, could not and did not disappoint. The first moto featured 125/500 equipment gated together. As was to be expected, the 500cc class blanketed most of the top ten spots in that moto (a year earlier in Maggoria, Italy that wasn't necessarily the case, but these were different times).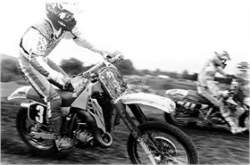 Bob Hannah
Jobe did what he did best—he won. Van der Ven took advantage of a good start and fading Kurt Ljungqvist for second. The Swede Lungqvist would end up fourth just off the pace of Jeff Ward.
Davey Strijbos chased after future champ Jean-Michel Bayle next, with German Dietmar Lacher following.
What of Hannah? He was just breaking in to the top ten. This was not the things dreams were made of; we are the champions, and all that… and we aren't looking to comfortable out there. Hannah may have been showing his age, and having been set-up to fail, talk round the circuit had labeled Hannah as a liability. But the idea that Hannah could be a detriment to Team USA was blasphemy. Non-believers – they were everywhere now. "Hannah can put the asses in the seats, but that's not what he's here for is he, now is he?"
The 250cc class saw Johnson out pace Geboers, but was that going be enough? Jobe had posted a win. Belgium's Velkeeners took third in the 125cc class in the first moto and was running third in the class at present.
What of the Dutch? The Cagiva of Strijbos sucked water so he was out. Moments later a roar of near triumphant proportions rang through the valley as Hannah laid a pass on Van den Berk, and his charge did not stop there. At moto's end it was Johnson, Geboers and Hannah, top 125, going 1-2-3. Bayle was out. Van den Berks seventh place finish in the moto was good for third in the class.
Things were looking up. Team USA now had a pair of first-place finishes, along with Ward's first moto third place performance. Belgium had racked up a first, a second and a pair of thirds. On a personal level, Marc Velkeneers had just won the class overall. (Hannah's fourth-place finish would eventually be discarded.)
Hannah had since resurrected himself, with the monkey off his back, and all the non-believers had since converted, the pressure was now on Jeff Ward in the final 250/500 moto. Johnson had already proved himself, so it was up to Ward to best Jobe and/or the Dutch rider Van der Ven. The weather hadn't changed, but it was possible for Ward to wind up with a raw deal. And England's Kurt Nicoll was set to avenge his DNF; having placed runner-up in the world championships, it was not a foregone conclusion that he couldn't win this thing.
Once again Johnson laid early claim to the 250 win. Jobe DNF'ed, and Van den Berk was out to save face from having been passed by an old man and took fifth, second 250. Geboers had his difficulties and netted third 250, placing sixth at the flag. The Dutch were looking pretty good with Van der Ven the 500cc leader.
It was up to Ward to stay ahead of the motivated Brit – Kurt Nicoll, which he did. Johnson's win was huge. Ward's second was paramount, and when combined with the demise of Jobe and the trials of Geboers, it was sweet. You doing the math? Team USA had won, and the biggest winner on the track that day had to be Bob Hannah. He was able to wipe the mud of his face easy enough, but that grin, you know the one…that was gonna last a while.
Later, toward day's end at an impromptu celebration in the pits, surrounded by onlookers, admirers, well-wishers and wannabes, there Hannah and Johnson stood, standing head and shoulders above the crowd and two abreast, they willfully accepted the accolades due them. Much to the delight of the cheering crowd, they signed off on victory.
And that's just the gig it was.