Kawasaki/Racer X Race Report
September 18, 2006 5:26am
Stefan Everts retired with 10 world championships and 101 GP wins, and France celebrated a new MX2 champion—teenager Christophe Pourcel—at the final round of the MX GPs at Ernee, France Sunday. There was great racing and plenty to celebrate.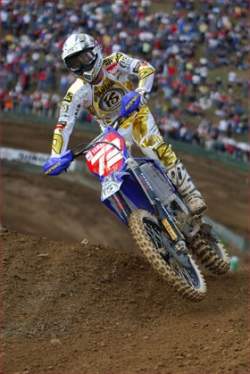 Everts ended his career with 10 world championships
Held at the same venue as the Motocross des Nations just a year ago, the crowd was smaller but the energy just as intense for such an important series finale. America has its GOAT that wrapped up his full-time career one week ago at
Glen Helen
, and Europe has, well, King Stefan.
Everts raced in unique spacesuit-looking white and gold gear, and his bike was covered with checkered flag graphics, with each square displaying the name of one of the 100 GP victories. The tires were white, and the ends of the knobs painted black to give the tires a checkered look as well. The new colors were introduced to the media in the morning in a display that even included music and dancing girls.
Also finishing his GP career at Ernee was Mickael Pichon. The enigmatic Frenchman had pulled out of the series earlier, but he said he was doing this GP as his last for his French fans. Unfortunately, he fell hard right after the first turn of the first moto and retired for the day and for good. Next year he will race for KTM France, and no GPs.
Just two turns after Pichon's crash, Josh Coppins fell while in third, which put him last and he had to charge back. He had the best hope of upsetting Everts. Stefan just cruised out front by the end of the moto, but in the early laps Jonathan Barragan kept the pressure on.
In moto 2, Everts got the holeshot again and raced with Coppins for a while, until he would work up a comfortable lead-finishing the day with a perfect 1-1. Barragan finished the day with a 2-5, and third went to Kevin Strijbos, 3-4.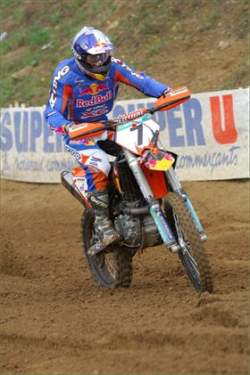 Spain's Jonathan Barragan
The title was on the line in MX2, but
Christophe Pourcel
had a good points' advantage going in. Defending champ Antonio Cairoli needed a break to close the gap, but he would not get it, though he did his part and won both motos. Cairoli got both holeshots, and really had to fight to keep the lead in moto 2.
Pourcel clinched the championship with a second in moto 1. Italian KTM rider David Philippaerts had second place under control until he crashed and lost just one spot.
Moto 2 was one of those motos that makes going to an outdoor race worth the trip! Pourcel was all over Cairoli, passing him many times to enthusiastic cheers, but Cairoli would answer by passing him back. Pourcel missed a shift and went over the bars, making the rest of the moto easy for Cairoli, and setting the new champ back about three spots.
Cairoli won it with a perfect 1-1, and Philippaerts and Pourcel tied in points for the day, with Philippaerts taking second overall due to a better result in moto 2.
Everts and Pourcel are both racing next weekend in the MXdN. After that, Everts gets goodbye parties and Pourcel, just getting started, will spend the rest of the year in America.