Where Are They Now: Robbie Skaggs
September 15, 2006 10:26am
In the late '90s Robbie Skaggs was on his way to stardom in the rough and tumble world of AMA Professional racing. He had a few podium finishes in the 1998 Eastern Regional Supercross Series, but a few years later he suffered what turned out to be a career-ending wrist injury while training at Lake Elsinore. It was an untimely end to what began with a strong amateur career that led into a stellar early pro career. But, like the sport of motocross seems to continue to do for its athletes, it opened up an outlet for one of its pure grit competitors to continue making a living and, in the end, have a very productive life. Today, Robbie Skaggs is a proud father of two and is the superintendent of a large home building company in Southern California.

He is also my childhood racing nemesis! I have known Robbie and his family since my first trip to the racetrack at Chapman, Kansas, circa 1982. I remember arriving at the track and waiting to see if there was a PW50 with #44 on the side panels, then cringing in fear when I saw his always-cherry looking bikes sitting on their stands in front of the "Motocross Shack." Robbie's grandparents owned and operated an accessory business that had a vendor trailer that Robbie pitted out of. We probably know more about each other than anyone we know, so it was with great pleasure that I got a hold of Robbie, via telephone, and found out where he is now and what he is up to.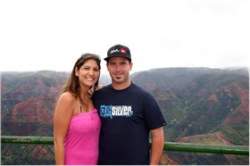 Mr. and Mrs. Skaggs
photo: Courtesy of Skaggs
"Yeah, I live in Menifee, CA and work as a superintendent for this big home building company," he said. "I live around almost all of the current pro racers, so that is pretty cool. I get to stay caught up with everything and all of that, but sometimes it really makes me wonder where I would be and how far I would have made it had I not gotten hurt."

Skaggs was always one of the most dedicated and serious racers you would ever encounter. Motocross was his life, period. The guy was even Ricky Johnson for Halloween one year! He attended, and a lot of times instructed, at Gary Bailey Motocross Schools as he had textbook perfect riding style.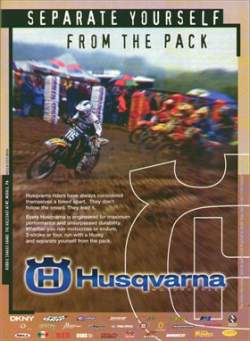 Robbie rode for the DKNY/Fast by Ferracci Husqvarna team in 2000. Here he holeshots the first moto at High Point
There was a time in Robbie's career when he was arguably one of the fastest riders in the world in the class he was racing in. Skaggs was one of the only guys that could consistently run with Robbie Reynard and Kevin Windham in the 80cc classes. As a multi-time amateur national champion, including three at Loretta Lynn's, Robbie was on the fast track to "being made," so to speak, in the professional ranks. In 1996, Robbie holeshot and led the first half of the Charlotte SX before eventually being passed by Mickael Pichon and John Dowd and settling for an amazing podium finish. In 2000, he would again holeshot at High Point on a Husqvarna 125 and tally another third-place finish in the opening moto. Everything seemed to be going the way he had dreamed since his peewee days. Then came disaster. But just when it looked like the darkness was closing in, Robbie ran into some luck.

"I was in the process of building my own house when it happened and I just asked their customer service guy if they needed any help. It didn't take me long to move up the ladder and now I am the superintendent. I manage about 35 subcontractors and stay really busy. It's pretty cool sometimes. I mean, I built Jeff Emig's house. I grew up living 30 miles from him when I was a kid, his dad built me my first modified 60 and now I live 30 miles away from him in a different part of the country and built his house!"

During the conversation it was easy to hear the eagerness in his voice as we spoke about riding and racing. "I didn't even crash. It was just one of those freak deals. It just destroyed my wrist and to this day my hands hurt all the time and they're basically shot. I just bought a CRF450 and I have been riding. Heck, last year I went out and raced a couple summer series events and was pretty much schooling some of the local pros. It just hurts too much to do too much racing. You know what though, I am turning 30 this April and I have been thinking quite a bit about Loretta Lynn's."

Trust us, if Robbie Skaggs decides to qualify for Loretta Lynn's in one of the Vet classes, he may be written in the next program as having four titles instead of three.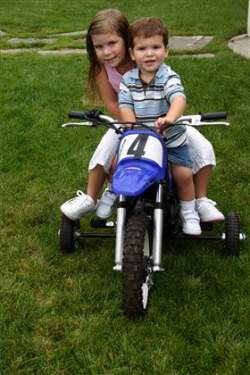 photo: Courtesy of Skaggs