Welcome to the Shift Number Cruncher. Our memories work in mysterious ways. Don't you find it amazing how something that really has no apparent connection to a given memory somehow takes you back? As I was going through the archives last week I ran across a picture of a rider with number 971 and froze for a moment. It wasn't who the rider was or what race he was racing in that captivated me, rather it was simply the number itself: Nine-seven-one.

The sight of #971 triggered the year 1989 in my racing memory, which remains as the greatest year I experienced racing motocross, as it was the year that I earned my first and only Loretta Lynn's AMA National Championship. Not only was '89 an incredible year for me, it was also one of the most pivotal years in motocross history. That year Ricky Johnson began the AMA Supercross Series with five straight main event victories before suffering a broken arm at Gatorback after tangling with Danny Storbeck in practice. That same day, Jean-Michel Bayle won the Gatroback National on the #111 Honda, but Larry Ward—a Honda support rider—very nearly won the 125 National that day. (More on that later.) As a result of RJ's injury, the Jeff Stanton era began to take shape.

Ah, but before I get too far off the beaten path, I have to reiterate that the reason for the synapses firing off in my brain about this great year manifested from the simple sight of the great number 971. Therefore, I dug a little deeper into the number and discovered a few guys that ran the tall number in their careers, which I believe you will find interesting. Maybe reading about these guys will trigger some great memories for you, or at the very least provide an entertaining twenty minutes or so to your Wednesday.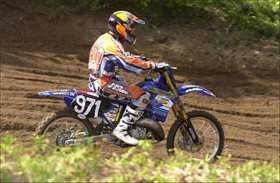 Alessio Chiodi
photo: Steve Bruhn
The photo I ran into which spawned this week's column idea was an old black and white
Cycle News
shot of
Alessio Chiodi
racing the 2001
Southwick
National. He had joined a slew of European racers who had crossed the pond to check out the scene at Motocross 338. The charismatic Euro was riding a Motoworld Racing.com-backed YZ 125, wearing No Fear riding gear and running the 971. Alessio didn't have much luck as he would suffer a hard crash in practice and compressed a vertebra and eventually pulled out of the race. I don't remember much about Chiodi, except that he always had a pretty gnarly red goatee, as well as three 125cc World Championships.
Special thanks to Steve "TFS" Bruhn for this beautiful shot of Chiodi on his Skittles sponsored YZ125.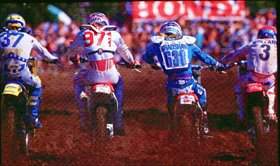 Check out the mullets flapping in the wind
photo: Fran Kuhn
Wow, just look at this picture of
Larry Ward
and company. The year is 1988, and teenage superstars Ward and Damon Bradshaw were in the infant moments of their rookie seasons at the post-LL
Millville
National. Michigan's Todd DeHoop (far left) had already won the 125 East Coast SX title this year, so he was establishing himself as a pro, but I could only imagine the look the veteran George Holland gave the rider with #638 on his number plates with the polka-dot riding gear and flowing blond locks streaming out the back of his helmet. I would imagine "The Almond Farmer" raised an eyebrow at young Damon Bradshaw, right before the gate dropped and he headed off towards the '88 AMA 125 National MX Championship.
Ah, but its rider number 971 that has the spotlight for this week's column! The tall rider from Everett, Washington would put in some good rides, but it would be 1989 when "Big Bird" would nail down his first win, at the
Southwick
National, running the 971 on a factory-support Honda.
• After the race Larry was ecstatic and said: "Finally, I can't wait until my mom hears about this one. She's not here, and boy, did she miss out. Normally she comes to the races, but this time she couldn't get away from home."
• By the way, LW's win remains in the record books as the AMA National win that came with the highest digit in U.S. MX history: 971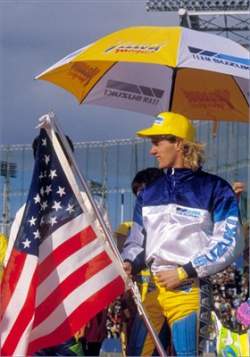 photo: Racer X Archives
This is another picture of Larry Ward, who pretty much embodies number 971, a year after his triumphant
Southwick
victory. He moved over to factory Suzuki where he immediately enjoyed success by winning the Seattle SX in front of his hometown fans.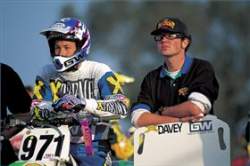 Team Great Western Bank's Davey Castillo
photo: Racer X Archives
It's hard to argue that very few racers have lived a more charmed life than
Davey Castillo
. Son to CTi knee brace inventor and all-around-great-guy Jim Castillo, Davey had a moderately successful pro motocross career. Although he only made two main events in his colorful career, he was a pioneer of sorts by way of forming one of the first satellite teams in the Great Western Bank collaboration of Buddy Antunez, Denny Stephenson, Phil Lawrence and himself. While this confederacy of fun-loving speedsters were known to make more moves off the track than on, Lawrence finished a solid fourth in the 1996 AMA Supercross Series and Bud Man finished fourth in the AMA 125cc National MX Series.
I actually raced Davey at the Denver supercross in 1996, the year this picture was taken. He beat me in the LCQ!
Today, Davey heads up Asterisk and is still very involved in the sport. He is one of the main organizers and participants in the Surfercross events and can still turn in some very fast laps on the track (especially the one in his dad's backyard up near Santa Barbara!).
So, that just about does it for this week's edition of the Shift Number Cruncher. And I want to make sure you guys are taking time to click on the banner atop this page and check out Shiftmx.com. Those guys are charging their way back to the front, and their new stuff is looking sick as always. Stay tuned for a very special edition next week. I believe it to be one all of you should look 4ward to.

And remember, if you know of any other notable #971s, feel free to shoot me an email at andy@mxsports.com.
-andy