GNCC Race Report: North Carolina
September 12, 2006 11:53am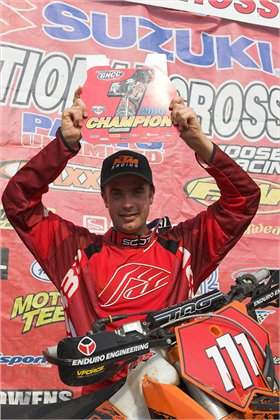 Juha Salminen with another number one.
Ray Gundy photo

Juha Salminen's two-year beat down on American off-road racing is almost complete, but before the friendly Finn heads back to Europe, he has to put the finishing touches on his campaign here. The end begins with wrapping up his second-straight Suzuki Grand National Cross Country Championship, which he did by winning the Yadkin Valley Stomp GNCC over the weekend in Yadkin Valley, North Carolina. With his eighth win in ten races this year (and his 17th win in 22 starts over the last two seasons) Juha is clearly the dominant factor in the series, which is regarded as the premier championship in American off-road racing.
But occasionally the GNCC field gets close to Juha, or even manages to defeat him. The only series regular to do it is Am Pro Yamaha's Barry Hawk, who has won five races in the last two years (Juha's other loss came at the hands of super-legend Doug Henry, who rode into complete exhaustion to win the Orange Crush GNCC in Florida last year. Surely, Juha wishes he could have that race back, as he followed Henry around waiting for him to get tired instead of attacking. And as we all know, you can't wait for Henry to get tired, because even when he does he doesn't give up!)
Anyhow, save for Henry's one-off appearance and the Hawk attacks, losses for Juha have been few and far between. This weekend's North Carolina race mimicked what we've seen before, as Salminen tried to pull a big early lead, and only Hawk was able to run with him.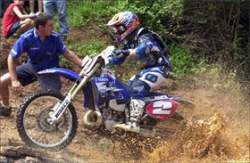 Barry Hawk gave Juha a run early.
David Scearce photo

Salminen grabbed the Racer X Holeshot and Hawk jumped in right behind him. Soon the two were out setting a pace no one else seemed able to match, as Hawk shadowed Salminen all the way around the tight, twisting 10-mile track for the first hour.
After the second lap, both riders pulled in for fuel. They had gone just over an hour before pitting, which meant they would have to stop again around the two-hour mark to make it to the finish.
This pit strategy wasn't lost on the FMF Suzuki factory pits. Their main man, Australian Glenn Kearney, was in third and on the charge. He skipped the pits on lap two and jumped right on the wheel of Salminen and Hawk, and now a three-rider battle had broken out. Kearney pitted on the next lap, but he was on the gas hard and managed to make that time back up by the end of the lap. With the two lap board coming out, now two hours into the race, the battle was on and the fans, stationed all over the North Carolina woods, were pumped. Salminen and Hawk would have to pit one last time, which meant Kearney could be in position to win his first GNCC.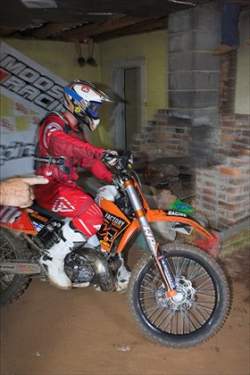 This is the legendary Yadkin Valley house, which the riders actually ride through! Unfortunately, the bikes started tearing up the floor and the course was rerouted after the first lap. But look at that kid's legs hanging from the ceiling!
Gundy photo

But then Juha stepped on it. Suddenly he was pulling away, had a big lead, and was gone.
"I found another gear," said Salminen. "It wasn't a plan. I didn't have one before the race. I just wanted to see what would happen. The second lap I tried to pull away from Barry but I fell down and he was back on to me. Then it was very hard to pull away when we got to the lappers. Finally things started to clear up and I was able to pull away."
"I was happy right there just following him and maybe see if he would make a few mistakes," said Hawk. "The first couple laps are when he made them, and I knew I needed to stay there. But I didn't."
". I knew Barry was there and Glenn, and I knew I would have to stop for gas one more time," said Salminen. "So I had to get the gap up to maybe 20 seconds so the guys couldn't catch me. So I found another gear."
Juha's not one to talk trash, but he did have to throw this in when he was asked if he could have built and even bigger lead if he needed to on the last lap. "I added 35 seconds in one lap so you can count how fast I go."
This left Kearney and Hawk to battle for second. Kearney made the pass when Hawk stopped for gas with two laps left. "The team had a brilliant pit strategy," said Kearney. "After the gas I was feeling really strong and I was able to charge back up and get back up to the guys."
Then Hawk made a big mistake and lost more time.
"We all had a pretty good racing going until about two laps to go. We got the two lap card and it seemed like Juha turned it up. He pulled away a bit and then I almost got back to within sight of him, and I don't know what happened. I came around the corner and hit a tree root, and it got wedged up between the brake pedal and the side case. I didn't know what to do, I couldn't go forward or back, it was just wedged in there. I didn't want to bend the tree back against the pedal because I knew that could cost me later on. So I just took my time and kept pulling on it. It just felt like I had no energy left after that. I came around and got the white flag and started feeling better, and charged for the last lap. But these guys were long gone. No excuses, they beat me."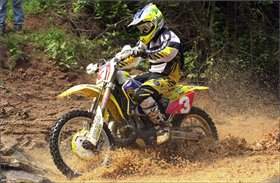 Glenn Kearney
As for Kearney, he was stoked to finish second after a long absence from the podium. "I was able to charge hard and get up to those guys," said Kearney. "But I think Juha turned it up. He just has that little bit extra. Finishing second to Juha, after the way the races had been going lately, it feels like a win."
Kearney admits he's not a mud rider, and he has indeed struggled in the last four rounds of the series, which have all been mudders. After three early-season podiums, Kearney had carded 16-9-8-6 finishes in the mud races. The struggles caused him to rethink his racing program.
"I had been living in Indiana with (mechanic) Shane (Nalley) and we were training so hard, cycling all the time and going to the gym. I couldn't figure things out, I was fit as ever. Four races in a row I had bad results. And the worse I went the harder I trained. So over the summer I took it down a notch. I took a good break and got back into it at home, hung out with some of me mates in Australia. I had some fun and went out to Rodney's (Smiths). I didn't train as hard as I usually do, but I felt great out there. It's great for me because this means I don't need to train so hard for now on!"
A huge battle raged behind the lead three, featuring KTM's Robbie Jenks and Shane Watts, Monster Energy/Pro Circuit/Kawasaki's Fred Andrews and Charlie Mullins, who crashed off the start and was coming back from last.
Jenks lost the pack, while Mullins did everything he could to pass Watts and Andrews on the tight track. But before he could make the move, a stick ripped the fuel line off of his petcock, and his bike ran out of fuel.
"I'm so frustrated right now," said Mullins. "I caught up to those guys, and I was going a little faster than them, but the trail was so tight that I couldn't pass them."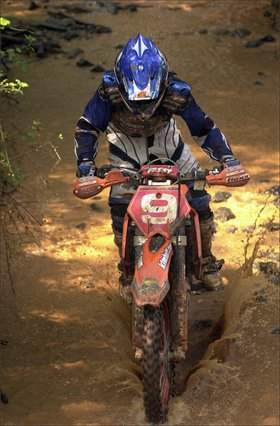 Shane Watts took fourth on the new KTM 250 XC-F, which is the best GNCC finish ever for a 250F.
David Scearce photo

This left Watts and Andrews to fight for fourth, and Watts dug deepest to get it. The popular 2000 GNCC Champion was so tired at the finish of the race that he collapsed at the finish line.
"Everyone was going fast out there today! Unfortunately I was stuck back in the pack for the first few laps and wasn't able to work my way through. I definitely used a lot of energy trying to make some passes, though. I was feeling real good on the XC-F so I really wanted to get through the pack and try to ride up front with those other couple of guys. Overall though, I was extremely happy with how things went today. That new KTM is excellent, and my fitness is actually a little bit better than where I thought it was. With two more weeks until the next GNCC I'll be able finish off getting my stamina to where it should be, so I can be strong for the entire race and go for a podium finish. I'm looking forward to that!"
Notable was that Watts took fourth on the '07 KTM 250XC-F-W, which is the best finish ever in a GNCC by a 250F.
Andrews, who has announced he will retire at the end of the season, finished a solid fifth. Jenks and Paul Parts Unlimited/Moose Honda's Paul Whibley came in next. Then it was a pack of amateur riders from the 250 A ranks filling out the rest of the top ten: Jesse Robinson, Scott Watkins and Travis Green.
Rodney Smith was unable to race due to an illness. Jason Raines was also at the race, but he will be out for a long time due to yet another broken leg. And National Enduro Champion Mike Lafferty is done for the season with a torn ACL.
RER Motorcity's Nate Kanney smashed his exhaust early in the race and struggled, and WilliamsonRacing.com's Justin Williamson lost his brakes early in the race and struggled as well.
The youngest of the GNCC contenders is looking strong. Last year's overall GNCC Youth Champion, Kailub Russell, won the 200 A class, while this year's Overall Youth Champion, Corey Buttrick, won the 250 B class in his big bike debut.
The Yadkin Valley Stomp GNCC was taped for an airing on the Versus Network (formerly the Outdoor Life Network). Races air every Saturday and Wednesday at 3 pm EST.
The Suzuki GNCC Series continues in two weeks at historic
Unadilla
Valley Sports Center in New Berlin, NY with the
Unadilla
GNCC. Yes, they'll be using the motocross tracks out there, and Juha can fly on those, too.
Results:
Suzuki Grand National Cross Country Series - Round 10
Yadkin Valley Stomp GNCC
September 10, 2006Bike Top Twenty Overall
1. Juha Salminen Finland, KTM 02:39:13
2. Glenn Kearney Australia, . SUZ 02:40:20
3. Barry Hawk, Jr Smithfield, PA YAM 02:40:39
4. Shane Watts Australia, KTM 02:41:27
5. Fred Andrews Salem, OH KAW 02:41:37
6. Robbie Jenks New Straitsville, OH KTM 02:41:39
7. Paul Whibley New Zealand, HON 02:42:33
8. Jesse Robinson Connellys Spg, NC KAW 02:43:06
9. Scott Watkins Leetonia, OH KAW 02:43:22
10. Travis Green Vinton, OH KAW 02:43:35
11. Garrett Edmisten Vero Beach, FL KAW 02:43:42
12. Cole Calkins East Sparta, OH YAM 02:44:39
13. Justin Williamson Sanford, FL YAM 02:45:14
14. Stephen Edmondson Callaway, VA KTM 02:47:40
15. Thaddeus Duvall Williamstown, WVYAM 02:48:53
16. Nathan Kanney High Falls, NY YAM 02:49:10
17. Joshua Strang Australia, SUZ 02:50:54
18. Bryan Henson Landrum, SC KTM 02:50:59
19. Justin Monsrud McDonough, GA KAW 02:51:48
20. P A Allen Charlotte, TN KAW 02:52:07
Suzuki GNCC Points Standings (After 10 of 13 rounds)
1. Juha Salminen (290/8 wins)
2. Barry Hawk (199/2 wins)
3. Glenn Kearney (160)
4. Charles Mullins (151)
5. Paul Whibley (132)
6. Jimmy Jarrett (107)
6. Fred Andrews (107)
8. Robbie Jenks (98)
9. Shane Watts (97)
10. Mike Lafferty (90)