Monday Conversation: James Stewart
September 11, 2006 2:51pm
James Stewart led a perfect day for Team Kawasaki at Glen Helen Raceway, the last stop in the Toyota AMA Motocross Championship 2006 tour. Stewart won both his motos after the champion, Ricky Carmichael, crashed violently. Stewart and Carmichael were having a great battle, but it ended when RC hit the deck and pulled off the track with a shoulder injury. He was out for the day, leaving Stewart all alone out front. The second moto for him was a cruise in his new graphics for the upcoming Motocross of Nations, and he rode with the number (#3) that he will use there for AMA Team USA.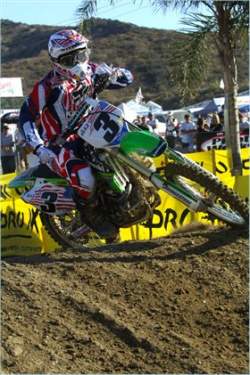 Stewart was lonely out front in moto 2, but it sure looked cool.

Racer X: James, what a day. Did you plan on things ending like this?
James Stewart: I was definitely going to try. It's always the plan to win. I felt good. I think coming here and, not liking the track, made it more motivating for me to go out there and handle my business and go home. It was the last race of the season and I wanted to go out on top.
Let's go through some of that passing in moto 1—there was a lot going on it seemed.
It was fun. He was catching me in the beginning. He actually started right behind me. I think he just saw my lines. I was picking some bad lines. When I would let off he would give it a little gas. He got past me, a little lower on a jump. I passed him back, and he passed me. I passed him back, and I didn't jump the triple step-up and he jumped it and went right past me. I lost like three seconds in two corners! I had to pick up the pace a little bit and drop the lap time. I came back up on him. He started making a few mistakes and then he crashed in the back.
So is this a little like the flip side of High Point, where you guys were going at it and it was you that crashed out? Was it getting that intense?
Unfortunately, it felt like that. I was looking outside of my motor home and he was leaving. I thought, Man, that's a bummer—before the second moto, he and his family are packing up. I know how he felt on that one. I wish him the best. I never wish for anyone to get hurt. We kind of just trade off: One week he will go down, one week I will go down, but we always bounce back.
So do you have any thoughts about how that may change the MX des Nations situation?
I have not heard. If it's up to Ricky, he will be there. The same with me: if something happened, I want to try and go. l think he will go even a little unhealthy and at least try and get the job done. He will be there.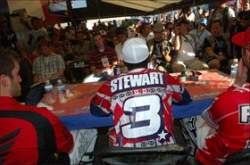 Best press conference attendance of the year

Did you feel a little weird riding in the #3 and the cool new gear?
I didn't want to look at the number plate! That's Mike Brown's number and it felt weird running that. People know me as #7 now and this is a one-time deal. We will see after that.
Everyone knows about the des Nations, but what about some of the other off-season stuff? Are you going to do Jeremy's race, and the U.S. Open?
Right now I am doing the des Nations, the U.S. Open and the Canadian races. It feels like the season is just going to keep on going. It's not this Wednesday but next that we will be going over to Europe. It's going to be tough and I just have to stay healthy and not get sick and we will be fine.
Great ride today, James. See you in England.
Thanks Steve.