Where Are They Now: Ryan Huffman
September 8, 2006 10:04am
Ryan Huffman is a household name in the northwest corner of this country. His father, Ralph, owns the Washougal Motocross Park, and Ryan himself was a factory Suzuki rider not that long ago. Ryan was a top amateur racer in the early 1990s. In 1990 he had won titles at every major amateur national except Loretta Lynn's; he won motos there but could never put together a championship.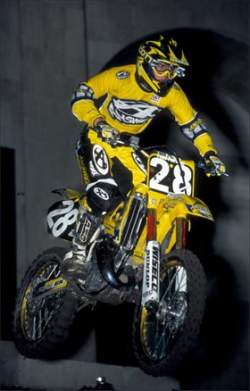 Ryan at the L.A. Coliseum in 1998 aboard a Factory Suzuki RM125
photo: Chris Hultner
The next year, Huffman made his transition to the pro class at his father's Washougal motocross track. He ran toward the front early but ended up 16th overall that day. His speed on the local circuit impressed everyone, and from that point on he was always considered a contender at Washougal. But the next four years were difficult ones for Huffman.

"I was racing at the Mini Os in Florida," explains Ryan. "I was doing pretty well, and then I crashed and got my hand stuck in another guy's spokes as he went by. I jacked my hand and wrist up pretty bad. I had a Team Green deal, but I just struggled to get motivated and to get any confidence going. Honestly, I was fat and out of shape."

In 1996 Huffman formed a privateer team on Hondas with the help of AXO and Scott goggles. His results started to improve and his confidence returned. The next year, on a 250, he won the Top Privateer award in the AMA Supercross Series and almost took the the same honor at the nationals. His efforts didn't go unnoticed, and Roger DeCoster signed Huffman as a 125 rider on the factory team.
Ryan's big year was supposed to be 1998. He had the support of Team Suzuki, and he was riding a wave of confidence from the previous year. Things just didn't go as planned, though, and he left the team the next year. He signed with Planet Honda for '99 but, over the course of the season, broke five different bones. It was a frustrating year to say the least.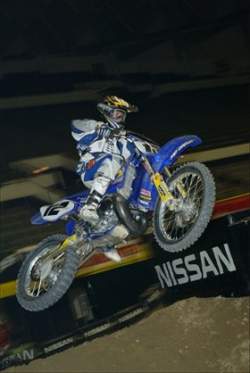 Huffman raced Arenacross for four years
photo: Ray Gundy
The next chapter in his racing career was arenacross. Ryan was a contender immediately and was winning races and finishing on the podium on a regular basis. But after four years on the circuit, he decided he'd had enough.

Today, Ryan runs the Washougal motocross park for his father. "I do a little bit of everything around here," he says. "I'll jump on the Cat one day and another day I'll be climbing trees and knocking branches down. I've been working hard since the last race to improve the layout and soil here. I want this to be the best race on the circuit. I've also been going to more and more of the AMA meetings and trying to get more involved in that. I feel like I have a good perspective on things since I've been a racer and now a track promoter also."

At 32, Ryan has a couple of passions that keep him busy. First is his 6-year-old son, Brendan, who is following in his father's footsteps. "He loves to ride, and it won't be long before we're headed back to Loretta's again," Ryan says with a laugh. He also teaches motocross schools at Washougal and he loves helping kids improve their riding. For more information on his schools, visit www.washougalmx.com.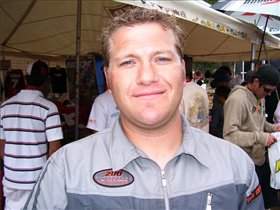 Huffman now helps his father run Washougal MX Park
photo: Mike Farber