Privateer Profile: Mason Phillips
While there was no major change in the podium finishers at the rough and rutted Steel City National last weekend, there was a certain privateer who really turned some heads in the 450 class, especially the second moto. New Zealand's Mason Phillips, who has been staying in America for the past few months, finished 16-10 for 12th overall in the 450 class on a privateer Honda CRF450R. It was only his fourth AMA National of the season, but it was definitely his best result. Phillips is a former junior-class champion in New Zealand, and last year he rode for the Subway Yamaha team in his home country. But it was Mason's dream to race in America, so he made up his mind and that's exactly what he did this year. He plans on racing Glen Helen this coming weekend, but after that it looks like he'll be heading home. Be sure to show Mason and his sponsors some support by clicking on the links below. And if you're interested in helping Mason out, look him up in the Glen Helen pits.
Racer X: Mason, congratulations on your 12th overall this past weekend at Steel City! You really surprised a lot of people!
Mason Phillips: Thank you very much!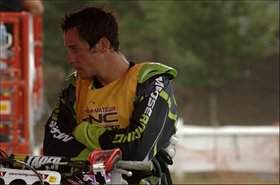 Mason Phillips

photo: Allison Kennedy

Were you expecting to do that well?
I wasn't. We've just been working real hard lately, and it just kind of paid off.
Looking at your results from this season, I see that this is only the fourth national you raced this year. Why haven't you raced more?
We went up to Canada and did a few of the Canadian Nationals, so we couldn't get to the ones across the country like Washougal and Colorado. I just didn't have the money to get there.
I read on the Mototalk message board that you actually got picked up by the Richmond Kawasaki team in Canada.
Yeah, it was really good. I happened to do really well at the first Canadian National, and I was just riding my Hondas. They picked me up for the last two rounds.
What was your best finish in Canada?
A fourth, which was on my Honda. I didn't actually have very good results on the Kawasaki—I had a few bike problems.
Before we get any further, tell us a bit about yourself. How old are you and where are you from?
I'm 21, and I'm from Mt. Maunganui, New Zealand. I won quite a few titles as a junior rider, and I got third in the outdoor nationals last year in New Zealand. I rode for Darryl King's Subway Yamaha team.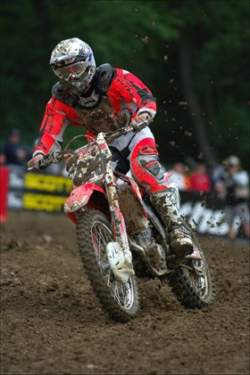 Mason finished 12th overall in the 450 class at Steel City last weekend

photo: Steve Bruhn

What made you decide to come to America and race this year?
I just wanted to get away and try something new. I did a little bit of riding in Europe—I did a GP three or four years ago—and I wasn't really interested in going back to Europe. America was always a dream. I always watched it on TV, so I just wanted to go and do it.
But can't you make a living racing in New Zealand?
Yes, you can, but I just wanted to come to America.
So what was your first step in making your trek to America? Did you have any contacts over here and where did you stay?
The only contact we had was with somebody at Motoworld down in San Diego. So me and a friend of mine from back home, we flew across with nothing but clothes. We had a rental car for a week, and then we drove around L.A. all week looking for RV trailers, and then we found the right one. I bought that and then we drove down to Motoworld and bought a bike.
Wow, that's pretty interesting.
Yes, that's how it started, and I've just been living in my motor home all summer long.
What do you think of American motocross now?
I don't want to go home—let's put it that way! It's just a dream come true to be able to ride here, with Ricky and James.
Was it the first time you've seen Ricky and James race in person?
I saw Ricky in France at the des Nations a few years ago. Besides that, I never had been to America.
Have you befriended any American riders throughout this season?
Yeah, we spent a bit of time at Travis Pastrana's place. Both me and my mechanic learned the backflip, so that was cool! And we spent quite a bit of time at John Dowd's house. He was amazing to stay with, and I learned quite a bit from him.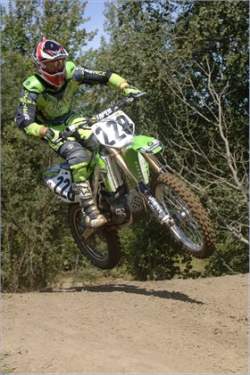 Phillips had a temporary ride with the Richmond Kawasaki team in Canada this summer

photo: Allison Kennedy

Did your fellow countryman Daryl Hurley give you any advice before you came over?
Yes. I talked to Daryl and asked him which class to race and he said to ride the big-bike class, because you have to spend a lot of money to make a little bike go fast. With a 450 you can get away with just putting on a few bolt-on products and just going racing.
Has anyone approached you after Steel City about possibly supporting you?
Not yet, but that's what I'm hoping for.
Are you racing Glen Helen?
Yes. But after that our visas expire, so then I'll sell my motor home and we'll go back to New Zealand. I'll then probably race the last couple rounds of the New Zealand National Series.
Any plans to come back to America?
That's the plan. I don't know quite how we're going to go about it yet, but that's my dream.
You have anyone you want to thank, Mason?
Yes. I'd like to thank Nick from Pro Circuit, Olivia from No Fear, Darryl Atkins, Vision Graphics, Spy goggles, Arai helmets, and Steel City Honda/Harley in Washington, PA.
Mason Phillip's sponsors:

www.procircuit.com