Welcome to the Shift Number Cruncher. We're back with a number that has the potential to blow you away—it has some major firepower—but the suggestion came from an unlikely source: DC was standing near the press box at Steel City this weekend when he spotted old friend "Fast" Eddie Mihoces, who said something like, "Tell Millsaps I was keeping #118 warm for him all those years in District 5!"

Did you know that a Maverick missile is an electro-optically guided U.S. air-to-ground tactical missile for destroying tanks and other hardened targets at ranges up to 15 miles? Some of you Midwest fans of the Cruncher may enjoy the knowledge that maverick is also a term for an unbranded cow that has been separated from its mother. Ah, but my favorite use for maverick as an adjective that describes someone that is "independent in their thoughts and actions," as I believe it personifies the rider who headlines this week's edition impeccably.

The #118 is, of course, now owned by none other than Davi "Maverick" Millsaps. That is just where it begins! After some deep digging, we uncovered some more amazing riders and industry folks who have also worn the 118 to modest glory, including one former Australian Regional Champion who likes to take pictures. Enjoy.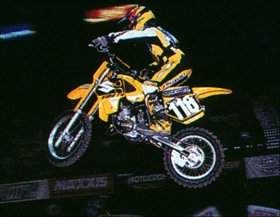 Millsaps wore #118 for the first time on an RM80
photo: Simon Cudby
This picture is where it all began for #118. Back in 1998, the brainchild of Eric Peronnard and his friends at
Fox Racing
was born: the U.S. Open. The most lucrative race in supercross history was set to take place in the MGM Grand Garden Arena at the MGM in Las Vegas. The $250,000 purse headlined the show, while intermission consisted of, among other things, an 85cc invitational race. All the participants were given three-digit numbers, and a 10-year-old
Davi Millsaps
was given #118. Who would have guessed that little guy on the RM80, who didn't even make the main, would become the 2006 250F East Coast Supercross Champion eight years later?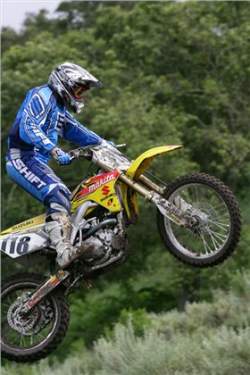 Simon "The Boomerang" Cudby runs #118 on his Makita Suzuki
We had to dig around in the archives to find some history on this particular number. Apparently, this rider was known at one time to be
Simon "The Boomerang" Cudby
, who, in 2001, was terrorizing the vet super-novice classes in the C.R.O.C. (Central-Australian Regional Outback Championship) series. Mick used his vast upper-body strength (as shown here) to muscle his way to the front of the pack all season. Apparently, a protest was filed mid-season, revealing Dundee to be a former national champion from England in the mid-'80s. Facing exile, he relocated to the States to pursue a career in photography. His favorite aperture is F2.8.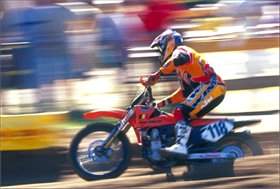 Joel Smets at Southwick in 2001
photo: Simon Cudby
In 2001, a European sand specialist decided to try his hand at the AMA Nationals.
Cycle News
quoted him as saying, "I'm the kind of rider who likes competition, so I was looking for a race." Well, he managed to find himself a race at
Southwick
, where he pulled the holeshot in the first moto. I can imagine the smile he wore as he led his first race on American soil. I can also imagine the look of shock he wore when
Ricky Carmichael
"bull-dogged his way under the stocky Belgian in a tight left-handed turn on the third lap."
Joel Smets
—a classy champion in anyone's book—left Motocross 338 with a solid sixth-place overall to show for his working vacation and a good understanding of how we do it in the states. Carmichael went 1-1 that day.
This was
Davi Millsaps
' first
Racer X
cover. At this time he was nearing the end of his amateur career and had a boatload of anticipation (and a huge Suzuki contract) awaiting his arrival to the pro ranks. Oddly enough, another racer would snatch his beloved #118 before he could put it to use in the pro ranks.…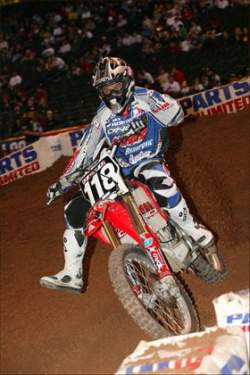 Jamey Grosser
photo: Simon Cudby
This is
Jamey Grosser
, the self-professed "People's Champion," who was appropriately sponsored by Moto XXX and multiple alcoholic-beverage distilleries over his fascinating career. Widely known for his after-race parties and not making the main, Jamey happened upon one of lowest national numbers the AMA had available. It left Millsaps no chance of having the cherished number he had worn for much of his amateur career. But then, after Jamey offered to sell the digit to Millsaps, the AMA's Steve Whitelock stepped in and gave the number to Millsaps based on the fact that Grosser had not scored lately (points, not girls).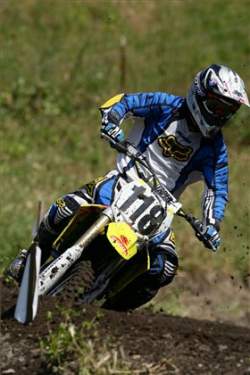 Once upon a time Bad Billy used #118 at Castillo Ranch
photo: Simon Cudby
William Ursic III
is, like Mihoces, another District 5 speedster. "Bad" Billy's career highlight was making the main at the 2003
Steel City
National aboard a Yamaha of Troy YZ125 while writing a
Racer X
story called "Paper Dragon" after he was able to obtain the service of one of their practice bikes that had "brand-new graphics" to come out of nowhere and qualify his way into the 40-rider field, much to the delight of his many local fans. Since then, Billiam has moonlighted as the
Racer X
office champion and is currently working on a Hollywood project where he will do all of the motorcycle stunts for Fred Savage in the upcoming Sidewinder III online movie, "Bad As He Wants to Be." (Okay, all jokes aside, Billy is one of the most astute writers in the industry and is a walking motocross encyclopedia. And he can still kick your ass on the motocross track.)
Today the #118 is back where it belongs. I have always liked Davi. The Maverick himself is not cut from the typical pro motocrosser cloth. He speaks his mind and has a very fun sense of humor. I used to want to shove him in the mud when he was younger, but he has grown up now, and the kid who carries #118 on the factory CRF450R is pretty much an all-around solid guy. He just added his first pro #1 plate, and he recently put the 118 at the top of the mountain in the 450F class of the outdoor nationals. I asked Davi what number he would use if he won the 450F Supercross Championship in 2007, to which he replied, "Number 118, man. That's who I am!"
Your racing number is very special. The numbers we used to earn the scars on our elbows and the trophies on our mantles carry certain nostalgia. We associate everything we see with our number: highway signs, favorite football players, racecars, phone numbers, hotel rooms, all kinds of things. Motocrossers hold their numbers very dear to themselves, and we'll be here to pick a new one every week with the hope that some of you will click on this column and say, "Dude, that's my number!"