Bench Racing Ammo: Yellow Streak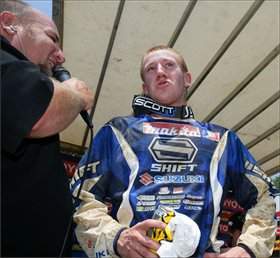 photo: Simon Cudby
This past Sunday Makita Suzuki's
Ricky Carmichael
was awarded a $30,000 dollar check from Monster Energy for winning the third and final leg of the Monster Energy Triple Crown of Motocross. It was the second consecutive year for the event, as well as the second sweep of it by RC.
But Steel City marked another triple: Sunday was the third consecutive race in a row that both classes were won by Makita Suzuki teammates, as Broc Hepler, who grew up and lives within an hour of the Steel City track, took his third consecutive win in the 250F class (and kept Monster Energy's own Ryan Villopoto from getting a big bonus check there).
That's quite a feat in such a competitive class, especially since Hepler missed the first three races of the series with a foot injury. But Hepler's feat has us thinking: Has a Suzuki rider in the "support" class ever won three races in a row before?
The last Suzuki rider to win three 125cc Nationals in a row was
Travis Pastrana
, who accomplished the feat back in 2000. Pastrana won the last four nationals that season on his way to the 125cc National MX Championship.
We have to dig a little deeper in the record books to find the next rider. In 1991, Team Suzuki's Guy Cooper reeled off wins in the final three races of the season, but still came up 16 points short to Kawasaki's Mike Kiedrowski for the championship.
And about a decade before that, Mark "The Bomber" Barnett had three years in a row where he won three consecutive races each season. In 1979 he won the last three races, but Broc Glover won four and the title. In 1980 Barnett won the last three races again, and this time he took the title over Glover. And in '81, out of the eight-race season, Mark Barnett won the first seven! Unfortunately, he cracked a collarbone before the last round at Carlsbad and lost his chance at a perfect series.
So that's the "Lites" class. But with RC winning all three races in the big class, we decided to dip into the record book one more time and figure out the last time Suzuki has swept both classes three straight times.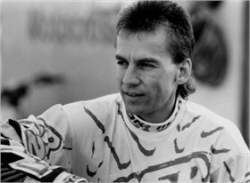 Guy Cooper
It happened back in the early 1980s, when the Kent Howerton and Mark Barnett juggernaut reeled both reeled off three-straight 250 and 125 national wins. But a look close indicates that only the first two wins, in Lake Whitney, Texas, and Atlanta, Georgia, took place on the same weekend. After those rounds, the 500 Nationals began and the 250 and 125 classes split. Howerton won his third straight on May 17
th
at
Southwick
, while Barnett won his third on June 28
th
at Broome-Tioga's 125/500 National.
So while Suzuki has had three-race win streaks in both classes before, this is the first time they've ever done it at the same races.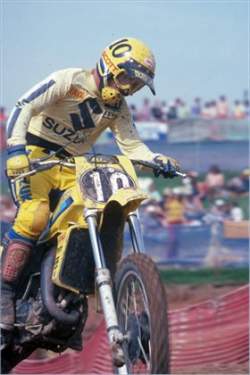 Mark "The Bomber" Barnett
photo: Dick Miller Archives