Monday Conversation: Broc Hepler
Makita Sukuki's Broc Helper is closing out his summer the right way. Hepler has won the last three Lites overalls, and with RC in the other race, that means three Suzuki sweeps of both classes in a row. When has that ever happened?
Hepler started the weekend with confidence in his mud riding, since he has been winning and the rain seems to be following the series around, plus he had a hometown advantage at Steel City.
The rain at Steel City actually stopped about noon Saturday, but the ground stayed soaked and it made for a wet Sunday. Hepler got out front early in moto 1 and checked out, then grabbed a holeshot in moto 2, and after a battle with Villopoto, he pulled away for a perfect 1-1 day.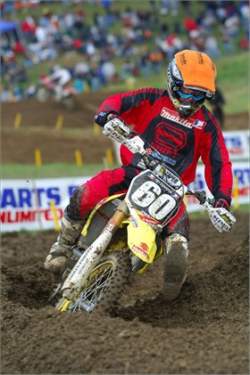 The Makita Suzuki team is on a roll right now

Racer X: Broc, this is like a Suzuki Triple Crown. You and Ricky won both classes three times in a row now? How does it feel?
Broc Hepler: Yeah, I wish I could have started earlier in the season than this. Things are finally coming together. My body feels really strong now. I am not worrying about my foot. I am just worrying about going out and winning. I was just worrying with normal stuff, coming back from an injury, lack of riding time, lack of training. That was expected.
Did you get both Racer X holeshots today?
Alessi snuck in on me in the first moto there, just like he did at Broome in the first moto. But I passed him right away on one of the downhills. I knew it was going to get one-lined. The dirt was really tacky so there were lots of ruts out there. I tried to get a big lead quick. In the second moto I got the holeshot and that was nice. It made it easy.
You have done so well in the mud lately. If you are in the lead, you are not worrying about anyone catching you, are you?
It's hard to tell. Ryan Villopoto was running right with me in the second moto in the beginning. It varies week from week, depending on how good your bike setup is and how it's running. If your bike isn't set up perfect for those conditions, you can't keep up.
After winning three in a row now, you must be thinking if you were not hurt, you could win the whole series?
Well, shoulda, coulda, woulda I guess. I am not going to say I could have won; Ryan still could have. We will never know. I am not going to say anything. All I can do is try to come out here and beat him next year.
How did the promoters do with managing the mud this weekend? How was everything when it was time for the motos?
I think Jeff Russell and the Racer Production guys out there could not have done a better job for the conditions we had, with the hurricane coming through. I think a lot of the other tracks would have struggled to even have it rideable. At least there was some racing out there.
Did it help you, because of the wet conditions, to know this dirt and this track and how it behaves?
I would say for the first moto, I had an advantage. We only had one 20 minute practice session. That really stinks if you are not too familiar with the track. Other than that, the dirt changes every year when they bring in more sawdust and stuff.
Okay, now it's time for the weekly "next year's plans" question!
I am going to wait a couple more weeks. I am having a good time winning in these last few races; Suzuki has been doing good.
Ricky talked today about you have to have a "program." Do you have one and what is it?
Well pretty much every week I try and do the same thing. I even have a program for the off weeks. I ride Saturday and Sunday just like it was a race. I have a program, and my mom helps me with lap times. Even in the off weeks I am doing everything I can to go out there and win.
Does Suzuki have any big plans if you and Ricky both win again at Glen Helen?
Not that I know of. Hopefully we get a good bonus, I don't know!