Now we're in the stretch. Two weeks to go in the 2006 domestic season, and both of them might be mudders. There's a leftover hurricane working its way up the East Coast that might just end up dumping on Steel City Raceway in Delmont, PA, the site of the penultimate round of the Toyota AMA Motocross Series. And Red Bull KTM rider Nathan Ramsey told me in Portland this week that he can feel a mudder coming on at Glen Helen next weekend for the finale. Not sure how Nate Dawg's inner barometer can pick up weather that far out, but after previous West Coast wet races at San Francisco, Seattle, and Hangtown, why not one more?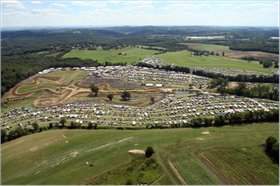 Steel City hosts the Toyota AMA Motocross circuit Sunday
photo: Tony Scavo
"Portland '07" was the tag for this year's KTM dealer show. The mid-week convention offered the Austrian manufacturer and its staff, riders and dealers a chance to get together and talk strategy and show off the new offerings from the main plant back in Mattighofen, Austria. They did some MX riding at
Washougal
, as well as some off-road in a nearby forest, and paid homage to all of the racers and top dealers.
The get-together also offered a chance for everyone to collectively recognize and remember Rod Bush, the racer-turned-dealer-turned-president of KTM North America. Rod's wife, Cheri, son, Robbie, and daughter, Staci, were there to accept the Hall of Fame induction for Rod, who lost his battle with cancer last September.
The KTM Night of Champions reception took place on Wednesday and I was invited by KTM's Jeff Solomon to help. Miss Laurette Cushman was the co-host, and just about every KTM rider in North America was there, save for Mike Alessi. He's still trying to salvage this Toyota AMA Motocross Championship—he's 20 points down on Ryan Villopoto coming into the weekend—and left a couple of taped messages for the dealers.
But Josh Hansen was there, and Li'l Hanny made it very clear to me that the grief Ping has been giving him will be repaid in kind. Josh told me that he got rid of the Lamborghini (which he had only borrowed from Smokey of JD Motorsports) as well as the Bentley (also borrowed on lease) and was just driving a truck, RC-style. He asked that we let him take over Ping's column for a month too. Well, turnabout is fair play, so look for #100 to take over for #101 (Pingree, not Ben Townley) in the January '07 issue.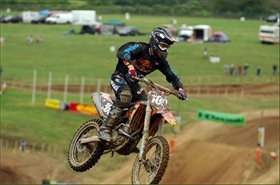 Hansen rode the 125 A class at Steel City this morning
photo: Tony Scavo
Also, I had a conversation with the still-on-crutches
Jeff Alessi
about big brother Mike's recent misfortune at Broome-Tioga, where he crashed with the holeshot in the first moto and broke his clutch lever off—either in the initial crash or the getting-back-on-the-track crash that followed. Jeff says the clutch was broken the first time; Ping guessed that it came off in the second crash. I still don't know, and the photos don't really show which crash it was. The point is this: There's no way Alessi's second crash, where his bike seemed to pop into gear and jump out into the oncoming traffic, was an intentional take-out on anyone. I just don't think this kid is going to get the benefit of the doubt, and maybe he can blame himself for a lot of that, but this is getting ridiculous. Either way, the double crash cost him the 20 points he's behind with four motos to go.
After pretty much going it alone at Hangtown, Alessi will have some other Orangemen out there riding in support of him this weekend. Ramsey, Hansen, and Zach Osborne will all be back, and KTM Canada front-runner Michael Willard is racing as well.
At the same time, Monster Energy/Pro Circuit Kawasaki's Villopoto will be getting at least one more race from Townley, who is almost back up to snuff and ready to race. Both Townley and Villopoto were at the other industry thing I did last weekend—the Parts Unlimited sales meeting in Wisconsin. Ben said he may be ready by Steel City, but his bike isn't even on the truck, so he's going to give himself one more week and then do the last round at Glen Helen.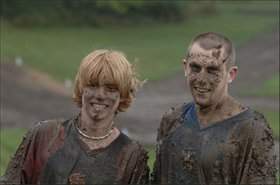 Your probable 250F National Champion likes to mud-bog quads
photo: Kinney Jones
Funny thing: When rain came down hard on Friday and pretty much wiped out the track that
Norm
from Dirt Wurx had built and
Fubar
and I bannered, it seemed like none of the top stars on hand—
Jeremy McGrath
,
Ivan Tedesco
,
Michael Byrne
, the
Bostroms
, the injured
Chad Reed
(sling),
Grant Langston
(crutches) or
Ryan Hughes
(shoulder)—were going to ride for the entertainment of all of the dealers on hand. But then
Dick Burleson
went out on a quadcycle and looked like he was having a blast in the soup, so Villopoto and Townley got dressed and went out and started banging around on big four-wheelers. By the time they were done, they were absolutely caked in mud, but they had some big smiles on their faces!
Reed not only has his left arm in a sling from the dislocation he suffered at Millville, but he also had some work done on his right hand. He's obviously out for a while. But he did say he's looking forward to getting ready in time for the December rounds of the World Supercross tour in Canada.
And speaking of Villopoto, he and his family will be attending a special AMA Team USA dinner that assistant team manager Scott Taylor put together in Pittsburgh for the whole group. The Carmichaels, Stewarts and Villopotos, plus their mechanics and assorted crew members, will all gather tonight in Pittsburgh for a chance to get to know each other better, discuss the race and the atmosphere, check out some videos from last year's race and the Matterly Basin track in England, and just get on the same page.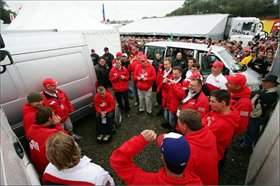 The moment of truth for Team USA '05 in Ernee, France
photo: Simon Cudby
Taylor put this deal together because last year in France, the team didn't really seem like a unit until Sunday morning, when a rainstorm in France put everyone on edge. But then they all got together behind the USA pits and just talked about what the race meant to them, what they expected from one another, and how every person in a Team USA coat was there for everyone else. Needless to say, it worked.
Taylor has really taken on the new role as assistant manager seriously, as has Carmichael the captain. It is likely that RC will once again offer to pass his spot off on the starting gate to the others, as James and Ryan will both be making their first appearances in this high-pressure event.
But I get ahead of myself: We've got some AMA motocross yet to run! If you aren't going to Steel City but want to check out the track and the riders, Racer X Films will offer another exclusive glimpse for free on Saturday evening after practice. Check out www.racerxfilms.com for a look on Saturday night.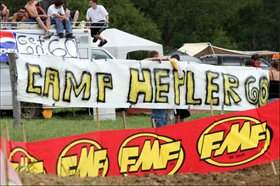 Use your arts and crafts skills to get some pit passes Sunday
photo: Matt Ware
Also, you can listen to the Racer X Webcast presented by
Cycle News
over on
www.mxnationals.com
. That gets underway on Sunday afternoon beginning at 1 p.m. EST, 10 a.m. out West. And
www.amamotocross.com
will be showing you lap times and results from the moment the riders hit the track on Saturday until the last checkered flag on Sunday.
Broc Hepler's on a roll in the 250F class. He's won two in a row, and although he's way out of the championship contention, he would probably like to win Steel City again worse than anyone. Hepler missed his other home-state race at High Point back in May with that nagging foot injury that cost him his entire supercross season.
Don't forget that The Racing Paper is holding a Broc Hepler Banner Contest this weekend. Come 11 a.m., Hepler will pick the best banners he sees around the track, and the makers of each banner will get a free all-day pit pass that's good for the rest of Sunday. Make up a banner for the local favorite and then maybe get a chance to shake his hand in the pits later!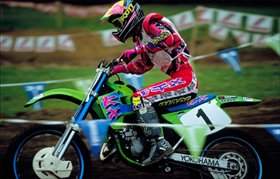 Ferry was on Kawasakis way back in 1992 at Loretta Lynn's

photo: Fran Kuhn

Tim Ferry and Mike Byrne will be a good couple to watch in the 450 pack. It looks like Ferry is going to replace Byrne on Team Kawasaki, completing the odyssey of his motorcycle-racing career by going back to the brand he won his last Loretta Lynn's titles on. As for Byrne, no one knows where he might end up, though SoBe/Samsung/Factory Connection Honda has a spot to fill. He could end up back in the 250F class.
Factory Connection and Honda are rumored to also be thisclose to signing an amateur into their fold for 2007 through '09. The word is that Trey Canard, who rocked Ponca City with six class wins, then took every moto in his two Intermediate classes at Loretta Lynn's, will get a deal that allows him to ride amateur for one more year then enjoy two years to figure out the pro ranks.
Such deals are becoming more and more popular in American motocross. It's sort of like the way prominent high-school prospects sign with college teams before their senior season, thus allowing them to enjoy themselves a little more and not sweat all of the recruiters and pressure to perform. Austin Stroupe was said to be in the running for such a deal, but he apparently wants to stay with Team Green and Kawasaki and thus have an inside line to the Pro Circuit rig in 2008.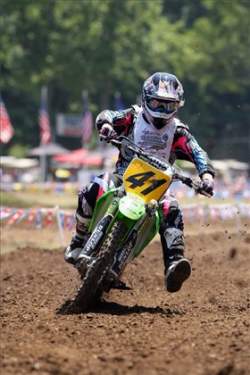 Trey Canard's LL efforts really upped his profile
photo: Simon Cudby
To catch a glimpse at some of America's best young motocross stars, watch the OLN coverage of the 2006 AMA/Air Nautiques Amateur National Motocross Championships from Loretta Lynn's. It will air tomorrow at 3 p.m. EST. Make sure you watch!
There's been talk about Nike entering motocross ever since Jeff Ward used to wear a swoosh and "Just Do It" on his helmet. But now, with their Nike 6.0 core athlete program, the footwear giant based out of Oregon is finally stepping up. They are looking to build teams in six different action sports, including motocross, wakeboarding, skate, and BMX, and giving them support throughout their careers.
The deal seems similar in scope to what Toyota has in mind with their TMX Athlete Program, which just landed Sean Hackley a Toyota-sponsored deal with MotoworldRacing.com Yamaha. As an enthusiast who's long dreamed of such mainstream sponsorship deals, I'm pretty stoked about Toyota and Nike stepping into motocross like they have.
Travis Pastrana had interesting week (but then again, aren't they all when you're Travis Pastrana?). He won a Rally Car National last weekend, then ended up doing a backflip nac-nac on 53rd Street in New York City for David Letterman. It was a little sloppy, and he didn't land it perfectly, but Dave and his audience certainly approved.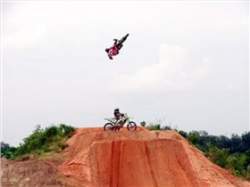 Now that's whipped!
Back to the KTM thing:
Ronnie Renner
was there, and he and I got to talking about the sick whip that
James Stewart
has posted on his MySpace page. Even Ronnie was blown away by the big whip, offering up the fact that Stewart's doing that on an actual track, whereas he does it off ramps with very wide and tapered landings. When I suggested some kind of whip-off (no pun intended), Renner told me that
Garth
from
TWMX
had the same idea, only with
Billy Laninovich
…. Damn.
And speaking of Laninovich, he took it on the chin in the latest Ask Ping . Apparently, he's been moonlighting in those Fruit of the Loom commercials, according to Ping.… Maybe we should turn Ping's column over to Billy after Li'l Hanny is through with him.
And speaking of Hansen, he actually raced outdoors today! He's at Steel City for Friday's amateur day, along with Mike Alessi and Team Yamaha's Josh Hill. According to our guys at the track, Alessi won the first moto (and the track was almost perfect) with Hansen second and Hill third.
And speaking of Steel City, here's another reason I still don't like the new class names:
"CARMICHAEL GOING FOR HIS 70TH AMA MOTOCROSS WIN AT STEEL CITY"
That was the headline of an AMA Pro Racing press release yesterday. One would be led to believe that Ricky has won 69 nationals total, but he's actually won 70 in the old 250/450 class. RC also had 26 national wins in the 125 class (AMA Motocross Lites) for a total of 95….
Here are some things from Ping:
The motocross industry media spent Tuesday of this week at an amazing new track called Zaca Station MX Park. Kawasaki rented the facility to introduce their 2007 KX450F. If you haven't seen the Racer X Tested feature on the new 450, click here. The new facility sits just five miles south of the famed (and very exclusive) Castillo Ranch. The landscape and the soil are practically identical at the two places, and both courses were built by Marc Peters. The Zaca Station track has a membership, but riders are welcome to show up and pay a one-time fee of $50. For more information, check out www.zacastationmx.com.
The AMA Supermoto Series made a two-day stop in Denver last weekend for the only doubleheader of the season. The track, built in the parking lots of Invesco Field, was much different than anything most riders had ever seen. The pavement was covered in a tar sealer that made it very, very slippery. Most riders were comparing it to polished concrete more than typical blacktop. The slippery surface meant lots of crashes, and so did the set of supercross-style whoops that the aforementioned Marc Peters built in the dirt section. The dirt trackers and road racers slid around the pavement problem-free and then dropped their elbows and held on for dear life through the whoops; the motocross guys blitzed the whoops in fourth gear pinned and then took turns crashing on the slippery street sections.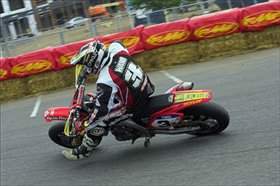 Jeff Ward was 3-for-4 at the Denver Supermoto

photo: Ray Gundy

Jeff Ward was the big winner of the weekend, taking home three of the four 450 main-event wins. The Troy Lee Designs Honda rider is slowly pulling away with the points lead from Graves Yamaha's Doug Henry. You can't ever count Doug out, though. I got a third the first night in the Lites class and was even leading the final at the halfway point on Saturday. Things were looking good ...
... until it started raining. The clouds opened up and, unfortunately, I decided to go with slicks instead of rain tires despite the looming dark clouds. If the precipitation had waited, I would have looked like a genius. Instead, the already-slick blacktop turned into a skating rink and on my racing slicks, I was all over the place. It felt like I was trying to breakdance with two sticks of butter strapped to my feet. I dropped to third and looked to at least have another podium locked up until, with a half a lap to go, I spun myself in a circle and stalled the bike. What a jackass. I finished seventh.
There are rounds coming up in Nashville and Wisconsin if you live in those areas. And for the Southern California fans, the final round will be at the Queen Mary in Long Beach the first weekend of November. You should really check one of these out because they are cool.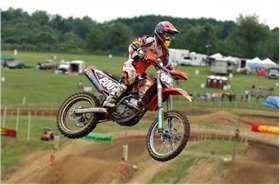 That's Mike on the '07 KaTooM
photo: Tony Scavo
Here's a note on the never-ending saga of the never-beginning murder trial of supercross founder
Michael Goodwin
, accused of the gangland slayings of
Mickey and Trudy Thompson
back in 1988, from Justice On Trial, which is in Mike's corner:
"Defense attorney Elena Saris has requested that the DNA she discovered on the fingernails collected from the Thompson murder crime scene, presumably Trudy Thompson's, be tested for DNA. Should the test show that the DNA is not Trudy's, Mickey's or other persons known to be in contact with Trudy prior to the murders, it can be assumed that Trudy had contact with the killers and the DNA belongs to one of them, as yet to be identified. Saris asked the court why the envelope containing this crucial evidence had not been opened and tested when DNA testing became available, if, in fact, law enforcement has been looking for the Thompsons' murderers, as they claim.
"The date for the trial has been moved again to October 5th. Prosecutors delayed in getting this evidence to the defense and now blame the defense for a continuance to test the DNA that should have been tested years ago by law enforcement. They are also indicating that this testing may not be accomplished in time for the trial status hearing on September 26th or the tentative Oct. 5th trial start date. Estimates are that this trial will run 4 to 8 weeks.
"Goodwin's defense team is still attempting to get him medical care for a variety of problems that have not been adequately treated."
If you're coming to
Steel City
, keep an eye out for a guy wearing a #7 Pittsburgh Steelers jersey on Sunday, likely working out of the Scott bus. That will be
David Clabaugh
, lifelong Denver Broncos fan, who lost a bet on last year's Denver-vs.-Pittsburgh AFC Championship game, where the heavily favored home team, Denver, got beat by the Super Bowl-bound (and bound-to-win) Steelers.
Here's a note on David Bailey's All-Star Extravaganza:
"As the September 11th event nears, rider registrations have been very strong for David Bailey's All-Star Extravaganza. Riders are prepared to arrive from all over the country to participate in this unique, once-in-a-lifetime event. To learn more about what you can expect to experience during this incredible day of riding and interacting with some of motocross's biggest stars like Travis Pastrana, Jeremy McGrath and Kevin Windham, visit www.davidbaileymx.com. And don't forget that each registration includes entry into the most unique auction to benefit injured riders in the history of our sport. Meet many of your favorite riders including James Stewart at Pole Position Raceway for this star studded event. Registrations are still being accepted, but available slots are running out fast! Call today to reserve your spot! 276-650-1759"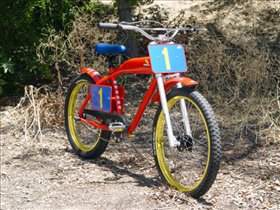 Look at the David Bailey Grand National bicycle Primm MX/Vintage Iron are bringing out!
photo: Rick Doughty
And in totally unrelated news,
Rik Smits
, the former NBA center and all-around motocross fan, was featured in a
story
in the
Indianapolis Star
this week. Smits, who took his son to
Unadilla
and met with RC for a little while, has a passion for vintage racing and old Maicos that would rival anyone's!
Mainstream Misfire of the Week: "The Postal Service recently, with great fanfare, issued a new set of stamps depicting motorcycles. Collectors who buy copies issued on the first day the stamps are available can get them with a special commemorative postmark. Unfortunately, the colorful postmark spells it 'motorcyle.' Having discovered this, the post office announced Friday that new orders for first-day envelopes will have a corrected postmark." That's from a Breitbart Report.
Okay, that's all I've got. Time to hit the road for Steel City. Keep your fingers crossed but your umbrellas handy this weekend. See you at the races.