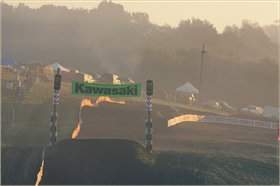 photo: Simon Cudby
Hello, everyone, and welcome to the Rev-Up. Two to go, guys. My, how the summer has flown by. It seems like just a couple of days ago we were all pumped up about how the 2006 AMA Toyota Outdoor Nationals were going to pan out. Ricky and James threw down the gauntlet and traded a couple of moto wins,
Josh Grant
put in the fastest lap time of the weekend on a 250F, and Mikey Boy raced off with two convincing moto wins. It was going to be the best summer ever! For the most part, the Outdoor Nationals have delivered. And it's a good thing too.
The Nationals are fighting to stay alive. The sport is evolving at a geometric rate, and everything is slanting toward the made-for-TV glimmer and shine of the stadiums. But you know what? The outdoor series in 2006 has been the most entertaining and successful in the history of our sport. Each event has seen droves of die-hard, educated fans trek from faraway places to enjoy the sound and the fury of racing under the sun. I'm not really sure what it is about being crammed together with 20,000 half-naked and sweaty bodies, watching a pack of screaming chariots snake around in the dirt, but for my money it doesn't get much better. I've written about this before, but one of the wildest and dramatic events on the tour is pushing our way this weekend. It's time for Steel City, baby!
About three weeks ago, Tim Cotter drove me out to the Steel City facility and had me chalk out the lines for the team haulers. Before doing so, I took a look out across the jump-laden, off-camber-corner-adorned track and had a moment with myself. I closed my eyes and heard Lechien's KX500 panic rev, saw Ryan Hughes uppercutting Doug Henry, and felt Jeff Emig's immaculate 1996 victory. With a wicked smile I opened my eyes again and looked at the track and envisioned 20,000 rabid fans filling the valley. It gave me the shivers.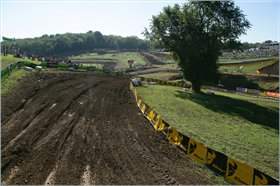 photo: Simon Cudby
Let's go ahead and get it up in here for the 2006 running of the
Steel City
National. There's a lot of hype in the air, so let's break it down.
250F Class
The Iceman is back, and I like it. As one of the fastest riders to rise out of District 5, Broc Hepler will have the home-field advantage as the series turns toward Pennsylvania. Broc is playing as a pretty big wild card in the championship points. Grant and Short aren't as strong as they were in the beginning of the series, and there hasn't been much slowing RV Park down. Broc always rides Steel City well, and he will be tough to beat this weekend.
Man, is it hot in this class! Josh Hill proved at Binghamton that he is the real deal. Josh rides hard. He attacks the track a lot like James does. It's like he's mad at the track or something as he slams the tires back to the ground at the earliest possible moment. It looks exaggerated at times, but his style is effective, that's for sure. He was so strong at Broome-Tioga that another podium is very much in the cards for Team Yamaha's new golden boy.
And how about the saga of Mike Alessi? Broome was simply devastating to #800. Mike's crash was shocking to me. I mean, I've been watching Mike race for over a decade, and I have never seen him crash after holeshotting. That kind of stuff just doesn't happen to him. What happened after the crash is even more of an enigma to me. Hey, I think the cat just short-circuited again. System overload. He had a hundred ideas jump into his head when he went down. I think he chose too many of them at the same time when he got up. All Mike can do now is win motos.
The pressure is on Ryan Villopoto. Twenty points is a nice lead—it's better than a nineteen-point lead—but it's a long way from a safe lead. Murphy's Law reigns supreme in this division. All Ryan needs to do is stay ahead of Mike, although recent history proves this is no easy task. Ask Ivan Tedesco.
It could get a little weird this weekend.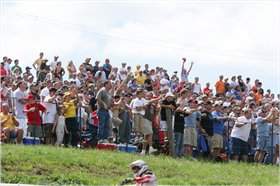 photo: Simon Cudby
450 Class
The two fastest motocross riders the world has ever known will be squaring off once again this Sunday afternoon. If that isn't a good enough excuse to get off the couch and get to the races, nothing is. These guys have thrown down huge all summer long, and this weekend could be their biggest brawl yet. It's all about pride at this point. But with four motos to go, I guarantee you that Ricky and James both want to win them just as badly as they did the first four. They put on a show at Hangtown and danced with the devil at High Point, while Southwick, Washougal, and Binghamton were all battles of epic proportions. We waited ten years to watch this rivalry, and now we only have two more chances to view it while it's at its peak.
This one is going to be big. They've all been pretty big in one way or the other, but I have a feeling that this weekend is really going to roll. We have Carmichael and Stewart headlining and one hell of an opening act in the dramatic 250F title chase. The summer is almost over, and the end of the 2006 regular season is right around the corner. I urge you to get to the races! Don't miss a chance to see Carmichael ride at the peak of his career. Run to your car, pack in as many friends and beers as you can, and drive to the races! (Wait till you get there to enjoy your colds ones, though. Besides, there will be a plethora of chicks you can share them with when you arrive! Ah, the great outdoors.)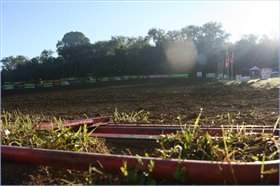 photo: Matt Ware
Seriously, these events are a really good time. There's tons of food, you can get right up close to the racers, and you will be surrounded by moto-heads. When that 30-second card goes up, you can feel the electricity in the air. Those nervous seconds right before the gate drops are what it's all about.
The race is just a little over an hour from the front door of the Racer X HQ, and we're all pumped up here at the office. We're going to have three tents this weekend where you can get your free Steel City stickers. Come by and see us! I'll be there working beside Tim Cotter, and I'll be wildly busy. But I won't be too busy for a high-five or a handshake. Man, I can't wait. I'm jumping in my truck as soon as I press Save and Send.
See you there!