Bench Racing Ammo: Endings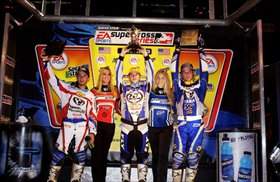 Branden Jesseman (center) stopped Chad Reed from sweeping the '02 Eastern Regional 125cc SX Series
photo: Steve Bruhn
It's supposed to be a fair well tour, but Stefan Everts has been dominating the 2006 MX2 GP season like it was his very first season near the top. Although he hasn't won every moto, he won the first 12 overalls of the season and was threatening to run a perfect season. But this past weekend, New Zealand's Josh Coppins put a stop to Everts supremacy with a 2-1 score for the overall, topping Everts' 1-2 to win the Northern Ireland GP. It was a sweet moment for Coppins, and surely a bitter one for Everts.
But all streaks must come to an end, and this fact is surely not lost on Everts. Coincidentally, his recent era of success in the GPs began right at the end of a similar run of dominance by Frenchman Mickael Pichon. After an exile from the U.S in 1999, Pichon returned to Europe to dominate the GP scene and win the 2000 and 2001 250cc GP crowns. And he did it with seeming ease on his Suzukis, winning 12-straight through the end of 2001 and the beginning of 2002. Pichon was going for the mythical 13-straight when he was beaten by Everts at the GP of Italy. Stefan never looked back, dominating the rest of the season and capturing every title in that class from 2002 through today. Now they both stand with 12-race win streaks on the books.
That 13-race streak is a tough one. One of the most memorable ends to a streak came in the 1996 AMA Supercross Series. Team Honda's Jeremy McGrath came into the '96 SX series with not only three consecutive 250cc SX crowns, but he also won the 1995 250 National MX Championship. He went on to win the first 13 supercrosses that year, flirting with a then thought-to-be-impossible perfect season. At the penultimate round in St. Louis, his streak was ended by Team Kawasaki's Jeff Emig. MC then won the finale, giving him 14 wins out of 15 races that season.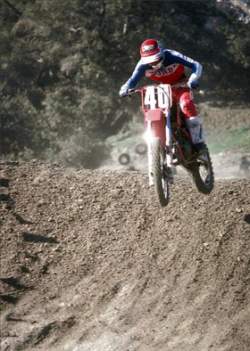 Johnny O'Mara took the win at the season-ending Carlsbad 125 National in '81
photo: Dick Miller Archives
That was an amazing feat, but
Ricky Carmichael
matched it five years later, winning 13 in a row to close out the season. He ended up winning 14 out of 16 races in that 2001 SX season.
Another history 13-race streak belongs to Team USA, which won the Motocross des Nations from 1981 through 1993, which is the all-time record in the 59-year history of the event. But the Brits ended that streak by winning the 1994 event, a glorious day for the Lord Alfred Weigandts of the world.
In 2002, RC lost the Pontiac SX to Nathan Ramsey after a bizarre early crash. He recovered for second, but was all smiles in the press conference. That's because earlier that evening, Suzuki rider Branden Jesseman beat Yamaha of Troy's Chad Reed in the 125 main event, keeping Reed from a perfect East Region Series. That left RC's perfect '98 tour—nine wins in supercross—as the only one ever in 125 SX. RC made sure to thank and congratulate the shy Pennsylvanian.
The following season, 2003, as RC was going for his second-straight perfect 250cc outdoor MX season, his string of 250 overall wins ended at 18 when he was defeated by Kevin Windham at the '03 Unadilla National. Windham won the next race at Washougal to build a two-race streak, but then RC won the next event at Millville and never looked back. Amazingly, RC won EVERY national in 2004 and 2005, not taking a loss until Hangtown this year. Our calculators struggle to even add up that many consecutive wins.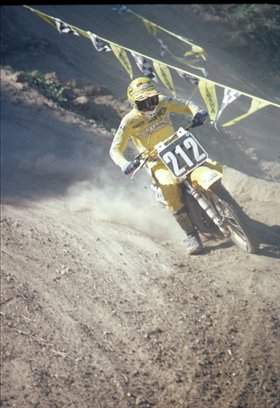 Rick Johnson at Carlsbad in '81. Check out the front number plate!
photo: Dick Miller Archives
Mark Barnett absolutely dominated the 1981 AMA Motocross Nationals in the 125 class, winning every race right up until the last one at Carlsbad, which he missed due to a broken collarbone. He missed his shot at history as a result. That opened the door for Team Honda's Johnny O'Mara to win his first-ever AMA National on the #40 Honda.
Coincidentally, that '81 Carlsbad National is significant for another reason: The second moto that day was won by a rookie phenom wearing #212 on a YZ 125 Yamaha with a front number plate as big as a briefcase! That rider was none other than El Cajon's teenage badass Ricky Johnson.
In 1980, Suzuki's Kent Howerton would have had a perfect season in the 250 Nationals had he not dropped the third-to-last round at Red Bud. The winner there turned out to be Honda rider Steve Wise.
Before that, in 1978, Bob Hannah won the first eight 250 Nationals, then lost to Howerton at Red Bud. There was one more round left at High Point Raceway, which the Hurricane decided to pass on due to a minor injury.