Rev-Up: View from the Tent
Hello, everyone, and welcome to the Rev-Up. With the last break of 2006 staring us in the face this weekend, I wanted to take this chance to talk about a pretty cool experience I was able to enjoy last weekend. Over the years I have discovered that you can make a positive out of anything you do, no matter what the task may be. If you go into a project with an open mind and a glass-half-full attitude, chances are you can make it work. All the same, I am one of those guys that like to do what he wants to do. I have made it a goal to live my life on my own terms, and one thing I am quite proud of is that I have been fortunate enough to walk the path I chose to, instead of the path I had to.

With that in mind I was faced with a question last Wednesday that had me pondering if I would continue on this path. The question, which was asked to me by Racer X Brand Manager Mike "Fubar" Farber, was simple: "Hey, Bowyer, I need you to work the tent this weekend. Sissly. Can you do it?"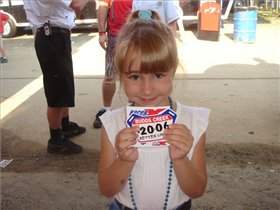 Everyone loves free stickers!
photo: Dave Brozik
I had helped work the
Racer X
tent before, but merely on a limited basis. This time he was asking me to work it by myself. It had been over a month since I had gotten a weekend off, and with summer winding down, the thought of drinking beer at the lake all weekend and watching NASCAR was particularly appealing. I had never been to Broome-Tioga before, though, and the 250F title chase was in gridlock—and I genuinely love being at the motocross races. With that, I loaded myself in the van with Mike and the boys and was on my way.
It started off pretty badly. Upon arrival, we discovered the tent was still caked with Millville mud. After a sound power-washing inside and out, it was back to its familiar white color and the Racer X shield was once again shining proud. But the ground was soaked. A shredded hay bale later, we were in pretty good shape. As the spectators began to roll in, I glanced over to the pits and fought the urge to run down and wander like some of the usual suspects of the industry. You know, throw on the backpack, the black socks, and the shades and walk around like you're important (which you kind of are, I guess, but sometimes I want to stop people and ask, "So what exactly do you have in that backpack?").

Instead, Mike handed me a block of Broome 2006 Racer X stickers with a wicked smile and said, "Have fun, I have to hang up banners." With that, I spent my Saturday afternoon handing out free stickers and working the tent. It wasn't bad. Some of the people are really nice and polite, and I could see most of practice from the tent. Then came the rain.

In an instant there was a river flowing through the tent that was almost up to the laces on my DC Shoes. I was wet, I was cold, and I was bored. I glanced up to the tower and saw Weege, who gave me a sarcastic wave from the shelter of the announcing tower. I gave him back the finger. To put it mildly, I was not walking the path I wanted to be walking; I was kind of wading through it. With the drone of the women's class sliding around the muddy track in the background, I saved some hope for Sunday to be better.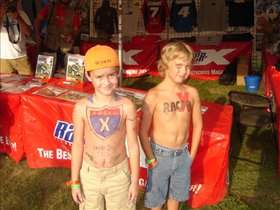 Diehard Racer X fans
photo: Dave Brozik
Sunday 6:30 a.m. In the new October issue of
Racer X
, in Davey Coombs' "Reason for Being," he speaks about the simple pleasure of being at the track early in the morning. His words rang home as I took in the pre-dawn peacefulness at Broome-Tioga. Watching and listening to the place come to life while enjoying a warm cup of coffee was such a spiritually fulfilling way to begin the day. It had rained all night, but the sun began to peek through the clouds around 8 a.m. The track was still wet, but it didn't look that bad. The rutted corners had been rolled in and the elevation change enabled the water to simply roll off. I decided right then and there it was going to be a good day. And it was!
The crowd rolling in and the sun breaking through the clouds matched each other's intensity. By noon the place was packed and there was hardly a cloud in the sky. Soon I was busy at the tent. In between handing out free stickers, I did my best to keep up with customers wanting some
Racer X
Brand stuff. The time really flew by. In the back of my mind I thought about Clint and how he may be doing in the Nextel Cup race in Michigan…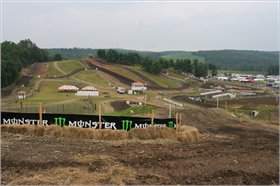 The early morning at Broome-Tioga was a little wet
photo: Matt Ware
Anyway, I got to meet a lot of really cool people; then again, I met some jerks too. People rudely demanded discounts and tried to steal things from the table when I had my back turned. I guess that's par for the course with any crowd of 15,000, whether it's motocross or figure skating.
One of the cooler instances of meeting people was when a woman asked me how small our kids' stuff goes. I had been mobbed with a horde of people, and I had my head down and was frustratedly trying to tear open a fresh pack of stickers. I replied to the woman, "I dunno, check out the ones on the counter!" Then I looked up I saw a woman holding one of our infant-sized shirts up against her protruding and pregnant belly. She said, "I'll take this one and one of those Motocross des Nations 2023 bibs." Damn, that was cute.
Not long after that, a man approached me and asked, "Are you Andy Bowyer?" I nervously answered yes. He stuck out his hand and told me that he has read every single Rev-Up and he really liked my work. Hey man, my path might not ever make me a million dollars, but when things like that happen, it makes me feel like a very rich man inside. He noticed I was really busy and politely nodded at me and said he would be back to chat.
I also got to watch most of the racing. Earlier in the day, a man walked by the tent and said, "Hey I see you have Alessi on the cover. That's awesome, because I'm a Villopoto fan and he got a DNF when he was on the cover. This time its Mikey's turn!"
Later, when I heard Weege scream over the PA, "Alessi goes down! Alessi goes down!" I could only shake my head in amazement. But trust me, there is no cover curse. I mean,
Davi Millsaps
was the worst starter ever, then he got the cover and suddenly he gets every holeshot he tries!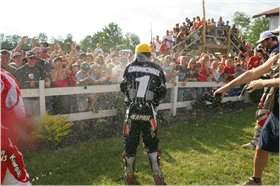 Our author was there for RC's first title, as well as his last.
photo: Matt Ware
The end of the day finally came around. I passed out the last of our free stickers while watching
Ricky Carmichael
ride off with his fifteenth and final AMA title. I was there for the first one, and if I had not agreed to help Fubar in the tent, I would have missed his last one. I decided to go down to his hauler and try to get a handshake from my childhood friend. Then I remembered Clint. Holy shit, the big race! Big Rick had been watching, so I jumped in Ricky's motor coach and watched with amazement as the television showed Clint in the lead with 20 to go! Ten to go and he was in second. Two laps to go and he was in third, four seconds ahead of the next racer. It was going to be his best finish! Suddenly, the broadcast switched to a shot of the 07 Jack Daniels Chevrolet with smoke barreling out of the windows. His day was over. He went from third to thirtieth on the last lap as the result of a blown engine. Big Rick didn't say anything. He just shook his head and handed me a plastic cup and a cold beer. I didn't say anything either. I just looked at the ground and stomped back to the tent to help Farber tear down.
I was still cussing under my breath when I arrived at the tent and somebody put their hand on my shoulder. It was the man who shook my hand earlier in the day. Seeing the dejected and disgusted look on my face, he told me a story. His name is Greg Papandrea, and he told me about his battle with cancer, how lucky he was to beat it, and how he makes the most out of every day he has. He also told me of his genuine love for motocross and how he would go to every race if he could. Then he told me a quote that he liked to live by since the day he got sick. It is from Eleanor Roosevelt, and it goes, "Yesterday is history, tomorrow is a mystery, today is a gift." You're damn right it is. Thanks, Greg.
Weekends like this one really remind me why I love this sport so much. Seeing all of those kids smile when they got something free and meeting amazing people like Mr. Papandrea leave me waiting for the next race to get here. Next stop,
Steel City
. I invite you to please come out and watch the races—I'll be in the
Racer X
tent.
Thanks for reading, see you next week.