Privateer Profile: #149 Chris Whitcraft
I ran into #149 Chris Whitcraft at Millville on Saturday following practice. You may remember him, as he was a member of the Holigan Walters Yamaha team in its first season on the AMA tour. The always-smiling Whitcraft and I chatted a bit about the 2006 season, and he seemed desperate to get a good finish. Well, his wish came true the following day: Chris finished 20-14 for 18th overall. In fact, at one point in the incredibly muddy second moto, he was in third place behind Carmichael and Vuillemin! We got in touch with this hard-luck privateer for today's Sponsorhouse.com Privateer Profile. Be sure to show Chris and his sponsors some support by clicking on the links at the bottom of the page.
Racer X: Chris, when I spoke with you at Millville on Saturday, you were desperate for a good finish. You got your wish on Sunday at Millville when it rained and you finished 14th in the second moto. Tell us about your day.
Chris Whitcraft: Minnesota went absolutely fantastic for me! I couldn't have asked for anything better, except to maybe have stayed off of the ground. I got in the main through the last transfer spot in the LCQ, but I totally changed my riding around. In the first moto I came from a ways back and ended up 20th, which was good. Top twenty, that's what everyone looks for. In the second moto, as you know, the skies opened up and we were all sitting on the line, and it was funny because everyone had their umbrellas and stuff and I forgot one, so I was sitting there with a pit board over my head, trying to keep my grips covered up. Once the gate dropped, I just kept plugging away, and at one point I got all the way up to third!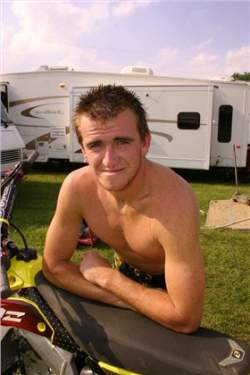 Pickerington, OH's Chris Whitcraft

photo: Billy Ursic

Wow!
Yeah, I was pumped! Fans were hanging over the fence because I was a privateer, and the Whoop Monster was going nuts for me. It was absolutely fantastic.
What happened after that?
Well, in one of the ruts in the back I laid it over and buried my bike in mud. My gloves were ruined, so I threw them away. My throttle kept slipping out of my hands, and then I worked up to about eighth, but I crashed again. Once I got back up I saw I was running fourteenth and just stayed there.
Did that moto seem long?
Actually, it didn't seem that bad till the last two laps, when my bike would barely get through some of the sections. The last two laps were the hardest, but other than that I had a blast.
You had to take some confidence with you up to New York the next weekend, so what happened the next weekend at Broome-Tioga?
It was okay, but not what I wanted. I went out for practice on Saturday on my race bike, and I try to keep it fresh, but on the second lap I had some engine problems and it started blowing oil everywhere. So I ended up having to ride my practice bike, and that thing is worked. I've been practicing on it every day all year, and who knows how many hours are on it. So I just worked with what I had. I got in the main, but my bike just couldn't keep up.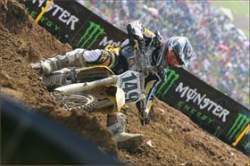 Whitcraft has been racing the 450 class in 2006 aboard an RM-Z450

photo: Matt Ware

Now that you have a weekend off, are you going to get your race bike together so you have a good showing at Steel City?
Oh yeah, that's priority number one right now. I want to finish out the season strong. Right now both of my bikes are torn down, but I'm working on getting them together as we speak. I'm really looking forward to Delmont.
Well, it has been a rough past two seasons for you, hasn't it? Since you signed with the upstart Holigan Walters Yamaha team, things just haven't gone right for you.
Unfortunately, injuries have taken their toll on me. A lot of it was myself, I'd say. I'd get hurt and I'd rush back. The doctor would tell me I'm healed, but I wasn't 100 percent. I'd start trying to jump right back in place, and my body wasn't physically ready for it. If I'd have a little spill, I'd get hurt. I even had to have my shoulder reconstructed. In supercross I broke both of my wrists, and then I got healed up and had an opportunity to race for KTM in Canada. I went and pursued that, but I just went up way too soon after my injury, and I ended up snapping my femur. And that almost got me. I was in the ICU for a week and my lungs weren't working. After all of that I had to get three blood transfusions. I was off for a long time. I took from July till the first of the year off. After that I went down south with a buddy of mine, Levi Kilbarger, and he let me borrow one of his bikes to practice on for a couple months. I finally got my bike and just started getting ready for the outdoors.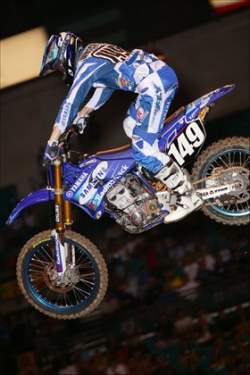 Chris rode for the upstart Samsung Yamaha team in 2004

photo: Simon Cudby

Is it hard to get back in race mode after suffering an injury like that?
It's really hard to come back from being off that long. It takes a lot of hard work, just from being off from that injury, and the injuries before that. It really hurt me, but now I'm back in the swing of things and I'm having some good runs. I just have to work on some more physical training, and I'm really looking forward to next year. I think my body if finally solid.
Well, tell us about your race program this year. Who's helping you out?
I'm a full privateer, and I'm getting help from a shop in Ohio called Ohio Motorcycle. They're helping me out with bikes, and I've been traveling with Levi Kilbarger to the races—him and his family have helped me out a lot. I also want to thank my family for sticking behind me. My brother, David, he helps me out a bit and helps me buy parts. He works forty or fifty hours a week and uses what extra money he has to help me out. I really appreciate the help of everyone like that.
Chris Whitcraft's sponsors:
Kilbarger Drilling