Welcome to the Shift Number Cruncher. DC gave me a challenge last week when he told me to try a number that was far less common than the digits we've crunched so far. I suggested 68 or even 71 and was slapped with a reply of, "That's too easy, Andy. How about crunching, say, #175?" So, following a few nervous hours of pondering what racers have worn the more obscure number, the names finally started to roll in the ol' memory bank.

Bad Billy helped by throwing a couple of names my way, and we came up with a list that just goes to show the potential of almost any number you can think of. There have been some fast racers who have taken the #175 to some degree of motocross glory. In fact, one former bearer of 175 is one of the biggest phenoms we currently have in the sport. Another had the potential to make the record books look very different, had he not lost his way in the late 1970s. In addition, a couple of others simply personify what the sport of motocross is all about. So hang on to your hats—here comes the crunch of one of the coolest three-digit numbers around!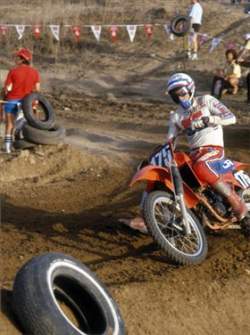 "Flyin" Brian Myerscough
photo: Dick Miller Archives
"Flyin" Brian Myerscough is a name well known to the old-school. Myerscough was the nemesis of none other than Jeff Ward in the early 1970s, racing his Myerscough Machines-equipped Yamahas against the factory XR75s and 105s of Wardy. They went pro about the same time, and Myerscough got the early upper hand, winning 125cc Nationals well ahead of Ward as a factory Suzuki rider. But then Brian developed hypoglycemia, an energy-robbing blood-sugar problem, and he had difficulty even getting out of bed.

Suzuki soon dropped Myerscough. He picked up a Honda support ride, then very nearly won the Unadilla 250cc USGP over David Bailey, only to again be undercut by his physical problems. He joined Team Tamm next, but nothing worked out there, and soon Brian was a full privateer again. All these years later, he's a contractor in Southern California, a part-time racer, and the answer to an all-time trivia question: Who was arguably better than the Flying Freckle on minicycles?
In the middle of my plight of trying to find possible 175 guys, Bad Billy saw my distress and sent me an instant message with the words "
Jeff Yentzer
" in it. You see, Mr. Ursic (he is the website manager now, so I have to call him that) did a Where are They Now on this cat a month or so ago. Here is the
link
if you missed it.
I can really relate to Jeff's story, as his fate matched that of so many super-fast East Coast and Midwest motocross racers in the mid-1990s. Back then, there were not twenty satellite teams filling the parking lots of the stadiums and fields of the supercross and outdoor nationals. Unless your name was Emig, Bradshaw, Antunez, or Swink, you weren't given much love from the factories. And no love from the factories meant riding worn-out bikes and eating peanut-butter sandwiches. Jeff's top-ten at the 1995
Steel City
National is proof positive that he had the juice to get it done at the pro level. It's safe to say that if Jeff Yentzer would have been born ten years later, he might be going to the races in the Team Solitaire or Star Racing hauler. All the same, it seems clear that Jeff's life turned out really well. He has a wonderful family, he owns a racetrack, and he is still twisting the throttle.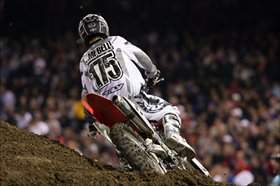 Ted Campbell
photo: Simon Cudby
The #175 currently resides with one of the most productive privateers in the business.
Ted Campbell
does double duty as the front man for LeoVince Exhaust Systems, conducting all of the rider-support duties; he has around 25 guys running his product on the pro tour and racing the 450cc class in supercross and the nationals. He's got respect on and off the track in the industry as a dependable, likable guy. One day, he'll be even more successful in business than he was on the track.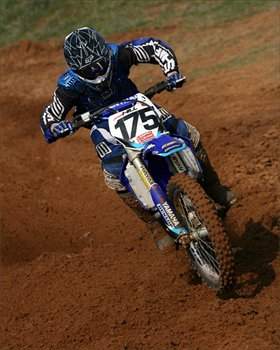 Josh Hill running #175 earlier this season as an amateur
photo: Simon Cudby
When
Ricky Carmichael
shocked the world at the 1997 Gatorback National, the quest to find the "next big thing" began. The heir-apparent to Ricky's incredible rookie sensation was
Travis Pastrana
. As we have painfully watched for the past decade, things just didn't quite work out for the next wunderkind. Then along came
James Stewart
, whose early success only solidified the fact that kids coming out of the Loretta Lynn's farm system could be instant superstars. Up next was a storm of talent with names like
Broc Hepler
,
Davi Millsaps
,
Tommy Hahn
,
Mike Alessi
,
Ryan Villopoto
, and
Jason Lawrence
. While it is now clear that there is not an instrument of domination the likes of Carmichael or Stewart on the horizon, there is an army of gifted young riders that will be scratching and clawing their way to the Anaheim and
Hangtown
openers. And right now, the hottest prospect in the world is
Joshua Hill
.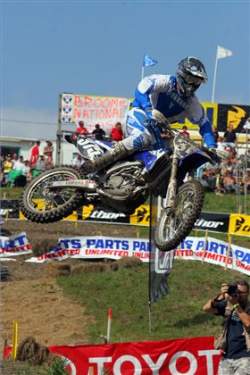 Hill is now running #375 as a pro
photo: Matt Ware
This just goes to show the power of the Number Cruncher. It's pretty clear that you can take just about any number and, if you really work on breaking it down, there is no telling just what amazing riders and facts you will uncover.
So who else ran #175 in the pro ranks? We're going to try something different with Number Cruncher this week and open it up to our readers, forum-style. Just send an e-mail to andy@mxsports.com with memories of your favorite #175s. We'll follow this column up on Friday with your additions. And be sure to sign off with your full name and hometown. Thanks!