Between the Motos: Jeremy McGrath
We're less than two months away from the inaugural Jeremy McGrath Invitational Supercross, so we got in touch with the man himself to get the lowdown on this highly anticipated event, which takes place the first weekend in October at the Home Depot Center in Carson, California—home of the recent X Games.
Racer X: What's up, MC?
Jeremy McGrath: I'm just heading up to El Toro to hit some ramps to test them out for my supercross race. We have a few different angles, and I just want to make sure we get the right one.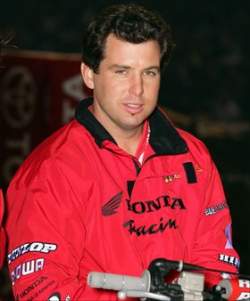 Racer-turned-promoter Jeremy McGrath

photo: Simon Cudby

You riding a 450?
Well, I didn't have a 450 with SX suspension, so I'm just riding my two-stroke. I still have my supercross 250.
Speaking of two-strokes, have you considered maybe doing a 125cc two-stroke support class?
At this point we haven't considered that, but that would be pretty awesome.
From reading your column in Racer X, I know you're still a pretty die-hard two-stroke enthusiast.
Oh, yeah. I love the smell, I love the sound, and I miss all of it. Actually, I was just going to Starbucks this morning and some dude comes up and says, "Hey Jeremy, what's up? What's with the two-stroke in the back of your truck?" Why is everyone capping on the two-stroke, man? I don't know. I think it would be a good call to have two-strokes, for sure. I think we've got to get this first one off the ground. With the twenty riders, we have to figure out if we have enough meat in the show or if we need to add something. My plan is to not make it a long, drawn-out, all-day-type deal. This is for the best of the best, and we're giving away a lot of money, and we want to have a great show, make it fun for the riders, and keep it action-packed for the fans. That's the goal here. And if we end up needing to have to add some meat to the show at a later date, that's a great idea.
You said a lot of money—how much?
We have a $500,000 purse. The winner is going to get $125, 000 for the overall for the two nights, Friday and Saturday, and for our head-to-head match races that we're doing, the winner each night is going to get $40,000. Plus, the payout on that is all the way down the list. Everyone is going to make money. If you get last in the race, you're making good money.
Who picked the invited riders?
Well, we kind of have a little panel going on. Between myself, Steve Astephen, Sondra Peters, Cheryl Lynch, Tim Clark, and Eric Peronnard, we have a little panel.
Chad Reed is unfortunately out, so does it worry you that RC and Stewart might not show up?
You know what? On one hand it worries me, yeah, because they're the top of the pile right now. But on the other hand, I've heard some talk about James thinking about coming, and I'm not sure if RC is going to come or not. I definitely called him a bunch, and we talked, but if those two guys aren't there and Ivan is there, Burner is there, plus myself, Travis, and Windham, Ferry, Preston ... how great is the racing going to be? It's going to be like a crap shoot, and any one of us could win. So that'd be cool. I mean, it hasn't been like that for a long time.
And I believe Ryan Villopoto was invited too, right?
Yes, he's invited. And what we've done is, we opened the class up. If Villopoto wants to ride his 250F, he can. So we may have him on his 250F against all of us. Personally, I'm going to ride a 450. It's going to be a hard-pack track. As much as I would love to ride a 250 two-stroke, I'm not sure that'd be the right call.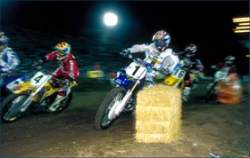 McGrath at the Summercross back in '99

photo: Simon Cudby

What if you win your own event? Aren't you afraid people are going to say that you cheated?
[Laughs] No, I'm not worried about that. I'm a half partner, and this is not a situation where my name is just tagged to it; this is a situation where I'm heavily involved and doing a lot of work with it. So if I won the race, heck, I think it would make it even cooler, because in the future it's going to be the Jeremy McGrath Invitational and I'm not going to be racing. So if I won the inaugural one, that'd be pretty cool. Plus it'd be a nice payday!
Are you excited to have companies like American Honda and Red Bull backing you? I was at the Red Bull USGP back in July, and man, Red Bull pretty much defines the word hospitality.
Oh, I'm really happy to have those companies on board, for sure. Honda was the first one to step up. For me, I'm already on cloud nine with my relationship with Honda now. After having a long career and having this program now where, basically, the program is developed around me to help the younger guys, I still have to do a lot of testing and I help the race team quite a bit. I try to be the go-to guy on some of the stuff the racers can't do. I'm real proud of Honda and really happy that they're involved. And Red Bull, I can't say enough about what they've done for me.
Since you're on the inside at Honda, do they have any plans of picking up anyone for next year?
[Laughs] I know they're going to have Millsaps and Andrew on the big bikes, so I think their 450 team is pretty solid. Windham, of course, he'll be with Factory Connection.
Ping wanted me to ask who is announcing your race because, if possible, he'd like to do it.
Yeah, at this time right now, we have a 90-minute NBC show, so what I'm thinking is that NBC has the say-so in the TV package part of it, and I know Cameron Steele is going to be one of them. But at this point I'm not positive who the other announcers are. I talk to David too, and you can tell him his name is in the hat.
Do you want Ping to race? Wait, forget that question. Are you bummed with what happened with the Step-Up at X Games?
Yeah, I'm bummed. They have to come up with a better system with the way they work the pole, because it's not about hitting the bar on the way up—the object is to see how high you can go. Two years in a row this happened. I think it has a ton of potential, because three years ago the competition was great. Theoretically, when you raise the bar in two-foot increments, you have to move the bar out a little bit too, because it's going to take you a little longer to get up. And we're not going straight up—it may look like we are, but we're not. There are a few things that drove me crazy about that. I also think the takeoff should be a metal ramp, so it's consistent and you can go high. And then we're not picking different lines and all of this stuff. I just think we should come up with a system that's more consistent, and then the show will be sweet.
What can fans expect in the FMX portion of your Invitational?
We're having Nate Adams, Deegan, Faisst, Renner, and if Twitch is better, he's going to ride too. So we're excited. As you know, we're going to have 20-foot-wide ramps in the track, with a 15-foot-high landing. So I think the freestyle guys will be really pumped, because they've never done an exhibition or a demo at a SX.
Are you going to have cheerleaders?
[Laughs] I don't know, should I? I'm with Rich Van Every right now, and he said affirmative. It'll be like Bercy.
So the movie Rad really was a big influence to you.
Yeah, I mean, Helltrack! Obviously, we can't have this track as crazy as Helltrack was in that movie, but the idea came from there.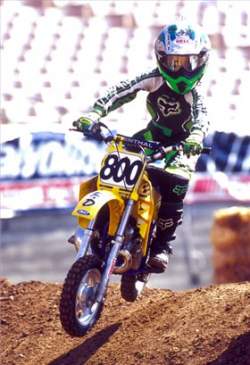 Look who else raced the Summercross

photo: Simon Cudby

Is the track going to help racing or spread things out even more?
What it is going to do is just be really different. The racing right now is spread out anyways, so what's the difference? Obviously, my goal is to put a little camaraderie back into the sport—something that's missing these days. And I want all the riders to have fun, because first and foremost I'm a rider. And I want to make this a great, fun atmosphere where it's not so businesslike. And hopefully, with some cool, fun track design and production, it's going to bring some of that back.
Are you racing any more Supermoto events this year?
I'm not sure. Troy [Lee] really wants me to do Long Beach, so I might just do it for him.
Can you redeem yourself from your Summercross defeat back in '99?
[Laughs] Yeah, I threw that away. I gave that money away!
Any last words on the Jeremy McGrath Invitational?
You know what? We won't be able to measure success after one event. It's going to take a few years. We have a contract, and we're going to do this thing right. We want to make it an annual event, and to try and do everything right the first time is a tall order, but we want to do the best we can and come out with a good product and build the brand. Eventually, hopefully, it'll be the new "must-attend event." We're competing with the U.S. Open, whether we like it or not, and by no means am I trying to beat Clear Channel or mess up what they have going. This is just something I just wanted to do. I think we have a great location and a great venue.