Starts are important at every track on the AMA/Toyota Motocross Championship tour presented by FMF, but the start at Binghamton, New York's Broome-Tioga Sports Center may be the most important of all. The right-hand first turn may be the tightest first-turn on the tour (only Budds Creek is pretty close) and as a right hander, the riders struggle to use the rear brake as they jam into the corner.
The key is to get a good jump on the field, because you're at the mercy of 40 others if you're stuck in the middle of the pack here. The inside line is the only place to be, because there's no room for a banzai attempt at a holeshot from the outside.
Usually, the start favors riders who line up on the very inside gate. But rain threw an additional wrench into everyone's holeshot plans this year, as the soupy start stretch featured some dry spots and some that were still wet. Due to that, the holeshot zone moved from its traditional inside gate to a spot about 6-8 gates from the dog house.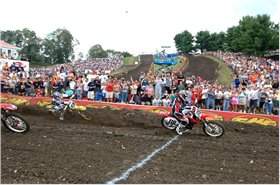 Millsaps took two holeshots at Broome-Tioga
Once again, Honda's Davi Millsaps was the quick draw artist of the weekend, as he nailed both Racer X Holeshots in the 450 class, which gave him $1000 (two $500 bonuses). Davi has pulled in more holeshot money than anyone in the 450 class this summer, and now he's hoping maybe Racer X will make him a big check that he can take home and hang on his wall.
"Bryan Johnson has a holeshot check for $1000 hanging on his wall," said Millsaps of his roommate. "So he's always rubbing it in my face. I need to get one of these to hang up."


We can probably arrange that…
In the Lites class, Mike Alessi got over his starting slump when he nailed the Racer X Holeshot in the first 250F moto. But his glory was short lived, because Mikey swapped and crashed just a few feet later. He tried to remount in traffic and launched his bike into the pack, and then discovered his clutch was damaged, and was unable to continue. It was the second time this year a rider took our money, then crashed a few feet later. (See: Ricky Carmichael @ Hangtown for the previous Cash-then-Crash.)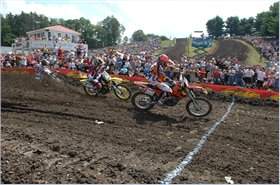 Alessi edged out Hepler in moto 1
Broc Hepler isn't known as a great starter, but he almost got Alessi in the first moto, and then he nailed the $500 in moto two. Strangely enough, the holeshot seemed to do more harm than good for Hepler. After winning two motos in a row, he was gobbled up by Ryan Villopoto and Andrew Short and settled for third, although that was enough to win the overall.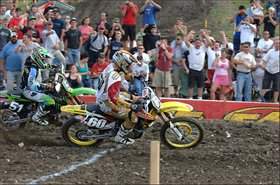 Hepler has his RM-Z250 dialed in
"I'm more of a come-from-behind guy," said Hepler. "Sometimes when I get up front early like that I pump up a little bit."
But Hepler still wants to get those starts. He did more practice starts than anyone on Saturday as he and the Makita/Suzuki team tried to dial in their machine, and it paid off.
Finally, a tip of the visor goes to Rob Buydos, who was announcing the race on Sunday. Rob sized up the starting line from the tower above the start, and he figured out which gate he thought was best. Based on that, Rob correctly guessed all but one holeshot on the day—including the four morning qualifiers, two LCQs and the four motos! The only time he was wrong was when he guessed Jeff Gibson would holeshot his 450 qualifier, only to see Jeff stall his bike a few seconds before the gate dropped. If Gibby had gotten it, Rob would have been ten-for-ten, which would equate to $5000 in Racer X Holeshot money!
Maybe Buydos stole Mike Alessi's mojo….