Bench Racing Ammo: Winning Streaks
With Ricky Carmichael and Broc Hepler each winning two times in a row, it got us thinking about the most consecutive outdoor races in which the same two riders have won. But if you're a die-hard motocross enthusiast, you surely know that it has to be in the era when James Stewart was tearing up the former 125cc class on his factory Kawasaki KX125 (from 2002 to '04) while Carmichael was winning all but two races in the 250 class.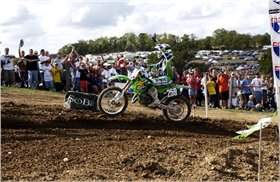 James is shown here winning for the eighth consecutive time in 2002 at Steel City

In fact, the record—eight straight wins between the two Floridians—came in Stewart's rookie year. After winning the first two nationals (Glen Helen and Hangtown), then breaking down at the next two (High Point and Southwick), #259 won the last eight overalls in a row. Carmichael, on the other hand, was racing his CR250R (remember those?) to all 24 moto wins in the series.

There are two different seven-race double wins, both recorded by James and Ricky. In 2003, Stewart returned from the collarbone injury he sustained at the Las Vegas SX finale with a vengeance. Beginning at Budds Creek, he convincingly won the rest of the 125cc nationals that season, giving him seven overall wins.

You would think that Carmichael was probably winning all of those nationals too, but he actually lost two that year to Kevin Windham (Unadilla and Washougal). But starting at Millville, RC won the last three nationals that season.

Then, in 2004, RC won every 250 National moto again that season, while Bubba came thisclose to doing the same. A moto crash at the fifth round of the series at Red Bud handed the overall win to Yamaha of Troy's Mike Brown. Therefore, Bubba started the season with four wins, and adding the three from the end of the '03 series, RC and Bubba were the winners at seven straight races.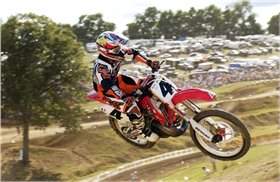 RC at Steel City in 2002 on a CR250! Remember those?

The next streak started the week after Red Bud '04 at Unadilla, and Stewart and Carmichael would end the 2004 outdoor MX season with a run of seven more victories together.

So although we're still seeing the same outcome in today's 450 class, fans should be thankful for the great racing in the 250F class: looking back throughout the 2003 and 2004 seasons, out of 23 outdoor national races, there were only six different winners—two in the 250 class (RC and Windham) and four in the 125 class (Stewart, Brown, Ryan Hughes and Craig Anderson).