Kawasaki/Racer X Race Report
Way back in the day, the Suzuki team used to run a rising sun logo on their bikes. The logo is gone, but the spirit is still there, because once the sun came out from the bleak skies in up state New York, Makita Suzuki's Ricky Carmichael and Broc Hepler each notched their second-straight wins in the AMA/Toyota Motocross Championship presented by FMF.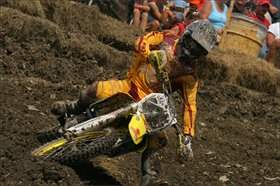 RC is champion again

While the results column looks the same at the top for these past two weekends, the way the races played out did not. The conditions last week at
Millville
started out perfect but deteriorated late in the weekend due to heavy rain—call it the land of the falling sun. This time the rain started early and nearly washed out Saturday's program, but things turned around big time. Sunday lived up to its name with bright skies that dried the track out, turning what was nearly a guaranteed mud race into a great day for racing.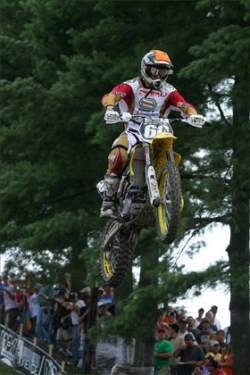 Broc "Hulk" Hepler muscled his way to the top of the box for the second-week in a row.

The yellow bikes are possibly the brightest out there, and they shined. Carmichael, in fact, will now have to buy some more polish to brighten up the newest addition to his ridiculous collection of championship hardware. His first-moto win clinched the 2006 AMA/Toyota Motocross Championship, continuing the strangle-hold he has had on AMA Pro Motocross since he started in 1997. The first moto started out a little tough for RC. Riders were guessing on gate pics all day since the start was one of the few parts of the track that still featured some mud. Carmichael's gate wasn't a good one, while
Davi Millsaps
grabbed yet another $500 Racer X Holeshot Award on his Honda. Carmichael soon ducked around Stewart and headed after 'Saps, and before long he was in the lead and gone. Stewart moved to second but couldn't hold on to Ricky and settled for the spot, while
Kevin Windham
out dueled Millsaps down the stretch to take third.
And then Steve Whitelock handed Ricky another number-one plate, and the fans went nuts and Ricky said he was happy and on it went.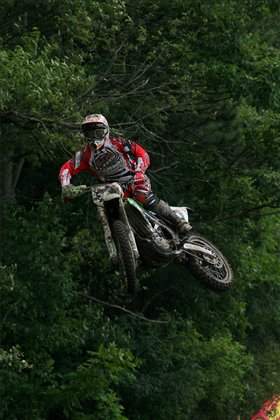 Jame Stewart gave the New York fans a show when he challenged Carmichael in moto two.

In a bit of a celebration, the Fox gang rolled out a number-one jersey for Carmichael to wear in the second moto. But this time there would be competition. Millsaps dialed yet another Racer X Holeshot, but Stewart was right behind him. Stewart made a mistake and let Carmichael slip past, and then Carmichael immediately went around Millsaps and took off, ready to put some more icing on the championship cake. But suddenly Stewart emerged from the back section with the lead! Carmichael had gone down, and now the race was on.
With his visor bent back, Carmichael ratcheted himself up and put on a charge. He logged a lap a full three seconds faster than Stewart and caught him, but then, like at
Washougal
, Stewart seemed to up his pace and made it tough for RC to pass. "It's actually really fun to race like that," said Stewart. "I know we're going to race clean, and I'm kind of getting used to it. Once he caught me I felt pretty good, I upped my pace and changed my lines a little bit. He was riding strong all weekend, and when I came past him, I knew he wouldn't be too far behind. I tried and I'm doing my best."
Just like at
Washougal
, Stewart did everything he could to hold Carmichael back, but this time Carmichael had much more time to work a pass. He finally did it on an outside line heading toward the Broome-Tioga supercross section.
"That was a good race," said Carmichael. "Me and James have been having some sweet battles lately, and dude, it's just so much fun. And we go back and forth, sometimes he gets the best of me and sometimes I get the best of him. I was able to get up and get back on him, and we put a good show on for the fans, I could hear you guys screaming the whole way around. I could tell he picked it up once I got to him, but I was able to get around him and it was just survival from there.
Carmichael ended up with one more scare, when his front tire started going flat late in the race, but he was still able to carry it home. "That was the first flat tire I've ever had in my racing career," said Carmichael.
Windham finished third again, one of his stronger performances of the season. "I have to give credit to the team," said Windham. "I've really been struggling, and feeling kind of down on my rides. We made some changes to the bike, on the suspension, and it made a huge difference. I was able to put the bike wherever I want it."
The never-ending drama of the 250F class ramped up again just moments into the start of the first moto.
Mike Alessi
snagged the Racer X Holeshot Award, but he swapped immediately on the first jump and went down. Then it was all chaos, as Alessi tried to pick his bike up and launched it back onto the track. The entire field went by, and then he went to the pits to fix an apparent broken clutch lever. They couldn't fix it, and Alessi was forced to head back to the pits with a crushing DNF.
So now it was
Ryan Villopoto
's and
Andrew Short
's turn to take advantage of some Alessi misfortune. But both were way, way in the back after getting stuck in a big first-turn pileup. They put on huge charge, with RV making it all the way back to fourth and Short to seventh. This put Villopoto back into the points lead.
But Hepler was back in the lead on the track. He assumed the spot after Alessi hit the deck. Matt Walker rode his best moto of the year early on running in second, but the big shocker was rookie
Josh Hill
running faster lap times than everyone while he battled up to third. Then he passed Walker and finished second, an amazing performance in his third-ever pro moto.
Troy Adams
also took his first podium with a third.
Villopoto was all fired up for the second moto. After winning a bunch of races at mid-season, bad luck had kept him out of the winner's circle in the last two rounds. He put it in his own hands in the second moto. Hepler grabbed the Racer X Holeshot, but Villopoto got around him and took off. Then Hepler got gobbled up by Short. Alessi was in fourth and trying to catch the Hep, but Hepler wouldn't budge and held for a distant third, which was enough to win the overall for the second-straight week.
"Those guys smoked me in the second moto, I was getting a lot of wheelspin and they got away," said Hepler. "But I'm happy to get another win. I'm not here to help anyone in the points, I'm just trying to do the best I can for myself."
Alessi was fourth, which dropped him a full 20 points down on RV. And Hill finished fifth, good enough for third overall.
Look at the Lites class and it's clear the future of this sport is bright, kind of like the bikes the took both wins at Binghamton.