Where Are They Now: Chuck Sun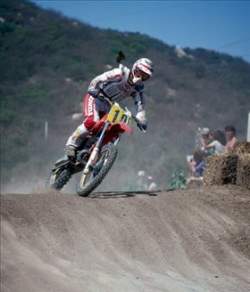 Chuck Sun at the '82 Carlsbad 500cc Nationals, a series in which he finished second to teammate Darrell Shultz, losing by just 10 points.
photo: Dick Miller Archives
Chuck Sun
grew up racing motocross in the beautiful Pacific Northwest. Calling Sherwood, Oregon, home, he was a regular at
Washougal
MX Park. He also looked up to another well-known racer from the area, Jim Pomeroy.
"One of my first expert races, Jim Pomeroy showed up and lapped everybody a couple times!" says Sun, now 49. "Being lapped by Jim, I probably learned more from that than anything else at that age. How smooth he was, the Bultaco with the chrome pickle…."
Sun went on being lapped to becoming a 250cc Grand Prix rider for Husqvarna, then the AMA 500cc National Champion for Team Honda, as well as being a member on the winning Team USA for the historic 1981 Motocross des Nations along with Johnny O'Mara, Danny LaPorte, and Donnie Hansen.
"Winning the MXdN was definitely one of my career highlights," he says, "but also winning the 1980 championship when the 500s were the premier class was very cool. Also, winning the USGP at Carlsbad in 1981. I was the second American to win it, but Marty Moates was the first American."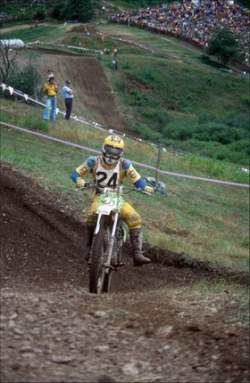 Before riding for American Honda, Sun had a 250cc GP deal with Husqvarna.
photo: Dick Miller Archives
Sun won seven 500cc nationals, along with a solo 250cc SX victory in 1980, all aboard Hondas. But after his racing career was over, he took off the motocross gear, put on a suit and tie, and became a stockbroker.
"I was a stockbroker for a number of years, and I was just choking with the tie thing, so I took the tie off and got back into the motorcycle industry," says Sun, who is now the national off-road sales manager for Tucker Rocky Distribution, which distributes products from MSR, Answer, Pro Taper, and Berik.
"I'm on a two-month run right now, and I just go from event to event," he says. "One of the things I really like about what I do is that we have rides with our dealers. For instance, I had a real fun ride at the Hatfield-McCoy Trail in West Virginia. We got to experience all of those trails, and we help the sales rep build a relationship with their dealers by giving them a thank-you for doing business with us. We go on these really fun rides, and I help host those events, and they see how those products work in the field."
Sun still has a thirst for competition, as after he turns 50 (on September 10), he plans to participate in the World Vet Championships at
Glen Helen
. The AMA/Air Nautiques Amateur National Championships at Loretta Lynn's isn't out of the question, either.
"I'd love to come to Loretta's," he says. "I was there for the 2006 event a few weeks back, and I was really impressed with the whole program for the amateurs, and I'd love to compete there. I saw how much fun Jeff Emig had, and I'd like to do the same. I just love motorcycles and love to ride them!"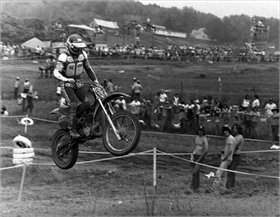 Sun's first-ever AMA National win came at High Point in 1980 (back when the uphill triple behind the starting gate was only a double!)
photo: Racer X Archives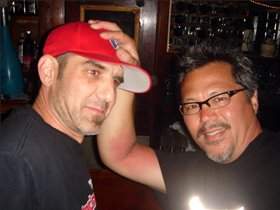 Chuck Sun (right) with MegaWatt.
photo: Dave Brozik