Rev-Up: Vulgar Display of Power
Hello, everyone, and welcome to the Rev-Up. It's time to get nasty, ladies and gentlemen. While the much-ballyhooed (though not very consistent) rivalry between James Stewart and Ricky Carmichael has captivated us since the onset of the Toyota AMA Motocross Nationals, there is no question that with three rounds to go, the rest of the summer will be centered on the fisticuffs between Mike Alessi and Ryan Villopoto. I do not believe there is a current rivalry in all of sports that could match the headlines surrounding the current 250F points leader and his childhood nemesis. Where are you at, SportsCenter? Seriously, I watched a ten-minute segment a couple of nights ago that went on and on about Terrell Owens and Bill Parcels' relationship: clashing personalities, the possibility of impending (and I am sure inevitable) sideline arguments, and the general discrepancies between the biggest jerk in the NFL and the Big Tuna. As I pushed back a lengthy yawn and crushed a beer can in my hand, I thought Yeah, but what about Mikey Boy and RV Park?! These cats have copious amounts of drama!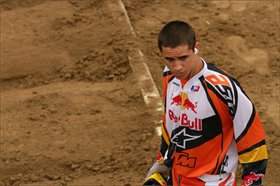 Mike Alessi leads Villopoto by five points with three rounds left
photo: Simon Cudby
Some of the recent noise I have been hearing says this applies both on and off the track. You see, with six motos and five points separating these two amazing teenage talents, the conflict is spreading. It's not just between the riders, or even their dads, either. The 250F class is big business nowadays, and hundreds of thousands of dollars are on the line. Every part of the two teams plays a role that directly affects their rider and the sizzling title chase. The mechanics, the team managers, the engine builders, and virtually every member of each team play a part in their rider's success. And right now, it seems like one of these guys has the upper hand. Come along as I go over this scenario, talk a little about Carmichael's vulgar display of tenacity last weekend, and get you revved up for this weekend's brawl at the Broome!
450F Class
Al Davis once told his defensive line that the key to winning the game was going to be simple: "The quarterback must go down, and he must go down hard." This is exactly how Ricky likes to play. When that 30-second card goes sideways, he probably thinks to himself, I am going to win. I am also going to kick you while you are down. I am going to do everything in my power to beat you as badly as I can, and there will be no mercy.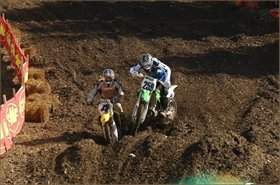 Remember last year at Broome-Tioga?
photo: Steve Bruhn
As you all know by now, RC lapped second place last weekend at
Millville
. He could have backed her down a notch at the halfway point when he had a massive lead, but no, that is not how The GOAT rolls. I think Ricky's mud ride was for all of you guys out there. He is going to be gone soon, and he knows that, but the motocross community has the shortest memory possible. You're here one day and gone the next, it seems. But those lucky fans who stood in the rain last weekend will never forget the day they saw
Ricky Carmichael
hand out the biggest ass-kicking the sport has ever seen.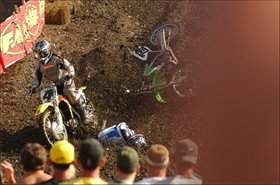 photo: Steve Bruhn
The Ricky and
Bubba
Show will roll into Binghamton for another dance inside the six-sided ring of fire. Remember last year? But hey, there is also some big-time racing going on in this class. Yeah,
Chad Reed
is having another late-summer surgery and is out again, but
Davi Millsaps
,
Michael Byrne
,
Timmy Ferry
,
Nick Wey
, and the Cobra will be throwing down huge as they vie for one of the big-money spots on the podium.
Who's going to win? I don't think RC will let up, even if he only needs a 17th.
250F Class
With six motos to go, there are five points separating Mike Alessi and Ryan Villopoto. Mike is clinging on to that advantage by the skin of his teeth. The recent departure of one Larry Brooks apparently began a steady dismantling of the factory KTM squadron. Riders, mechanics, and engine builders have followed in Brooks' wake as he swam toward Chad Reed's new team. Now listen, I know motocross is an independent sport and not a "team sport" per se, but one of the most important aspects of your ability to win races at the professional level is your team and support group. One of Carmichael's biggest claims to success has been the strength of his entourage. Of course, Mike has the unyielding support of his father, but beyond that, the only guys he has in his corner are new stand-in team manager Casey Lytle, his emotional but supportive mechanic Paul DeLaurier, and what's left of the race staff. Nathan Ramsey's hurt (and gone), Jay Marmont is hurt, Josh Hansen is living a supercross-only life, and even Tyla Rattray, who came over to maybe help out, didn't make it to the main events at Millville.

But I believe one of the most painful blows to Mike's game has been the absence of his brother, Jeff. One of the forgotten obstacles of beating Mike Alessi was that you had to beat his little brother too. And Jeff provided Mike a good practice and training partner. Now he's under that big orange tent basically all by himself.

Last weekend was an incredible pressure-cooker for Mike. For starters, Millville was the beginning of "The Hype" and all of that mess two years ago. When you also take into account that he and Ryan were locked into a points chase, the mud, the bad blood, and just about everything else that went on that weekend placed contents under immense pressure. Now, with the weatherman saying there is a 50 percent chance of precipitation on Saturday and a 60 percent chance on Sunday, the tension will certainly continue to mount.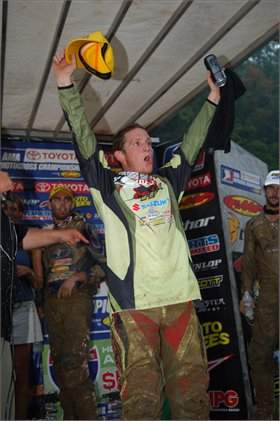 photo: Steve Bruhn
On the other hand, Villopoto has the momentum. He has just been chosen as a member of AMA Team USA, he has won the most races, and few will argue that he is riding the best bike out there; even fewer will argue the fact that Mitch Payton's Team Monster Pro Circuit is the strongest organization in the 250F class. Adding salt to the wound is that fact that Ryan gets to enjoy having broad-shouldered
Troy Adams
and the always quick-starting
Chris Gosselaar
as teammates and possible blocking buddies. But at the same time, the team is not perfect: Villopoto's two blown engines (
Southwick
and
Washougal
) have cost him at least 40 points and maybe even more. He's the fastest kid out there right now, but like Stewart, his inconsistency has hurt him. If it comes down to
Glen Helen
, this will be huge. Never mind the fact that Ryan is absolutely hauling ass on the bike.
Now, I am not making an effort to create a big sob story for Team Alessi. That group seems to have always enjoyed having the fastest bikes, the one-two punch of the brothers, and basically the upper hand on their competition since they were racing on 60cc machines. The Alessis have created a lot of animosity toward themselves with their win-at-all-costs seriousness, as well as some very public meltdowns like
Glen Helen
last year. Maybe right now is just a simple display of things coming around full circle like they always tend to do. But man, it just seems like the floor is dropping out from Mike right now, yet he is still somehow still in this, and maybe six motos away from getting the title he lost in his rookie season.
Me, I usually like to root for an underdog. Heck, doesn't everyone? I don't know if this has ever been written, but
Mike Alessi
needs help right now. He needs some support. After winning both motos of the opener handily, he has become the underdog in this fight, as the incredible rookie Villopoto has become the sport's can't-miss kid.
One thing is for sure: It is going to be fun to watch this weekend! I'm stoked, pumped, revved, all of that and more! I'll be there this weekend in the flesh, as well. Come over to the Racer X tent and check out the merchandise we have on display and let's do some bench-racing. I love meeting readers of the Rev-Up and my fellow Number Crunchers, so if you want to bang moto memories or just tell me I'm an idiot, roll on over. Either way, I'll have stickers and high-fives waiting for you!
Thanks for reading the Rev-Up, see you next week.