Welcome to the Shift Number Cruncher. Before I get started this week I have to pass a message on to all of you crazy Cruncher fans. First off, we want to say thank you for all of the positive feedback and response we have received since starting this online feature. We hoped this was going to be cool, but we had no idea how many number enthusiasts there were out there in virtual world!

I also believe I need to explain that this is feature is not a definitive account of every single racer that raced with the number of choice for the given week. The process goes like this: I pick a number, then dive head first into DC's archive room and starting thumbing through motocross history. Once I find 10 or 12 guys that I want to work with, I apply the brakes and start writing the text. DC and "Bad" Billy, Weege and Brozack and Fubar and everyone else usually have a suggestion too. It's from there that I come up with the guys featured that particular week. So if we miss a rider, kindly refrain from sending a correction e-mail and wait to see if we pick your guy the next time we do that particular number – which we will do sooner or later.
And now, back to your regularly scheduled broadcast.
The number 12 is a fascinating number as it pertains to such a wide variety of things. You buy a carton of eggs, there are 12 baby chickens in there. There are 12 digits on a clock. 12 months in a year. The Kansas Jayhawks dominate the Big 12 conference (okay, only in basketball). There are 12 outdoor nationals. Anybody ever buy a 12-pack of beer? Thought so. Anyway, I have 12 pictures—a boxcar set of dice—of new school and old school guys running the number 12, ready to rock for you this week. I call them the Dirty Dozen, naturally. Here they come!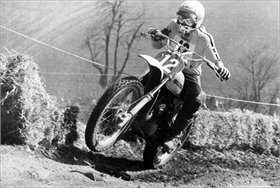 photo: Dick Miller Archives


Up first we have the immortal Gaston Rahier. He was the shortest of the Belgian gods, but he did a pretty good job of waxing our hero Marty Smith (who also wore the #12 in 1975) during the '76 125cc World Championship. Rahier, who died last year of cancer in a Paris hospital, would be Europe's claim to the best 125cc rider ever, just as we might say Stewart, Carmichael or Mark Barnett.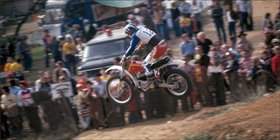 photo: Dick Miller Archives
And check out this super clean shot of Jim Pomeroy, another Grand Prix legend who unfortunately is no longer with us following last week's fatal car crash. Pomeroy spent the best years of his career in Europe, mostly on an overpowered Bultaco, against the European giants of the time on their CZs, KTMs, Puchs, Husqvarnas and, in 1973, anyway, Monoshock Yamahas. Had Pomeroy stayed in America from '73 through '76, where the sport was really just grabbing another gear here, his name would certainly be in the record books beside at least one major title.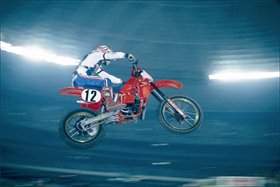 photo: Courtesy of Moto Verte
Skipping ahead a few years, Bob Hannah ran the number 12 during the 1983 AMA Supercross season—his first with Team Honda. One of the coolest things I have noticed since doing the Number Cruncher is the old school factory Hondas. The "production rule" that went into effect following the '85 season may (or may not) have leveled the playing field, but it kind of stole a little of the soul of the sport in my opinion—part of what made motocross unique for many was the super trick handmade motorcycles. Can you imagine what they could come up with today if they lifted the production rule? In a perfect world, Ricky Carmichael and Ryan Clark would both have incredible hand made unobtanium like Buckwheat did…. Though I think RC would still win.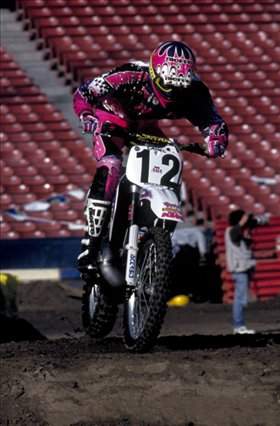 photo: Jim Talkington
Cliff Palmer was born and raised in Oklahoma and was quietly one of the fastest 250 and 500 class riders in the country throughout the early to mid-1990s. While Cliff was one of the most docile and quiet personalities you would ever meet at the races, he was surrounded with obscurity. Nothing in 1994 screamed "I'm different" louder than riding a factory KTM wearing Pink Bieffe gear. Blimey! Cliff enjoyed moderate success in the arenacross series after his national days. I raced him during the '95-'96 seasons. One time I stuffed him on the last lap to earn a top ten, and he and his father wanted to kick my ass after the race! Thankfully, what happens on the track at arenacross mostly stays there.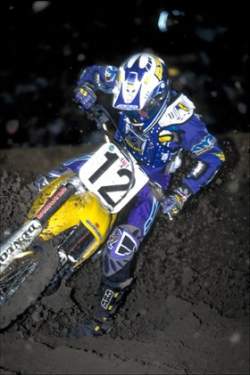 photo: Davey Coombs
Here we have a baby-faced Damon Huffman. Long before his "Huff-Diddy" days, Damon was one of the hottest, most stylish up-and-coming riders in the sport, and certainly one of the fastest 125 supercross riders ever. Unfortunately, as he did to so many guys in the late 1990s, Jeremy McGrath cast a shadow that Damon (pictured here in '95) never really came out from behind. Be that as it may, Damon remains one of the smoothest riders ever. Damon's career highlight was winning the 1997 Indianapolis (or Atlanta) Supercross aboard a Kawasaki, as well as the first-ever U.S. Open of Supercross.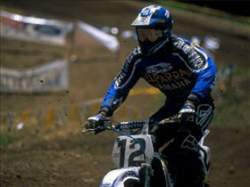 photo: Simon Cudby
Factory Phil Lawrence rode for Team Chapparrel in 1997, which was a satellite/privateer team. Lawrence had had a superb 1996 season with the Great Western Bank team, finishing in a tie for fourth in the final AMA Supercross standings with Kawasaki factory rider Ryan Hughes, That's about as exciting as it got for Lawrence that year.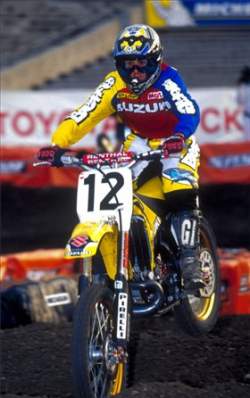 photo: Simon Cudby
This is a rare photo of Mickael Pichon wearing the number 12 riding a factory Suzuki at the 1999 running of the World Supercross round at Pasadena's Rose Bowl. As one of the most naturally talented riders to ever come out of France, Mickael might be most remembered for abandoning ship over that triple at the Atlanta Supercross—remember how he landed so hard his goggles flew off?! Michael also knocked off a couple of 125 East Coast Supercross titles in 1995 and 1996 before things went sour here, so he went back to Europe and won himself a world title.


Here is some moto trivia for you Cruncher crazies! Tell me what Loretta Lynn's contestant this is, what class he rode, and what year this shot was taken. Send your answers to andy@mxsports.com for some stickers.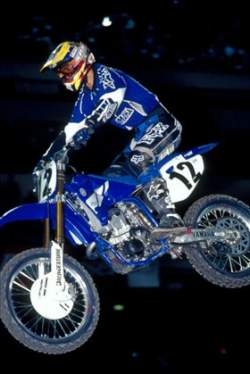 photo: Simon Cudby
And how about some love for my boy, Jimmy Button? Four-strokes have come a long ways from this animal that Button-Fly is riding. The 2000 YZF426 weighed a ton and had the power band of a top fuel dragster. But Jimmy was able to harness that power to grab the overall victory at the Washougal National. It was maybe the most overdue win in AMA National Motocross history.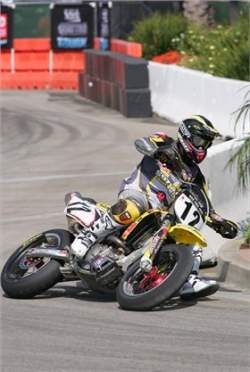 photo: John Clark
Now for a little change of pace, check out Eddy Seel running the # 12 at this year's X Games Supermoto event. Eddy was the guy that cased the wooden step up last year going over the peristyle. He got bucked so hard that he did a fully extended one and a half front flip over the bars and landed with a gruesome belly buster/face plant. They have played said get-off many times during the highlight films of last year's event, and the Belgian hero probably still loses his breath every time!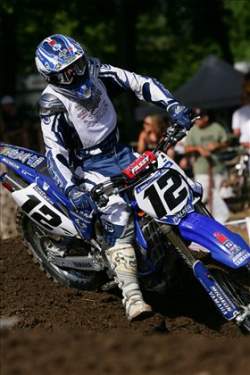 photo: Simon Cudby
This is a shot of Loretta Lynn's Amateur legend Kevin Walker. Kevin chose number 12 this year because he was going after title number 12. Sadly, the number might have well been 13 because he suffered the most unlikely demise imaginable when his gas cap fell off during the race. Hey, get 'em next year, Walker!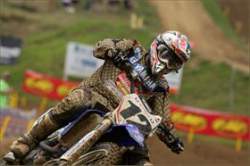 photo: Simon Cudby
The number 12 currently lives with David "Le Cobra" Vuillemin. We're pretty sure that David has raced with the number 12 on more bikes than any other holder of the great number. DV12 has raced with the # 12 on a factory YZ250 and YZ450, a BOOKOO CR250 and CRF450, and now a Motoworld Racing YZ450. What's next? Stay tuned!

That's the Dirty Dozen… Oh what the heck, let's make it a Baker's Dozen and give you one more as a way of saying thanks for bench-racing: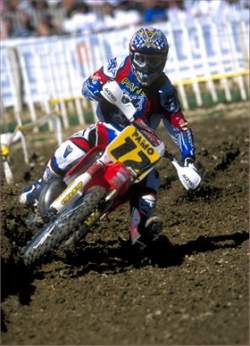 photo: Jim Sanderson
This is a Jimmy Sanderson pic of Ryan Hughes from St. Jean D'Angely, France, on his way to the first moto win in the 2000 Motocross des Nations. Ryno rode his butt off that day, but he did get a last-turn gift in the form of James Dobb stalling his KTM thumper in the last uphill hairpin turn, giving the never-surrendering Hughes the lead for the last 10 feet of the race! With Travis jumping out of the province on his 125 and RC taking care of business on the 250, Hughes was able to wear the MX des Nations crown around his head at the end of the day. The gear you see here hangs in a glass case in Ryno's trophy room at his home in Temecula.
So that will wrap it up for this week's edition of The Shift Number Cruncher. We hope you have enjoyed this week's installment. Next week, we're going deep into the field for something a little less familiar…
…and yes, we know, Rick Ryan ran the number 12 when he won the 1987 Daytona Supercross. Stay tuned to www.racerxill.com for the complete story on that Great Race.
-Andy Bowyer