Between the Motos: Broc Hepler
Broc Hepler isn't afraid to elbow his way past series points leaders Mike Alessi and Ryan Villopoto. In fact, he seems to enjoy it. After missing most of the season with a foot injury, the Makita Suzuki rider not only knew to take advantage of his "nothing to lose" series situation to muscle his way around at Millville for the overall, he just seemed to make the right decisions all day. When he started getting arm-pump in a heated battle in the first moto, he backed it down and came home third. When rain threatened in moto 2, he sprinted to the front and set himself up for a runaway to keep the others from seeing his lines (and it just so happened that he practiced mud riding the other day). We caught up with Hepler after the Millville press conference to see what made his day come together so well.
Racer X: The day turned out great for you today, Broc.
Broc Hepler: Yeah, it was a great day. Well, the first moto was kind of sad for me, actually. I got a little arm-pump. Those guys were in front of me—the top heavy hitters. I couldn't stay with them at the beginning; I just had to get rid of my arm-pump, and after halfway I felt pretty good and then I was able to run Alessi down. It was good to get a third [in that moto]. At least it gave me a chance for a least a podium finish.
How do you gather yourself in the middle of an intense race like that if things start to go wrong?
It's tough, especially with arm-pump. You have to catch it early. It's still going to slow you down for a little bit. I'm pretty thankful I'm able to work through it a lot of times. You just have to slow down for a couple of laps and then pick it back up.
Walk us through that muddy second moto.
The rain hit the fourth or fifth lap. I started fourth. I passed Alessi through the whoops and got around Villopoto up the hill and then got Grant right before the finish line. It was awesome to pass them all while it was still dry. They can't make any excuses—I got them while it was dry [laughs]!
When you get behind these guys, do you think, Hey, move over, kid—this is mine?
I knew I could put it in on those guys. They can't take the chances, you know? I can go in there and they don't know if I'm going to take them out or not. They can't take a big points loss like I can. I'm just here trying to win motos and overalls. It's nice like that. I can steer it in on someone and they're going to be the one backing down.
How is it that you were the best guy today? You were gone in that mud moto.
I actually practiced in mud two weeks ago, which was good. It poured down while I was doing a moto and I kept out there, same water, puddles, everything. It worked pretty good. Once the rain came, I knew it was my time to try to leave them. I didn't want them following my lines. I was just spinning in the mud, using wide lines to try to keep my momentum up. But the main reason was, I didn't want them seeing my lines: When you're in the mud, you can follow someone and see where the good spots are and where the bad spots are.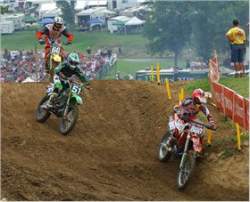 After starting in fourth, Hepler made quick work and was in the lead by the end of the first lap.

Are you one of those throttle-control riders who always seem to do good in mud?
You have to be pretty smooth. You can't lose the back end; you have to keep it straight and hooking up. I think I'm more of a throttle-control guy on a dry day. I can take some insides, and I do well on hard-pack. Other guys just like to pin it.
Suzuki had quite a day: You had a new teammate in the top ten, and Ricky won his race.
Ryan [Dungey], I never really saw him ride, I think he was 8-8 or something, which was better than my first national. They're happy with how he did today. Ricky really devastated the field in the second moto. I don't think Makita Suzuki could have done much better!
Not to press you specifically for team plans in 2007, but when can you talk about it?
I have to figure that out. Right now I'm just trying to get another win. Things are starting to roll. Steel City is coming up.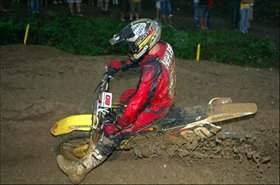 Hepler put his Pennsylvania mud skills to good use in Minnesota.

In your first year, you were really strong. Do you see any of that in rookies like Villopoto?
I think he's really good for a rookie. He's one of the fastest out there. I think sometimes, when you watch him on TV, he rides pretty crazy. He rides a lot of wide lines and just keeps it wide open. I'm surprised it hasn't bit him yet with how fast those guys go.