Racer X Tested:The 2007 Yamaha YZ125 and YZ250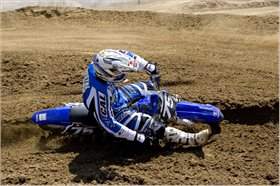 Jiri Dostal carves a corner on the new YZ125
Think back six years ago: Jeremy McGrath was still the king of our sport, Stephane Roncada and Shae Bentley were on their way to winning regional 125cc Supercross Championships, and four-strokes were heavy trail bikes that would never win races. How times have changed. But is it for the better? I don't know the answer to that, but I will tell you that I still love riding two-strokes. So when Yamaha told me they had improved their premix-running lineup once again, I was all over it.
In a sport where four-strokes are taking over, Yamaha is still showing commitment to their entire line of motocross bikes. The 2007 YZ125 gets a new silencer to increase performance and sound, and both bikes now sport new Pro Taper handlebars, new rear-shock parts to decrease weight, and an updated fork system that includes a reshaped outer-tube design. But the best part about the 2007 Yamahas is riding them.
I showed up at Starwest Motocross Park with Racer X test crew regular Jiri Dostal to ride both the 125 and the 250. The first thing we both noticed is how hard it is to stop for a turn when you're used to riding a four-stroke. I think we both blew through a few turns before we got that figured out. Once we got used to the lack of engine brakes, things started to get fun. Both bikes are amazingly light, and throwing them into a rut was a blast. You have to ride much more aggressively on a two-stroke, especially the 125, in order to go fast. It was a lot of fun to ride like that again. Scrubbing jumps was easier, as was changing lines and squaring off turns. I felt like I was in complete control of the bikes all the time because of how light they are. Jiri's opinions were similar to mine.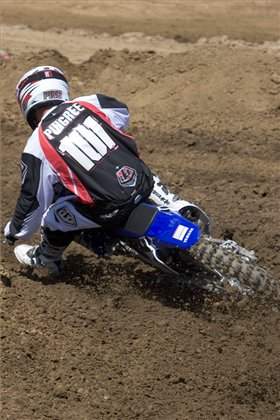 Ping slices through a Starwest turn on the tiddler
"Man, it's been a long time since I've ridden a two-stroke," Dostal said after his first session. "I had a hard time getting used to entering my corners because they are so loose- and free-feeling when you let off the throttle. But once I adjusted to that, I was having so much fun. Man, the 125 is a blast. I was surprised how quick it is, too. It was hauling my big butt around the track pretty good. I'm sure it would be hard to get a start in a race on one of these [against a field of four-stroke 250Fs and 450Fs], but as far as having a good time goes, you can't beat two-strokes. They're lighter and snappier and you don't have to be a rocket scientist to take one of these apart and work on it. I definitely miss these things."
I don't know how much longer two-strokes will be around. With the four-stroke craze continuing to gain momentum, mixing oil with your fuel cold become a thing of the past. It will be a shame, because they are incredible motorcycles.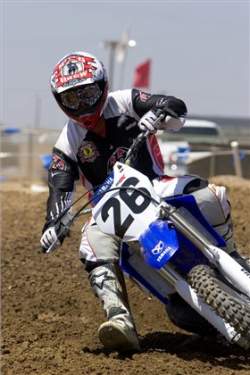 The new Yamahas feature Pro Taper handlebars