Hello, everyone, and welcome to the Rev-Up. What is the most you have ever gotten out of 10 days of your life? That may seem like a striking question, and it is for a motocross website. But please stay with me, for what I am writing about today is pure motocross. Now, there is a race coming up this weekend in Millville, MN, that I want to make sure all of you are revved to the moon for, but I have so much in my head and in my heart resulting from the most incredible 10 days I have ever experienced. I have to share it with you. Life moves so fast sometimes that the only way to really grasp reality is to jump in your automobile and take a long drive. The time you spend behind the wheel will find you searching for things to think about. I had such an opportunity to meditate while I drove to Hurricane Mills, TN, to work at an event I've attended since I was 11 years old. Oddly enough, one of the first thoughts that ran through my head was, What will I be thinking on my way home? Will it be a good trip? What will happen? Man, oh man, guys, what a beautiful 10 days it was.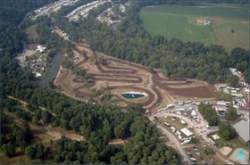 Overlooking Loretta Lynn's Dude Ranch
photo: Tony Scavo
Loretta Lynn's means different things to most of us. For some, it's the yellow brick road to future stardom. For others, it is the focal point of their career. And for a few of us, it's been both and, at the same time, much more than that. As I reached the end of my eight-hour drive and crested the top of Boone Hill to lay eyes upon the grass-covered track, I shot directly back to 1988, when I did the same thing for the first time. Not much had changed. In two days, it seemed like everything changed. The trailers are bigger, the bikes are faster and more numerous, and golf carts swarmed like locusts. It was a long way from the way I knew it when I was 11. But the heat was still the damn same, that's for sure.
The week went by so fast. On my first night I took a late night walk on the track, which was still covered with wet grass. As I stood in the middle of the Ten Commandments and took a slow 360-degree view of the entire course, I asked myself, "What do you have in store for the racers this year, old friend?" During my stay I stood witness to Travis Pastrana smashing cars in his monster truck. I saw Ronnie Renner backflip a 210-pound dirt bike over a 75-foot gap. I saw moms crying tears of joy while their sons stood on the podium with number-one plates in their hands. I saw valiant charges through the pack, four-rider freight trains, and horrific crashes. I saw a 12-year-old girl do a standing backflip during the talent show. I saw an 85cc 7-11 rider get launched 12 feet in the air in a first-turn pile-up and hit the ground running back to his bike. I saw so many incredible things. But what I saw the most of was people having the times of their lives. The event has a pulse that you can feel. Its beat thrives with the spirit of competition and you can feed off of it with every breath of air you take in. Through it all, there is a noticeable presence you can feel at all times.
What did I do at Loretta Lynn's personally? I worked my ass off. It was 6:00 a.m. till 9:00 p.m. for six days straight. I would allow nothing less for a place and people that I have so much respect for. It was the most manual labor I have done in my entire life, and I loved every sweat-dripping moment of it.
It was during my last afternoon of work that I received a message from my brother Casey. It was simple: "Clint qualified on the front row for The Brickyard 400. I just got a flight out of here for 7:00 a.m. See you there, bro." With that, I jumped back in my truck and set out for the famed Indianapolis Motor Speedway. Before leaving the Dude Ranch, I took one last look and stuck my arm out of the window and pumped my fist a couple of times as I drove off. Loretta's kicks so much ass.
I know I talk about my brother a lot. Perhaps too much, but I can't help it. I am so very proud of him. So please bear with me for this one paragraph. At approximately 2:00 last Sunday afternoon I watched them put my brother Clint in the 07 Jack Daniel's Chevrolet when it stood on the front row of 43 fire-breathing 800 hp monsters as they sat collectively on the front stretch of the most famous racetrack on the planet. It was the best starting position for a rookie in the 12-year NASCAR history of the event. There are racetracks and then there is Indianapolis. Names like Rahal, Unser, Andretti, and Schumacher have emitted sweat beads of anticipation on the same hollowed ground. Being the sentimental fool that I am, I kneeled down and touched the gritty row of bricks that spans the track wall to wall for exactly one yard. Before I knew it I was standing behind Clint's pit stall listening to the chatter of his crew chief telling him, "Okay, buddy, pit-road speed 4500 rpm, let's have a good day, we believe in you … here we go, we're gonna come to the green … ready … ready … GREEN GREEN GREEN!" A slow, low growl emerged at the end of the 5/8 mile straightaway as the cars floored the accelerators and went through the gearboxes. The raging mass of color came into view, my brother leading the way. With the thunder of the passing horde of steel blowing my hair, I glanced over to my dad and Casey and joined them in a smile. That right there was the most incredible and dramatic moment of my entire life. Next to losing my virginity.
Four hundred miles later, Clint took fourth. His best career finish.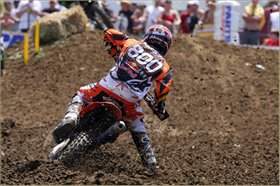 Millville marked the beginning of "The Hype"
photo: Simon Cudby
With the rubber and exhaust still irritating my eyes I once again found myself behind the wheel of my beloved black Nissan Frontier heading home. After driving for an hour or so in a relative mental blank, I finally reflected back to when I began my trip. "What will I be thinking on my way home? Will it be a good trip? What will happen?" Oh, my god, guys. What an incredible 10 days. At the end of my trip I learned three things: Being on "the other side" of Loretta Lynn's was more work than I thought; the Brickyard actually is one yard of bricks; and "Poncho And Lefty" is the greatest song ever.
Now we have Millville heading our way, home of the Whoop Monster and the site of the beginning of "The Hype." It's the track that Jeremy McGrath lost the 1996 championship on when he broke his ankle in practice. As we look forward to yet another battle between RC and Bubba and a close points chase in the 250F class, the most important thing to remember is that Millville was the home track for the late Donny Schmit. Donny was about as good as they come. Racer, husband, World Champion. Donny left us too soon, but he is remembered as a great racer and an incredible human being.
Before I leave you this week, I want to urge all of you to try to be more passionate about everything you do. The only two things I have ever been passionate about in my life are motocross and typing on a damn keyboard. But caring as much as I do about those two tiny little things has rewarded me immensely. All of you can have 10 days like I just did if you care enough about what you do with your time.
Thank you for reading, see you next week.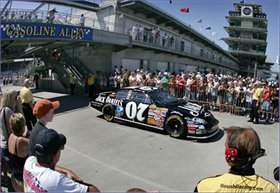 photo: Courtesy of ClintBowyer.com