Welcome to the Shift MX Number Cruncher! The #5 been worn by almost every dominant figure in the history of motocross, and there are some other super cool things associated with it. When I think of the number five, several things pop into my mind: The Jackson Five; the starting lineup for the Kansas Jawhawks consists of five players; high-fives; anytime a phone number is mentioned in a Hollywood movie, it begins with 555; AMA District 5 here in PA/WV ... I can go on and on.
But what really hits me in the head when I think of the great # 5 are names like Johnson, Ward, and LaRocco. Man, if you think those guys are good, wait till you see the rest of the incredible riders that wore the #5 with pride.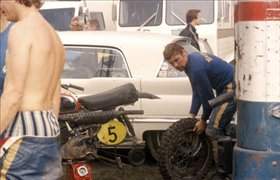 photo: Wally Wallenberg
This is the earliest picture we could find of the #5. Scott Wallenberg's father snapped this picture of future four-time World Motocross Champion Heikki Mikkola—"the Flying Finn"—at the 1971 St. Peters, MO, Inter-Am. And yes, the future Motorcycle Hall of Famer is changing his own tire! Mr. Wallenberg also tells us that the man with his pants down on the left is Gunnar Lindstrom, who still works at Honda and is the father of Jeremy McGrath's mechanic, Lars Lindstrom.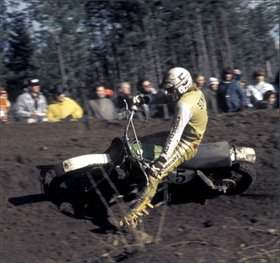 photo: Dick Miller Archives
Gary Semics was at Loretta Lynn's last week helping out with the Toyota TMX program, but 32 years ago, the stylish Semics was the defending AMA 500cc Supercross Champion, a Kawasaki factory rider, and wearing the #5 with pride.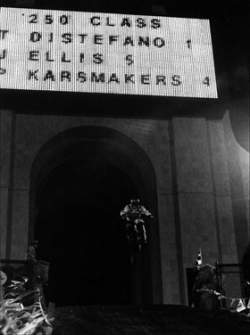 photo: Dick Miller Archives
This is a super-old-school picture of Jimmy Ellis airing it off the peristyle at the L.A. Coliseum. Take a gander up at the scoreboard and the listing of Tony DiStefano, Ellis, and Pierre Karsmakers. The Roman-esque Coliseum was tailor made for these gladiators to race in, and sure enough, Ellis took the victory in this event in 1976. The black and white, the concrete arches, and the silhouette of that long-gone Can Am pretty much give me the shivers.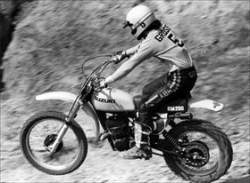 photo: Dick Miller Archives
And here is Billy Grossi once again. The Shift MX Number Cruncher has certainly given ol' Grossi here another emergence. This guy just keeps showing up! Here he is running the #5 on a factory RM. You can always tell a bad-ass by how straight his goggle strap is. Billy's Scott opticals here couldn't be straighter if he used a level. Take note of the ultra-beefy rear tire and sano shorty muffler. Can you imagine the wicked cackle this thing must have had while idling on the stand? How about the slack between Billy's shin and his boots? He might have kneepads on, he might not! Finally, those ABH "leathers" with built-in hip pads are about and cool as it gets.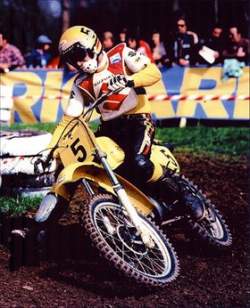 photo: Dick Miller Archives
Not a myth, not a legend, this right here is The Man. I'm pretty sure most of you didn't know Roger raced with #5 late in his career. I know I didn't, until I ran across this photo in DC's incredible archive stack. This is just a gorgeous shot.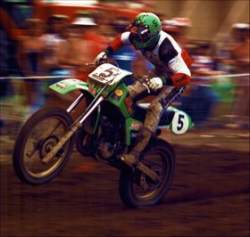 photo: DC
And hold the phone! This is the madman himself, Timmy Coombs, charging at the 1982 Loretta Lynn's Amateur Motocross Finals. I have to say, those '82 KXs were pretty much awful looking. That front number plate and rear fender/number plate have to be the poorest design ideas ever. Make note of the Jones goggles and Jones sticker on the visor. The other thing that sticks out is the meat hooks on Timmy. Check out those size-twelve gloves! Blimey!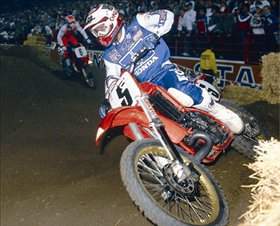 photo: Courtesy of Moto Verte
And here we have a shot from the greatest race in the history of supercross. That's all that really needs to be said about that. Respect.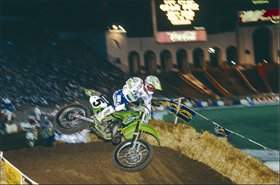 photo: Courtesy of Moto Verte
Jeff Ward was always one of my favorites. For one, I was really small when I was a kid, and I also grew up racing Kawasakis. I remember practicing sticking my leg out in the air on doubles that led into turns like Wardy did. It's awesome that Ward is still racing Supermoto and still carrying the mail while doing so.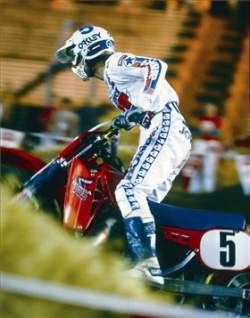 photo: Courtesy of Moto Verte
Speed and style were synonymous with Johnny "The O Show" O'Mara. Although this shot of Johnny on his 1985 works CR250 may not be quite as suave as his Mugen CR125 gator boot days, he still looks about as cool as you can get.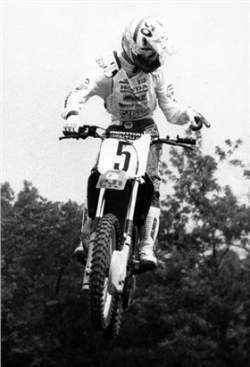 photo: DC
Jimmy Button was always one of my heroes. He was the lanky kid riding the factory Hondas that had "Monkey" on the back of his pants. Not really sure what that meant, I just drooled over Jimmy's impeccable riding style and the way he always had trick riding gear. Here he performs the "look-and-point" while on his way to a schoolboy title at Loretta's in 1989.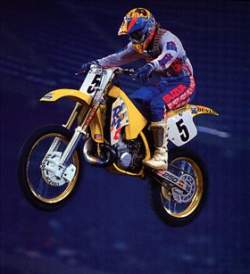 photo: Courtesy of Supercross '92 Yearbook
Nobody on God's green earth was more deserving of a 250 SX win than "Airtime." Coop was straight robbed several times. Two times, Coop was dethroned while leading at the end of the race, once at the San Jose SX and another time at the outdoor Oklahoma City round. Stickers to whoever can e-mail me (andy@mxsports.com) the years of said events.
And here is a rare cover photo from France of Ryan Hughes, who raced with the #5 in the 1996 season. You can always tell when a rider is at an overseas SX when his bike has a stock silencer, stock sprocket, and no skid plate – and $10,000 works forks.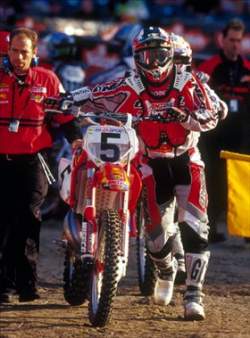 photo: Simon Cudby
Of course, we cannot forget about "Iron"
Mike LaRocco
. There weren't many racers, if any at all, who had the intimidation factor that LaRocket had. Mike made a career out of getting bad starts and riding through the pack like a steaming locomotive. This year saw Mike hang up his boots as one of the most respected men to ever throw a leg over a motorcycle. His last win, at the 2004 Indy SX, was the stuff dreams are made of.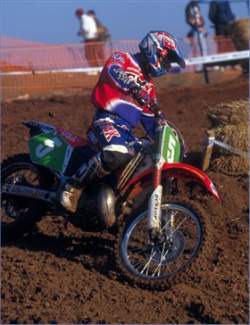 photo: Jim Talkington
And since we are in such a strong AMA Team USA mood lately, how about this shot of Jeremy McGrath running the #5 at the 1996 MXDN? In what was described as "The Dream Team" consisting of Steve Lamson, Jeff Emig, and Mr. Showtime himself, the Americans put the rest of the world in the hurt locker that year at Jerez, Spain, sweeping every moto.
That is going to wrap it up for this week's edition of the Shift MX Number Cruncher. We hope that you guys enjoyed this one as much as we did putting it together.