Monday Conversation: Travis Pastrana
So, how was your weekend? If you're Travis Pastrana, it was pretty damn busy! Travis probably had the greatest weekend of his life, scoring three X Games gold medals in four events, setting records, and dropping jaws all over the action-sports world. His double backflip on Friday night is the new standard of freestyle motocross, and probably the all-time X Games highlight. He won the FMX Big Air gold, the Rally Car racing gold, survived Supermoto, and then the craziest thing happened: He tripped backstage and injured his knee! When we called him this morning, Pastrana was preparing to go under the knife for knee surgery. As he always does, he made time to talk to us for today's Alpinestars Monday Conversation.
Racer X: How is the celebration going, Travis?
Travis Pastrana: Well, I finally got a chance to celebrate a little bit, but not too much because I'm heading down to San Diego to get surgery on my knee this morning.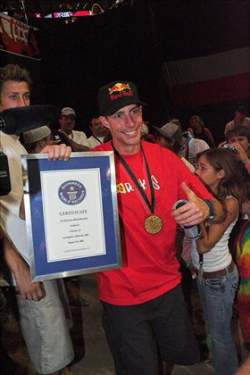 Along with three X Games gold medals, Travis Pastrana broke a Guinness World Record with his double backflip.

Surgery?
Yeah. Well, I jacked it up at the last round of the Dew Action Sports tour, and I was supposed to get surgery on it, but I put it off until after the X Games. It's nothing big—just to get the cartilage out of the joint. It kept popping in and out, but it was all right. But finally, just walking, like, I just twisted it before my last run, and the cartilage got stuck in the joint and they need to take that out.
You know, Ricky Carmichael might be the Greatest of All Time, but you are certainly the Greatest Show on Earth. Congratulations on an incredibly successful X Games.
[Laughs] You know, sometimes they say you'd rather be lucky than good. It was cool this year. The knee held up for all of my practice and my training and everything I needed to do coming in. I was the most prepared I've ever been. With Rally cars, I've raced all of the guys in the States, but Colin McRae would surely smoke us. And we were right there at the end, and then he rolled it. Still, everything that could've gone my way pretty much went my way this week.
How excited were you when you found out that they were adding Rally Car to the X Games?
Well, they were looking for a four-wheel sport. When you look at skate being the most finicky image-driven sport and you see Ken Block getting involved—with DC Shoes [Block's company] being the most influential skate company in the world—and then you have your best drifter in the United States, Tanner Foust, getting into rally, and then you add the jumping and the flipping—it's just a really good fit.
What's next, monster trucks at X?
[Laughs] I don't see monster trucks making it in, but I'll tell you what: I'm just very fortunate to be living the life that I am. And this will probably pretty much be my last year on two wheels, as far as a full-time schedule. This was really great for my rally career, and I hope to go with WRC here sometime in the next few years.
Well, the reason I mentioned monster trucks is because your week actually started with you driving a monster truck and crushing cars down at the Air Nautiques/AMA Amateur National Championships at Loretta Lynn's. Tell us how that went.
Yeah, I got up bright and early Sunday morning and flew to Tennessee. I actually lost the hearing in my left ear—I still don't have any hearing in it. The monster truck was so loud! The ringing is pretty much gone now, but it's kind of weird. ESPN actually put a mic in my left ear and said, "You're live," and were talking to me. And I'm just sitting there looking into the camera, and they were like, "Talk!"
But it was cool to go to Loretta Lynn's. It's always awesome to see all of the kids down there. It's so funny that they're playing with toys off the track and then they go out and they're tire-tapping stuff and doing the Bubba Scrub at 6 and 7 years of age. I'm like, You've got to be kidding me! I'm scared because in 10 years motocross is going to be so much faster, it's ridiculous.
Let's talk about the highlight of the entire week—the double backflip.
That was probably the most nervous I've ever been, more so because I didn't want to mess anything up for rally. Everyone was telling me don't do it. My mom was crying and my dad called—and my dad never drinks—and I told him I was going to do it and he said, "Well, I'm heading to the bar." So he literally watched from the bar. They closed the whole bar down and just let him stay and watch it on TV, so that was hilarious for someone that doesn't drink. It was so emotional, because before I went out, Nate Adams was praying. And the rest of the guys in freestyle were like, "Good luck, be safe." Like, Tony Hawk had a camera, and he's up right above me filming and said, "Travis, good luck, man!" I'm like, This is Tony Hawk, amazing! Colin McRae was watching in the stands, jumping up and down before I even took off. So I was like, Wow, this is big. I should've just got up and did a chicken. If I would've won rock/paper/scissors, I would've just went up and did a little chicken arm-flap, but I lost, so it was on.
Once I decided I was going to do it, I wasn't nervous anymore. I really didn't think I was going to land it. I figured I'd get close, I might over-rotate, I might under rotate, but if I didn't do it, I'd feel way worse than if I went to the hospital. If you're going to do it, you can't second-guess yourself. I just went for it 100 percent, and in the first rotation I was like, Whoa. I saw the landing and thought the next thing I was going to feel was my head hitting the ground. I panic-revved and pulled it as hard as I could. And then everyone said I landed perfect, but I didn't extend at all—I was just tucked in, sitting on the seat. It worked.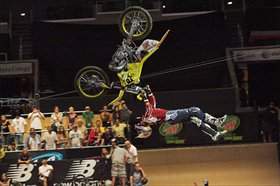 No, this is not an optical illusion.

Wow, that's amazing. Does freestyle motocross go any further than this?
Oh, sure, it can go a lot further. As far as physics and figuring stuff out, the double flip isn't that hard; you just yank back really, really hard and hold the gas wide open and hold on. You have to figure out the setting on how steep you want the ramp and how far you want it back. Actually, my head at the top was four feet from the rafters, which I really didn't notice until I was actually on my second rotation. I was looking at the rafters and was like, "Wow, this is weird!" Because I haven't jumped with the ramp that far back, I had it dialed in the foam pit and knew exactly how far I could go to do it, and that's just practice. But as far as difficulty, Matt Rebaud had the most difficult trick. It's an underflip—it's an off-axis, side-rotation nac-nac one-hander. But Rebaad and all of these guys, they probably come across just being adrenaline junkies and having big balls, but to figure out the rotation and to watch something and to come up with this stuff, these guys are artists. They might not be the athletes like Carmichael, but they're pretty smart when it comes to figuring out what they can and can't do.
And the X Games was a catastrophe, as far as injuries. Not in a bad way, but the bar has been raised so high that one little slip-up is costly. And the wind in the last round was ridiculous. The way it was coming in, it was rotating counter-clockwise and then clockwise, so you never knew which way the wind was going to be blowing, just because of the way the stadium was set up. You talk a difference of three feet with a 6 mph headwind or tailwind, that's the difference between a perfect jump and crashing hard. And when you're doing a flip, you're not thinking about where you're going to land—you never see the landing.
I'm almost getting the vibe that you were more focused on the Rally Car side of things than you were on the freestyle portion.
You know, usually I'm dedicated and plan my runs out, but I didn't even think about freestyle until it was time to perform. I was actually in the Supermoto, and at the end I was like, "Okay, what should I do in my runs?" But yeah, the rally cars meant the most to me, bar none. I had the top guys from Subaru there, and obviously I have a reputation for crashing—imagine that—but my team said to go hard, do my best, but don't crash, because it would ruin my career. And that was some pressure to not crash, but to also prove I have the speed.
So Rally racing is the direction you're headed?
I'll tell you what: I love motorcycles and racing and freestyle, but I'm 22 and my knees and shoulders are completely falling apart right now. And with cars, there are 60-year-old men that are still dominating the sport. You look at Colin McRae, he won his first World Rally when I won my first Loretta Lynn's title back on 80s. He has won more World Rallies than I even entered. So to just see someone older and still be amazing in the sport is awesome. I'd love to be able to continue racing like that when I'm older.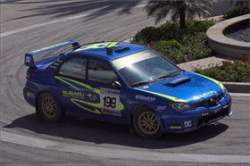 Pastrana's passion is now Rally Car Racing

Is Rally Car your goal, or would you like to use that as a stepping-stone to transition into auto racing on pavement?
No, forget that. I absolutely hate pavement. I'm sure it's great racing, but for me, it's not fun. The track is the same, you know your braking points and all, and you don't get sideways. With Rally cars, you come over a blind cliff, never seen the other side, completely pinned, relying on your co-driver that he's giving the right information. Your co-driver is relying on you—there's nothing better on the face of the earth than rally, for me.
Is there a chance we'll ever see you back on the motocross or supercross track racing?
Yeah, definitely. I'd love to do races, but I trained for a solid two and a half months before Daytona and my speed was close to back up to par, but my endurance still wasn't there to race with these guys. I didn't train at all before Southwick, thinking that I'd still have the speed. It just takes so much dedication, so much work, and so much pain to get to where you can just run with the pack. But it takes three months of just killing yourself to be competitive, which is great. It's awesome, and that's what makes motocross such an amazing sport. But I'm just at a point in my life right now where I'm having a blast. If I can get that same rush from driving a car and learning a skill, I'm happy.
Who do you want to thank, Travis?
Man, I can't tell you how much I appreciate Jeff Cernic and that whole crew, with Ron Meredith and everybody, for supporting me. As far as results, I haven't done anything for them, but they're behind me 100 percent all the time. Red Bull allows me to do anything. My job description with Red Bull is "Do whatever you want, and we'll help you." I'm not contractually obligated to do anything, but the guys that I have I just have to really thank. Thor, Parts Unlimited and Jeff Fox, and Alpinestars—even Gabrielle, the owner of Alpinestars came out and was cheering me on at every event. It was so cool. Ken Block at DC Shoes, he just got a bronze medal at the X Games! I have the best support group of sponsors that anyone could ever ask for. I'm very fortunate in that way, as well.
What's next for Travis Pastrana?
Actually, I'm at he doctor's office right now, and I go in for surgery in 10 minutes. After that I'm probably going to take a vacation, because I am mentally and physically just drained after that week. But for now, that was the best week of my life.