Crawling From the Wreckage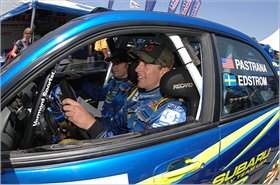 Travis Pastrana and co-driver Christian Edstrom won the inaugural Rally Car Racing gold medal at X Games 12.
In a spectacular one-lap, winner-take-all shootout,
Travis Pastrana
won the inaugural Rally Car Racing gold medal at the 2006 Summer X Games over world-class rally pilot Colin McRae. Leading into the final "Super Special" in the sold-out Home Depot Center in Los Angeles, McRae and co-driver Nicky Grist appeared to have everything sorted out and in order. Holding an half-second lead after the first eight stages (which were held the Wednesday prior in Gorman, California, on the far outskirts of northern Los Angeles), McRae and Grist—driving a SoBe/No Fear Gold Subaru WRX Sti—only had to better Pastrana's Super Special lap time of 1:56.49. McRae's was the final car to drop into the stadium in the Home Depot Center, and the 30,000-strong present were on their feet, watching McRae navigate the 22-turn, one-mile circuit, and wondering if he would take the measure of the young American.
After a strong, smooth run, McRae only had to reenter the stadium and traverse the final dirt section to win the gold medal. But that's when it all literally went upside down, the gold WRX digging its nose into the face a jump, the car pirouetting over the stadium floor. "I just dug the front in a bit too much on the transition on the jump and it just flipped the car over," McRae said upon getting out of the car, the crowd still roaring its approval.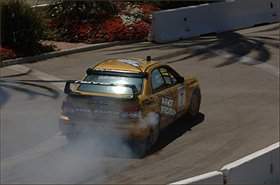 Colin McRae and co-driver Nicky Grist came close to winning gold, but settled for silver.
Added Nicky Grist, Champagne bottle in his hand and leaning on the battered, bruised and wrinkled WRX, "When we landed, the car popped the tire off the rim. Then the rim actually dug in on impact, which actually made us roll. But then the car rolled right over, fell onto the wheels, straight into first gear and dropped the clutch. At one point I thought, Shit, we're going to get away with this to a point. We popped a tire, though and the car started laboring. I think that's where we lost it, really. The roll, in the way we landed, it was much, much more quicker than driving it properly."
When all was said and done and the nine stages aggregated, Pastrana and co-driver Christian Edstrom won the event with a time of 12:02.19. McRae and Grist were second with a combined time of 12:02.71. DC Shoes founder Ken Block and co-driver Alex Gelsomino had a fine rally, driving their Subaru WRX to third overall with a time of 12:21.32.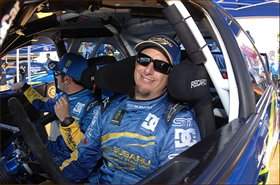 DC's Ken Block and co-driver Alex Gelsomino took bronze
"Even though we didn't win, I think what happened at the end here was the best thing that could have ever happened," McRae beamed. "Travis won and he was a worthy winner. But what happened with the roll and close finish was actually brilliant for the sport. It showed America how exciting and extreme it can be. When we flipped the car over, we could hear the crowd cheering from inside the car. It was perfect."
Concurred Grist, "I'm absolutely delighted. This incident now is going to go down in history. It's not about who won this rally, it's about what happened in this stadium today!"
Pastrana, understandably, was beside himself at not only winning the rally but defeating his true hero. "Yeah, I'm still riding the high of just racing Colin in my first rally," said Pastrana, who thrilled America the night before by executing the first double backflip on a motocross bike. "For Colin to roll and keep on going and not lose that much time, I was like, 'Did he still beat me?' I was happy with how I drove the last stage here. I was real smooth and my braking points were good. I don't think I could have done it much better. But still, I can't get over what Colin did. Even after the car rolled, he still had it pointed in the right direction."
Both McRae and Grist thoroughly enjoyed participating in their first Summer X Games, and when asked if they would be willing to come back and participate in Summer X Games 13, McRae answered, "Absolutely! It was magic!"