I feel like I have been on an island for a week—a motocross-only island surrounded by green tropical trees, not water, and out in the middle is a racetrack. I have been mostly cut off from the rest of the world here at Loretta Lynn's, but with so many people here, I'm pretty much right in the center of the motocross universe.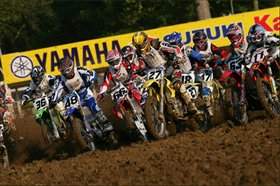 The 25th running of Loretta Lynn's has been amazing
photo: Simon Cudby
The 25
th
Annual Loretta Lynn's race has been nothing short of amazing. The place has never seen crowds like the one that started showing up two weeks ago and has grown ever since. The starting gates for the 33 classes hold exactly 1,386 riders, and every one of them had a bike lined up behind it for the first set of motos.
Off the track, this place is like a remote moto convention—summer camp for adults, even! Representatives from virtually every motocross-inspired company in the business were there, and so were the graduates: RC, James Stewart, Kevin Windham, Ivan Tedesco, Nick Wey, Ryan Villopoto, Tommy Hahn and more. They were there to watch and represent, do a little riding if called up, and also participate in the AMA Team USA announcement on Wednesday. That was my favorite night of the week, and I think Andy Bowyer did a great job of portraying exactly what it was like on Thursday's Rev-Up.
Beyond that, since communications in the central part of Tennessee are 20th century at best, and most cell phones are as useless as a pocket full of rocks, and even the best-laid plans of mice and cameramen cannot overcome the difficulty (yet) in getting good satellite wireless going, I haven't been able to talk or read much about anyone or anything other than the people here at Loretta Lynn's. And since I get up at 6 and go out to the track and work, then don't return until after midnight's closing hour of the beer tent (which was full of hundreds of industry folks and non-competitors each night), I mostly slept when I wasn't at the track.
First, want to know what happened to our websites and the MX SportsCenter films? So many people were trying to download the DMXS/GK Films-produced pieces that we had a crash for a while there. Now "Bad" Brad Zimmerman and the skeleton crew back at the office are getting it worked out, which means if you're reading this, they probably go it all worked out. Check out Thursday's highlights right here.
Beyond that, it's hard to explain all that you missed if you weren't there. There was a cool impromptu riding session with the green bikes of Stewart and Villopoto leading around the yellow ones of Carmichael and Tedesco during yesterday's intermission. Normally they ride at different times, but there was a mixup in the scheduling, and all four riders showed up ready to go at the exact same moment. Awesome!
On the track, Kevin Walker's bid to win a 12th and 13th title ended when his gas cap popped off during the first Vet +30 moto, which was then won by two-time World MX Champion Trampas Parker. And when Parker turned around and crashed a half-dozen times in his second moto, that opened the door to Mike Katin to probably take that title.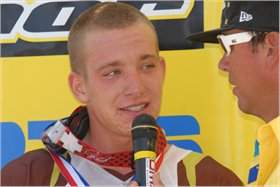 Team Green's Matt Boni surprised everyone by winning the 250 Open A Pro Sport title
photo: Greg Bixby
In Walker's other race, he had a sensational race with
Jeff Emig
today in the +35 class, but I think the four-time MX/SX Champion "Fro" has Walker covered there. Kevin may have to wait until next time.
Incredibly, Emig could have won the 250 A/Pro Sport class after Kyle Chisholm's bike grenaded in the last moto, but Emig made a rare mistake, and the honors instead went to Team Green's Matt Boni.
I was also stoked for Denny Stephenson, another former champion getting back to his roots by riding at LL. Denny was absolutely stoked to win a moto medal in the second Vet +30 race, and he wore it proudly back to the Smith Optics rig, where Doc Wobbles was helping him pit and work.
For me, the revelations of the week have been North Carolina Honda rider Broc Tickle and Oklahoma Team Green rider Trey Canard, plus the very fast Austin Stroupe. Remember both of their names—they will be going places in the future, though maybe not in 2007, as both are still young. And Justin Barcia and Eli Tomac and Michael Leib are also on the rise, along with maybe a couple dozen other fast little kids.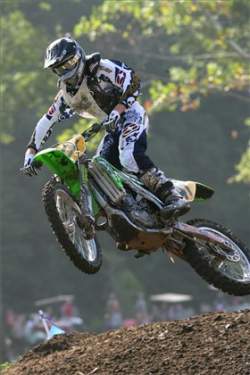 Trey Canard was on the gas in the B classes
photo: Simon Cudby
Like Honda's
Bill Savino
said, half the mini riders are riding like
Bubba
and working like Ricky, as the scrub technique could be seen in just about every race with kids under the age of 20 or so.
As for Josh Hill, he's extremely fast and could battle for podiums in motos as soon as soon as he starts riding pro next weekend at Millville, but I didn't get to see him enough to say more than that. I do know that he let his heart get in the way while chasing Wil Hahn through their first moto together, and the Yamaha factory rider-in-waiting would not pull the trigger on a tough pass and ended up losing the moto. He's going to need to be tougher when he gets to Millville, but he certainly has the speed and the look of a future champion.
Another revelation was the noise. Man, it was loud down in that tree-lined river bottom. (Hot too.) Jim "Bones" Bacon from Pro Circuit had not been at the race since 2001, when he came to see Stewart's last 85cc races; he left with his ears ringing, just like a lot of other folks.
The beer tent each night is just hilarious, especially when a couple of former pro riders pull a Mel Gibson and get a little intoxicated and ornery. But no one went to jail. Not for long, anyway.
My fellow mag man Donn Maeda of TWMX came to race for the very first time. I gave him a guided tour around the jam-packed ranch, and he was truly impressed by the whole atmosphere. He promised he would come back and try to qualify next year, and I promised him I would do it too (though I flaked on that this time around). Thanks for coming, Donn.
Dirt Rider had a big crew there, and so did Cycle News. There was also about a zillion amateur, regional, and internet photographers and filmers, and ESPN the Magazine is ramping up a big feature in a near-future issue.
All in all, the race has someone clicked up into another gear—this may be seventh gear now! Team Green did a huge presentation last night with original founders Dave and Sondra Jordan, plus the two original riders, Billy Liles and Keith Turpin. Everyone in the pavilion wore those green laser-light sticks, and a kick-ass video showed the history of Kawasaki's amateur-support program that was founded the same year Loretta Lynn's began.
Beyond that, I heard so many industry rumors and guesses and whatnot that I could fill two Racerheads, but I don't have a lot of time, so here's a preview: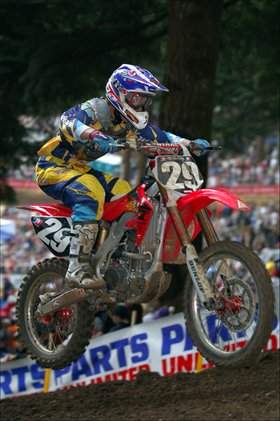 Short to Suzuki in '07?

photo: Steve Bruhn

Christophe Pourcel, the leader in the MX2 World Championships, is said to be landing on our shores soon, probably on a Honda if Andrew Short goes off to Suzuki, which may also become involved with whoever is left at Yamaha of Troy, because Brett Metcalfe is said to be bound to Pro Circuit Kawasaki, and Austin Stroupe might just be next year's next big thing—with a factory deal ready to fall in place—and incredibly, Nick Wey is not getting a lot of attention from the factories and will probably be a privateer again in 2007.
A lot of pros and pro team riders I spoke to told me that 450s are "too much motorcycle" anymore, as the rapid evolution has made the performance something to behold. Maybe 400cc or even 350cc might have been a better cap for the high-end motocross bikes. Trust me: This will become more of an issue over time.
Travis Pastrana and Jeremy McGrath were there early in the week, but now, of course, they are at the X Games. Same goes for Ronnie Renner, Jeff Tilton and Tom Clowers.
I also got to meet Emma Foley, the beautiful daughter of Kevin and Allison Foley that I mentioned last week at the bottom of Racerhead. Her proud father and I took her over to his #4 Yamaha, on which he's doing his Race4RettMX.com fundraiser in the +40 class. If you get a chance this weekend, have a look.
Now we're in a rain delay, as the drops started falling for the first time this week. It stopped, but the whole complexion of this race changed, going from a red-hot survival sprint to a cooler, maybe even muddy, third and final moto.
Also, five more years have been added to the contract with Loretta Lynn's Ranch, so expect the biggest racing program in the world to be even bigger next year.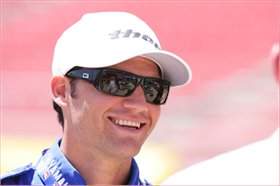 Chad Reed is all smiles about L&M Racing
photo: Simon Cudby
With that, I have to go. Oh yeah, when
Chad Reed
was asked by
EJ
last week if he was going to do the Motocross des Nations for Australia, Reed answered, "I'm in. I'm excited. I have not done that race since 2001. And it looks like we'll have a solid, podium team. Me and
Byrne
and
Metcalfe
have a lot to put on the table. We can pick up the scraps and maybe get a win if something happens to the U.S. team."
Also, Reed's new team was finally officially announced: It's him and
Nate Ramsey,
and they are calling it L&M Racing (no, not the ciggy company).
Larry Brooks
is the manager, and you can read all about it
right here
.
Bill Ursic is going to take over from here. Thanks for reading Racerhead.
What a slow week it has been. With all of the attention focused on Loretta Lynn's, it's easy to forget about the Washougal National last weekend, where James Stewart took a hard-fought victory over Ricky Carmichael. As exciting as it may have been for the fans, James' second 450-class MX win couldn't have come at a better time. His numerous crashes this year are painful to watch, yet James keeps coming back with that never-say-die attitude, and this win was a great reward for a not-so-great outdoor season.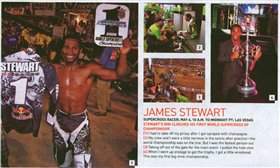 You can check this story out in the new ESPN the Magazine
And as I'm typing this, the new issue of
ESPN the Magazine
came across my desk, which has
Josh Beckett
on the cover. It has a cool story inside called "Jock's Eye View" featuring
James Stewart
. Check it out!
What a great weekend it was for Team Honda's Andrew Short. When Andrew wins, he just doesn't simply win—he dominates. He put his CRF250R out front in both motos and scored an impressive victory—his second of the season and his first at Washougal. He is currently third in points, 35 behind Mike Alessi. Congratulations, Andrew.
But Short wasn't supposed to win at Washougal, was he? Coming into his hometown national for the first time as a professional racer, Monster Energy/Pro Circuit Kawasaki's Ryan Villopoto had the momentum from a four-race win streak and looked to be running away in the 250F class. Unfortunately, for the second time this season his KX250F seized up, dealing the rookie a costly DNF. Although Villy rebounded and scored a second-place in the second moto, he now finds himself three points behind Alessi in the championship points standings. With four races remaining in the 2006 AMA Toyota National MX Series, things could get interesting.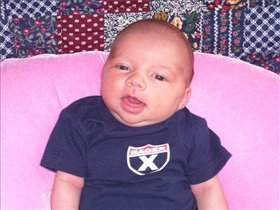 Chloe Ryan Kindelberger
photo: Courtesy of Fish
In other news, Scott USA's
Brent "Fish" Kindelberger
sent us some pictures of his new baby girl,
Chloe Ryan
. Congratulations to Fish and
Erin
!
Earlier this week we heard news of a terrible incident that involved a former Loretta Lynn's champion. Weirton, WV's Josh Sweat, a former Team Green Kawasaki racer, was shot and killed this past weekend in Steubenville, OH. Sweat won two Loretta Lynn's championships in 1994 in the 125 and 250 B classes and was a top A rider for several years in District 5. We send our condolences to the entire Sweat family.
And finally, this morning on Racer X Online, we ran a Flash Trivia contest asking the question "What number did Ricky Carmichael use in his last year of racing at Loretta Lynn's in 1996, and what class did he win?"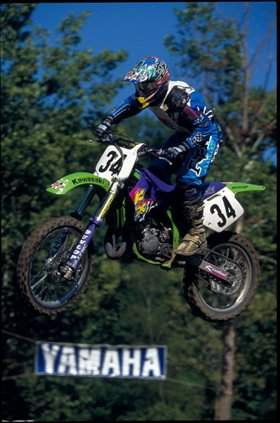 Exactly 10 years ago RC won the 250 A class at Loretta Lynn's
photo: Racer X Archives
Correct entries were hard to come by, but here it is: RC competed in the 125 and 250 A classes back in '96 and wore #34 on his KXs. Crashes kept him out of the winner's circle in the 125 A class, but he did win the 250 A title. Congratulations to the following winners for submitting the correct answers, and thanks for participating. Your
Racer X
sweatshirt is on its way!
Steve Wheat (Bellevue, WA)
Wayne Manning (Snohomish, WA)
Josh Bostian (Northumberland, PA)
J.H. Leale (Tallahassee, FL)
And now a quick note from Ping:
I've been on vacation in the Sequioa National Forest for the past week, so I really don't have much in the way of pertinent industry news to share. I will tell you that there are some huge trees in the Sierra Nevada mountain range in central California. And going jogging at that kind of elevation is a bad idea.
Today is the first practice session for the X Games Supermoto event. The timed qualifying and final are scheduled for tomorrow, but I guess I'll have to watch it on television with everyone else since ESPN failed to send me a pass. I can see how I could slip through the cracks, though. I mean, I only sent them about 75 e-mails requesting a credential. No big deal. I'm not bitter or anything. I guess I'm just not EXTREME enough to be allowed in. It would have been fun watching Travis Pastrana, Doug Henry, Jeff Ward, and Frankie Garcia mix it up at the Home Depot Center for the gold medal!

Step-Up and Freesyle Big Air are both up today at the Staples Center as well. Be sure to catch these ones, because they are fun to watch. The tricks that Nate Adams, Pastrana, Faisst, Bartram, and the rest of those guys are doing are insane. I've even heard whispers of TP going for the double backflip in the final. Maybe I'm glad I'm not going, because I don't want to see that trick go wrong.
The Australian rider known as Bilko has been at Nate Adams' house recently and has cliffhanger backflips perfected. Think about the physics of that for a second: You're doing a backflip while you're hanging from your bars by your feet. No, thanks. I'd rather do something safer, like bungee jumping in Mexico.
The OLN coverage of the Washougal National airs this weekend, and the racing is incredible. If you weren't there to see the action with RC and Stewart or Carmichael's crash in the second moto, then be sure to catch it this Saturday.
Well, that's it for Racerhead. Thanks for reading.