Between the Motos: Davey Coombs

It was really hard finding a subject for this week's Suzuki Between the Motos. Why? Well, mainly because almost everyone in the motocross industry is at a motocross track in Hurricane Mills, TN, where cellular-phone technology hasn't quite made an appearance. We were lucky enough to track down our boss, DC, on a land line directly from the scoring trailer at the 25th annual AMA/Air Nautiques Amateur Nationals Championships at Loretta Lynn's.
Racer X: We're well into day two of racing at Loretta Lynn's—how's it going down there? We haven't heard too much so far.
Davey Coombs: Well, that's because everything is going wide open right now. The first set of motos is just finishing up, and I have to admit, I've been here for 25 years and I have never, ever seen it this hot. All the riders are impressing me with their staying power out there, that's for sure.
Have there been any riders pulling off with heat exhaustion or anything like that?
We have a Gatorade tent set up at the finish line, and Doc Holliday and some of the Gatorade people man that throughout the day. Even Jeannie Carmichael is down there taking frame numbers and passing out water and Gatorade. As far as an out-and-out collapse on the track, no, fortunately, that hasn't happened. But there sure are a lot of guys lingering around the shade well into the next moto.
With the heat, it's probably really apparent who did their homework before this event. So who is the fastest rider you've seen so far?
The fastest rider I've seen so far has got to be between Josh Hill and Wil Hahn. Hahn surprised everyone when he beat Hill in the first 125 A Pro Sport moto hands down. And it put Hill in a bad position because they're really good friends, and Hahn was riding a flawless race, so Hill couldn't even get a wheel in on him. They started out as close as you are to your computer screen, and they ended that close too. You know they're going fast when Kyle Chisholm gets third.
The first moto of the much-anticipated Plus 30 class was won by Trampas Parker. The two-time World MX Champion still has some game, doesn't he?
Well, that was the weirdest thing that I've seen in a long time, and I accidentally inserted myself into the race. Kevin Walker got the holeshot and just cleared out—he's the king of this place—but somehow, somebody in his pits forgot to tighten his gas cap, and he came across the finish line at the end of the second lap and his gas cap flew off. He didn't realize it till he went over the rhythm section that follows and gas splashed all over him. He pulled off the track and basically quit. Me and Mike Guerra from Yamaha couldn't believe what happened, so we started walking around looking for the cap. All of a sudden these fans started waving from the fence, and the referee had picked up the cap and threw it to me. I ran it back and set it on the ground next to Walker, because I didn't want to give outside assistance. Anyway, he didn't get disqualified, and he got back in the race and finished 12th. But that opened the door for Trampas Parker and Mike Katin, neither of whom knew that Kevin Walker was out of the race, because he just pulled off the side of the track. But they had a battle that will go down in the history of Loretta Lynn's as easily one of the five best of all time. They must've passed each other 15 times, and in the end, Parker, the two-time World Champion, ended up outsmarting Katin by making a push with one lap to go, and he gapped Katin and won. But Parker told me afterwards that that was as tired as he'd ever gotten in his life, and he raced GPs for a decade. But he looked really good. I was really proud of him because he went through a lot of effort to come here. He came from Italy twice to qualify at the area and regional, and then he comes here and gets a moto win. And with Walker so far back, he might just leave with a championship.
Speaking of Walker, it looks like he may be in trouble as far as championships 12 and 13 go.
Well, he is, because the other guy who did his homework and has really impressed a lot of people down here is Jeff Emig. He got third in the 250 Open A Pro Sport. That's how cool Emig is. He could ride the age classes, and he does ride the Plus 35 class, but he also goes out and takes his licks with those kids in Pro Sport division, and he ended up third in that moto. And he beat Walker and Parker and those guys pretty solidly in the Plus 35 race.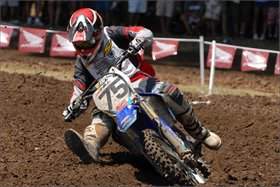 Josh Hill will be racing his first pro national at Millville on August 13

photo: Greg Bixby

I have to ask about a guy who is racing Loretta Lynn's for the first time in his career, Doug Dubach.
You know what? There are two guys who are here racing for the first time. Dubach, of course, is the one we all know about, and Doug got cleaned out in the first turn of that Plus 35 moto, so he didn't get to show anyone what he could do. But he did win the Plus 40 class over Earl May, Kurt McMillen, and Kevin Foley—all guys who are former pro riders. So believe me, and Randy, if you're reading this, we are going to investigate having some kind of B Vet class again, because it looks like a national out there. The other guy who is here for the first time racing is Tommy Carson, who has been here for 10 years working for Asterisk and CTi. But he decided when he turned 45 to come out and race this for the first time, and he went out and won the Plus 45 moto over Matt Tedder, who is a two-time champion. Tommy brought two sets of gear with him, and both are black! He didn't have a lot to say after his last moto.
Who has surprised you the most so far? I saw Tyler Wharton won both the Schoolboy stock and modified classes.
Yeah, I just love those 125cc two-stroke Schoolboy races. I'm worried about what's going to happen to them if manufacturers quit building those bikes, as we're hearing more and more lately. A guy from District 5, Darryn Durham, rode his butt off in the first 250 Open A Pro Sport race. He got second behind Chisholm, and it was an honest second—Chisholm wasn't that far ahead. And Matt Boni wasn't that far ahead. And Jimmy Evans, he should've won a Plus 25 title last year, but he broke his hand. But he went out this year and handled Matt Shue, Clint Shealy, and Mike Katin pretty good. Like you said, Tyler Wharton looks really good. I haven't gotten to seen many of the mini races, but I did see Jessy Nelson this morning, and he looked really good in the 85cc Modified (7-11) class. And Trey Canard, I used to race with his dad, and he won the 250 Open B Modified class. And the Women's class, which took on a whole new flavor after what happened at Washougal, Jessica Patterson came out on top of Tarah Gieger and Leah Cantrell. Our own Racer X girl, Sarah Whitmore, went down in the first lap, so that wasn't good.
How's the track holding up?
It's bitchin'. It was muddy, as you can see in our MX Sportscenter film from Monday's practice session, but now it's just absolutely perfect. It was funny, because Trampas Parker told me, "This thing is the same, nasty son of a bitch that I remember." And Dubach, he said, "I cannot believe how rough it is. You look at it and think it's going to be like Kenworthys, and then you go out there and it's like Glen Helen." So it's going really well.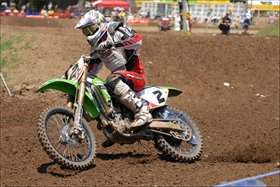 Team Green's Kyle Chisholm is impressive in Tennessee

photo: Greg Bixby

How are things off the track?
We just had James Stewart arrive today. Ricky Carmichael is here. Kevin Windham, Ryan Villopoto, Ivan Tedesco, even Nick Wey came walking out on the infield and actually ended up flagging a moto for us because there was a little mix-up with someone's wake-up call. So there's a lot of guys here and it's a really great year so far. Knock on wood, we've been really lucky that we haven't had a lot of pileups or injuries. You know, when you have 42 of the best riders in the country in every class, everyone thinks they can get the holeshot because they're probably used to it back home. But Jeff Russell and Timmy Coombs and the entire gang out on the racetrack are doing a heck of a job. You would never know it was this hot if you saw how moist the track is.
Well, I know you're busy, so get back to work.
Thanks for the interview, and in the meantime, give yourself a raise.