Monday Conversation: James Stewart
James Stewart logged his second win in the premier 450 class outdoors this weekend, racing with RC in both motos for an enthusiastic crowd. It was one of the best nationals in recent memory. Stewart took the lead in moto 2 with about two laps to go when RC fell off over an easy jump, and he won the overall with a 2-1.
Racer X: James, you must be feeling good. This is your second outdoor national win on a 450.
James Stewart: It feels good any time you win. [RC] put the pressure on and kept trying to stay focused. He was catching me, and he had some good lines going. I had to wait till he caught up to see where he was. It was good. It feels awesome.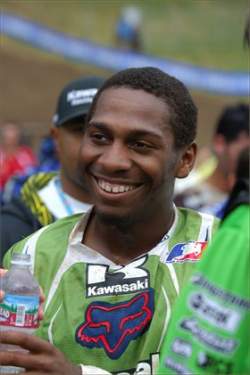 Feels good. Stewart won his second 450 outdoor national at Washougal.

As far as your conditioning this weekend, your gear patch said "Here for the Fans." Is that your way of saying you are not 100 percent but you are here for the fans for real?
I'm sure people are getting tired of hearing that, but there is no sense in lying myself. I know where I need to be, and I know I'm not where I was when I was at Sacramento and High Point.
For people who don't know, what's ailing you right now from these get-offs?
Actually, I'm close to being 100 percent physically. I'm just winded. Last weekend took a lot out of me. I haven't been able to ride three weeks in the last three months. That means a lot there.
In the first moto, how did it go?
In the first moto, Ricky and I came up through the back of the pack. Chad went down. He was just on the throttle the whole time, and he got by me in the back. I ended up getting by him again. I just made a small mistake and he got by me, then I just ran out of time.
In the second moto, I got the holeshot, and I think he was 8 or 9 seconds back and he was closing up. He got by me and I passed him back. He made that small mistake and went down. That was it.
In the second moto, when the smoke cleared in the first laps and you had a good lead on RC, did you think, Hey, this one is mine?
No. I knew my pace was 2:20s, and if he caught me, he caught me. I was just happy to be back and healthy. I knew once he caught me, it's a different story. You can catch a guy, but passing a guy is a different story. I just tried to make sure I kept my lines good, and once he got around me, to see where I was. The last lap was going to be a dogfight. I was going for it.
Did you expect Ricky to have any weaknesses here at this track because of the KW thing that time?
Yeah, but the last time he lost to Windham, he was on a two-stroke. He has won every time since then. For me, to keep my unbeaten streak here has been pretty good. People don't realize, I always struggle at this track. The first year I came here, I got third the first moto and won the second. I always had a tough time.
How is your bike handling right now? We understand you've been changing things.
We're going to keep working on it for sure. It's going to make it better. It was night-and-day different this week. We made a lot of improvements on the suspension. It's amazing at this level, just small improvements mean a lot. I was happy about that, and trying to get back to normal. Next weekend at Millville I should be back 100 percent.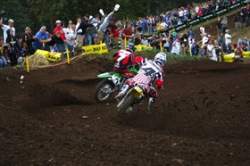 Stewart and the GOAT gave the fans their money's worth at Washougal

Besides winning races, of course, any goals for the rest of the season?
My main goal is just to finish the season healthy, and if I get picked for the MXdN team, go over and kick some European butt. That's what I want to do.
Let's not bust any secrets or anything, but I assume you will be at Loretta's the night they announce the team.
Well, I need to be there anyway!