Racer X Tested: The 2007 Honda CRF250R
The 2006 Honda CRF250R was an amazing motorcycle and the new version comes with an extensive list of updates and improvements. Usually when a manufacturer releases their bikes this early in the season, it means that they have changed very little from the previous model year; maybe some sweet new stickers or a different colored seat. That is not the case with this bike. Honda engineers just got their homework done quickly and it means we get our first ride on the new machines a few weeks early.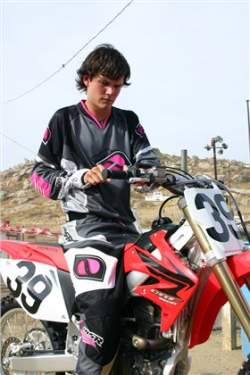 MSR's Randy Valade adjusts the controls before carving some laps on the new CRF
The biggest changes come in the CRF's powerplant which gets a new camshaft and cylinder head porting to improve power output above 8000 RPM, new intake valve springs, new ignition map with a 13,370 rev limit, redesigned carburetor with a new accelerator pump and linkage for improved throttle response, stronger clutch basket and clutch center and a new exhaust header that works in conjunction with the new camshaft. The new Honda also features a new link-type front brake master cylinder that improves braking by 15%, a new Dunlop 742FA front tire, new front fork valving, a lighter rear chain guide and a new one-piece throttle cable cover that keeps dirt and water out. It all sounds good on paper and we were excited to get on the track to feel the changes for ourselves.
MSR man and former pro racer Randy Valade—he of the Michigan Mafia—offered to help out and he was up first. Our other test rider would be David Langran, otherwise known as Langers (though Jeremy now calls him "Dave") and highly regarded as the art director at
Racer X Illustrated
. We shot video and pictures while Randy got comfortable on the new CRF. When he finally pulled in and stopped sweating here's what he had to say:
"I felt that the front brake was great. I don't believe an after market cable would be needed. It worked great without the front wheel grabbing too much. The new Dunlop tire on the front was good too. It seemed to stick well in the hard pack sections. The motor was pretty strong. It seemed to have a pretty good bottom end, but did sign off a little on the top end. It even wheelied on the starts that I did all the way through third gear—not bad!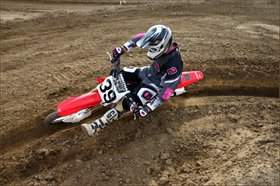 The CRF sticks well in the ruts
"They seemed to have the jetting pretty close for how hot it was today, though I did notice a little bog after landing from jumps. The throttle response was good. The motor all-around was good. And I thought the bike handled awesome. I thought it would be a lot softer landing off the jumps, but surprisingly it was pretty stiff. It also turned well. It didn't want to stand up in the turns which was nice and stayed in what little ruts were there.
"All around I thought the bike was good, especially compared to last year's stock bike."
I adjusted the controls and hit the Perris Raceway circuit to find out if Valade had any idea what he was talking about. After just a lap or two I was comfortable on the bike. I remember thinking the same exact thing about last years CRF250 and, once again, I immediately felt right at home. The front brake is noticeably stronger. I had already ridden the 450F, which also received the upgrade, but the lighter 250 came to a stop in a hurry when I grabbed the brake lever. It is as good as most of the brakes I've had on my race bikes. I was impressed.
The motor was also a marked improvement over last year. I noticed the quicker throttle response and also felt like the bike pulled stronger through the mid and top over last year's ride. Randy complained of a bog when he landed and the Honda technicians made a change to the jetting. It was over 100 degrees and much more humid than we were used to in Southern California so our jetting was off a touch. We leaned out the fuel screw and the bog disappeared. I rode until I was so sweaty I could have signed up for a wet T-shirt contest, then pulled in to give Langers a turn.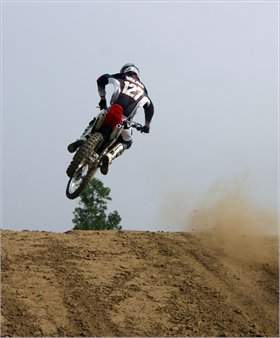 Randy, a former pro racer, is very impressed with the new Honda.
Langers was too tired to elaborate much but as he tore his helmet off and marched towards a fan I did hear him say, in his thick British accent, "That bike is awesome!"
Look for a clip of the intro on
racerxfilms.com
later on today!