Virtual Trainer: A Review of Summertime Articles
With summertime in full swing and Loretta Lynn's just a few days away, I thought it would be a good time to post a review of some articles pertaining to such topics. It has been unusually hot all across the U.S. with record temperatures recorded from coast-to-coast and boarder-to-boarder. No matter where you live, you are being subjected to heat and humidity that is well above normal. How you prepare for these extreme environmental parameters may just be the difference between having a good day and having a very bad day. For the older vet riders and the very young, heat stroke and heat exhaustion are dangerous conditions brought on by the searing summertime temperatures. Even you fit 20 and 30 year olds can be severely affected. Loretta Lynn's will no doubt be another scorcher, nothing new there, but if you have never been there or didn't prepare well in the past, then a review of the following 5 articles will definitely help.

"5-tips for surviving Loretta Lynn's"
"Racing in the Heat: How to Stay Properly Hydrated"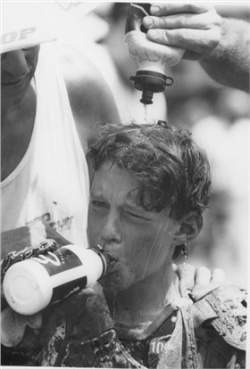 photo: Racer X Archives
Good luck to all those attending Loretta's this year and as always, VT can be reached anytime at
crytset@comcast.net
. In addition, be sure and check out the Racer X archives section, your complete one-stop information zone for motocross fitness. Archives before November, 2005 can be found here.