Monday Conversation: Ricky Carmichael
Makita Suzuki's Ricky Carmichael keeps having perfect days while his closest rivals keep losing ground (as if that matters at this point). James Stewart made the trip to Lakewood and wasn't 100 percent, but he wanted to do it for the fans and get some points. Chad Reed, riding with a hurt knee, toughed it out, only to run out of fuel on the last lap of moto 1. RC is now an amazing 79 points ahead of Reed, and he doesn't seem to have any bad motos. We stopped him right after the post-race press conference to get his thoughts on the weekend.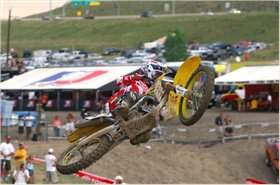 Carmichael lays it over at the Lakewood National

Racer X: Ricky, 1-1 again! Can you tell us about each moto? Let's start with racing Millsaps in moto 1.
Ricky Carmichael: It was pretty exciting there in the first half. It was a great day for us, points-wise. I'm really pumped on how that went. I don't know what happened with Reed, but we made points on him. Those were good, valuable points for the championship. Suzuki has worked hard this week, and we got a new engine setup that's a lot faster.
I still need to get up there in the starts. You can see what it does for you. Look how good the Honda guys are doing, and they've been up there [on the starts]. I have to focus on that a little more and do the best we can.

You mentioned in the press conference there was a problem on the gate in moto 1.
The gate was flinching. A couple of guys flinched, and I flinched. [The gate operator] went to stomp it down and it didn't fall—it jammed he said—so I was just focusing on it because I wanted the holey. The gate didn't fall, and I went. I had to get on the brake and back up. In the midst of all that, the gate dropped. I still can't believe I came out as good as I did [laughs].

You said in the press conference that due to the elevation, it's a little harder to pass and you have to be more aggressive. Is that why it took a while to pass Millsaps in moto 1, or were you just riding cautious?
No, I'm always cautious, for the most part. I don't take the chances. It's a long moto. I don't need to take chances like I used to. I had it under control, and you just have to be a bit more methodical when you have less horsepower. You can't recover from a mistake like you normally can. You have to make a pass going into a turn rather than coming out just because you don't have the horsepower to change your lines.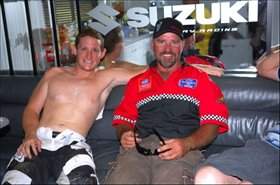 RC and his favorite track builder,
Mark "The Bomber" Barnett

In that second moto, you had to pass Millsaps again.
Yeah, about halfway into that first lap, in that first section, I got by him. I actually went a little hot into a turn and stood up and came to a complete stop. Davi was poised to ... Davi doesn't ride like ... well, you don't ever have to watch your back when he is riding, which is nice to race someone like that.

Overall, how would you score the weekend, the overall event?
As a racer, ask anyone in the paddock, we just like to see the promoter put a little bit of effort back into it and make it good. You have to give it up to [Mark] Barnett. Any time a track has Barnett working on it, you know you're in good hands. I think overall, the weekend was great.

So would you like to see Barnett make more national tracks?
Absolutely, but he has been doing it a long time, and we keep him busy! Between me, Stew, Reedy, and Millsaps, we keep him tied up enough. He's making good enough money from us, and he's busy enough. I would rather have it the way it is now, because whenever we need him we can just call him.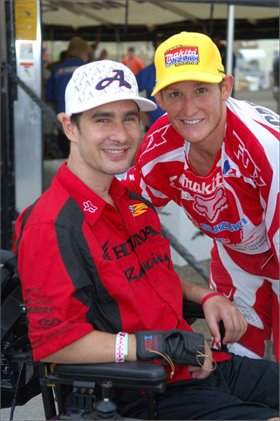 RC went to visit Ernesto right after supercross, and it was cool to have him at a National

It must have been cool to have Ernesto here, his first time at a national since he got hurt.
Yeah, a little bit, but obviously, this isn't the place to hang out. We'll get plenty of time to hang out. I went to visit him after supercross and spent some valuable time with him.

This MXdN team thing.... James catches a little negativity about being on the team when he falls down and misses motos. Do you still feel good about how the team is looking?
We need the guy, for sure. Obviously, he's a very talented rider, and I think he would be good. We need him. That's the bottom line. He's got to go.

Who will be that third guy?
Fourth guy. I think it will be me, Windham, Stew, and Villopoto. We have to bring Villopoto. That's my pick. Whether it happens or not [Carmichael shrugs].... But that's who it needs to be.

You two sure seem to get along. Do you see an early version of yourself in him?
Yeah. Absoutely. We're both little. It even seems like the bike setup is the same that I used to run at Pro Circuit, just from looking at it. I don't know what he runs. He's doing really good.

In a few press conferences you said you have some personal goals about the next races, but you don't tell us what they are. Tell us something!
My goal for the last two weeks was about these three races, this stretch here [Unadilla, Lakewood, Washougal]. I wanted to win two out of three. I figured that was realistic goal. I achieved it, so if I win Washougal, it will be even better.