Kawasaki/Racer X Race Report
The similarities between Ricky Carmichael and Ryan Villopoto keep getting more obvious. Now it's not just their red hair and short stature, or the fact that they both began their career with the Pro Circuit/Kawasaki team or both chug Monster Energy Drink on the podium. It doesn't even end with their obsession with turning the throttle wide open all the time. Now it has spilled over onto their results, as both riders are dominating their respective classes week after week in the AMA/Toyota Motocross Series.

In fact, Villopoto is becoming almost too good at his Carmichael impression. At this weekend's Toyota National presented by Red Bull at Thunder Valley in Lakewood Colorado, Villopoto actually seemed more dominant than Carmichael, if that's even possible.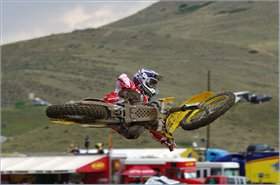 But Ricky Carmichael has won six of seven, and he seems to be better at laying the bike flat.

Carmichael won both of his motos in predictable fashion, but he had to deal with an absolutely horrible start in the first moto, and it took him some time to climb to the front. Eventually the Makita Suzuki's rider won the race and then followed it up with a better start and another win in moto two. Honda's
Davi Millsaps
rode well to finish second and Kawasaki's
James Stewart
was third on the day, riding at less than 100 percent after a series of injuries and crashes over the last few weeks.
But Villopoto, boy, that kid is totally flying now, and if this race is any indication, we might see an end to the wide-open battles of the 250F class. He left no doubt of his superiority on this day, passing his way to the front in both motos and then pulling big leads each time. Makita Suzuki's
Broc Hepler
finished second overall with Red Bull KTM's
Mike Alessi
was third. Sadly, Honda's
Andrew Short
saw his bid for the home-state win expire when his engine broke down while he was leading on the first lap of the second moto.
How did it all happen? In the 450 class,
Davi Millsaps
has now become a holeshot artist, which is impressive since Davi was considered, "least likely to become a holeshot artist" in his 250F days. But now Davi's on a CRF450 and he pulled the first moto holeshot, taking his third straight Racer X Holeshot award. Meanwhile Carmichael was buried way, way in the back. Apparently the gate flinched and Ricky almost hit it, and then he grabbed the brakes and found himself sitting there when the gate actually hit the ground. In addition, Stewart and
Chad Reed
were buried in the back early as well.
So Millsaps was out front and looking strong. He dealt with early pressure from
Kevin Windham
, but he held him off and then Windham came under fire from Carmichael. RC passed KW, went after Millsaps, took the lead and took off. For the record though, Millsaps led 10 minutes of the 30 minute moto. That's his best yet.
Stewart eventually worked his way to the front and ended up passing Millsaps. But Millsaps hung tough and almost got him back at the end. Windham was up and down for the whole moto. Reed stayed in fifth the whole time, but then he fell on the last lap and couldn't start his bike. He ended up with a DNF, but that counted as 16th since he had lapped far up into the field.
Anyway, it turned out the explanation for all of the strange happenings of the moto broke down to altitude. All the 450s were running hot and sputtering and stuttering, but that actually led to great racing since the riders would charge for a few laps and then slow the pace.
In moto two Millsaps nearly got his fourth-straight $500 holeshot, but privateer Kyle Mace snuck to the inside and just got the money. Kyle Mace! Soon Millsaps was into the lead again, but it wasn't long before Carmichael was there to take the lead and leave.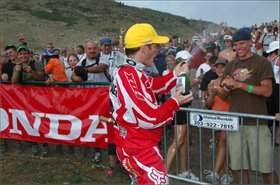 Carmichael got to check how the altitude effected champagne spray.

"I got to' figure out how he's pulling these holeshots, he's 190 pounds and I'm 150," said Carmichael.
Millsaps corrected him to say that he's 186 pounds.
Millsaps held second all the way, surviving challenges from Reed, Stewart and Windham.
"I don't know, I was just running my pace, doing 2:20s," said Millsaps. "That was a good pace for me, and I didn't get tired. I just kept running the same lines and hoping they would fall off." Then he laughed like he always does,
Meanwhile Reed held on for third in the moto. He's still ailing with a bad knee, but he's grinding it out and trying to preserve second in the standings.
Windham got passed by Stewart, but then he passed Stewart back. He was fading big time down the stretch and
Tim Ferry
nearly gobbled James up before the finish. Stewart's 2-4 was good enough for third overall, but he didn't even have the energy to go to the podium or the post-race press conference.
Carmichael has a huge lead in the series of course and he's got all the momentum you could possibly have.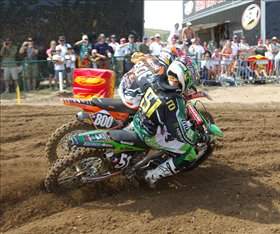 Do you think Villopoto is enjoying this right now?

And speaking of momentum, here comes Flyin' Ryan. Star Racing Yamaha's Bryan Johnson got the $500 Racer X Holeshot award, but soon Short and Alessi were battling for the lead. But Villopoto was coming on strong, and he passed everyone on the first lap and totally checked out in scary fashion. There was just no answer for Ryan in this moto. Short took a popular second, Alessi was third and Hepler fourth.
Short admitted the jitters of the local race nearly did him in. "I think I was a little too excited out there, I made way too many mistakes in the first half of the moto," said Short.
Short was ready to fix that problem in the second moto. Villopoto grabbed the Racer X holeshot money, but Short was right there diving underneath him in turn one. Short was determined to hang onto the kid this time, and suddenly Villopoto lost his front end in a rut and went down. Short was now in the lead and the fans were going crazy!
But then a few turns later, Short stumbled in a corner and Hepler moved into the lead. Short then rode past the mechanic's area with his arm held up in an "I don't know what's wrong here" gesture. And something was wrong, because he only made it about a half of a lap longer before his engine expired. The fans were sunk.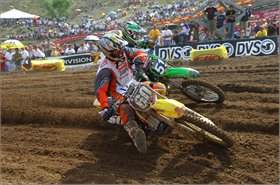 Broc Hepler tried hard to hold Villopoto back, but right now the kid is just unstoppable.

With Villopoto down and Short out, Hepler now had a great chance to win a moto. But Villopoto got up and started making passes, and then he got to second and closed in on the Suzuki pilot. Hepler rode a wide bike though, taking lines away from RV and trying his hardest to hold him off. No chance. Right now Villopoto is just unstoppable, and he eventually passed and pulled away from Hepler. Hepler held to second and Alessi was third.
"Ryan's just going really fast right now," was all Alessi could say about losing momentum in a title chase that once seemed like it was all his.
Ryan sure is going fast right now. He has that in common with Carmichael.