Whenever motocross is looking for a sport to hold itself up against or aspire to, NASCAR is always what we hope to see in the mirror. It's the king of American motor sports, and love it or hate—or just tolerate it with a mildly passing interest, as I have since Clint Bowyer got on the grid—you have to admit that it's big. Really big. But right now, what I hope for motocross' near future is not a NASCAR, but rather what we're seeing across the water in the Tour de France.
Lance Armstrong has retired his seemingly permanent yellow jersey, and all hell has broken loose—in a good way. Floyd Landis, a friend of Ryan Hughes, put on a shocking display of perseverance when, eight minutes down after crumbling on Wednesday, he put on one of the epic stages in the history of that whole deal. As a result, three men will likely enter tomorrow's last time trial within 30 seconds of each other. It could be the closest, most thrilling Tour ever.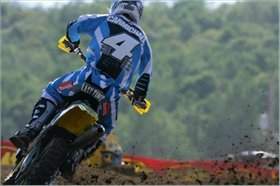 The man on yellow is our Lance Armstrong
photo: Simon Cudby
Someday soon,
Ricky Carmichael
is going to retire his seemingly permanent yellow Suzuki from the winner's circle, and if we're lucky like the Tour has been, all hell will break loose. While some fans have enjoyed RC's dominance immensely (just as they did
Jeremy McGrath
's reign of the 1990s), he has made motocross practically a foregone conclusion. He leaves little to the imagination, just as Armstrong did in his seven-year reign on the tour. We haven't had a close AMA Motocross Championship battle involving RC in all ten years of his career—he's never failed to clinch the title before the last race!
Take Unadilla last Sunday, for instance. After another frightening James Stewart crash (more on that later) Carmichael was in complete control. He passed Davi Millsaps in the exact same spot—on the exact same lap—in both motos and then just pressed down on the lead and bled any chance for anyone else to get close enough to read the messages on the back of his pants: "U-NO-Dilla" and "Last Time."
Yet the 250F class was a full-blown riot of action and intrigue. The first moto was led from gate to podium by Mike Alessi, but it was still a nail-biter, as the wildly talented Ryan Villopoto blitzed through the pack, only to find a wall of sorts in Alessi. He just couldn't get that last few inches on his bitter rival, and you could feel the resentment all around the podium.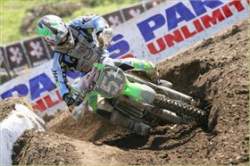 The future looks familiar: think RC '97
photo: Simon Cudby
The second moto was a battle royale, this time with
Josh Grant
,
Andrew Short
and
Nathan Ramsey
taking the place of Alessi. Villo battled through them (a couple of times, actually) and took his third straight overall win as well as the points lead: Ryan's three up on Alessi after 12 of 24 motos. It's been a fantastic series ...
… just like the first Tour de France in the post-Lance era. Interest in cycling survived Armstrong's departure, just as interest in the World Cup soccer tournament continued after the exit of Team USA. If it's a good, close competition, people will stay tuned. And that's what we need in motocross: some good, close contests for championships, just as we had in Amp'd Mobile Supercross this year.
But it's going to take the exit of Carmichael before that happens. His mechanic, Mike Gosselaar, wrote "Boring is Good" on his pit board on the last lap of his second-moto stomp-off at Hangtown, and while it's good for Team Makita Suzuki, it is not for fans hungry for a championship fight. And we aren't seeing one because Stewart's inconsistency has ruined his summer, Chad Reed is battling with injuries and a seeming lack of interest (though he has put on some very inspired rides), Davi Millsaps is still young and trying to figure it all out, and Kevin Windham just isn't as fast as Carmichael anymore—it's been three years since he won a national.
But the 250F class is amazing right now. Just like last year, the first of the post-James era there, it went down to the final, crazy moto at Glen Helen, and hopefully this one will too (though probably without all of that wrestling). I've enjoyed watching Ricky throughout his career, and I will miss his excellence, but I can't wait to see what happens next year and beyond.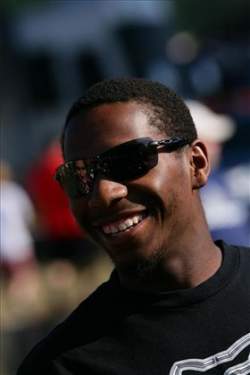 The crashing thing has become a problem for James
photo: Simon Cudby
So what is wrong with Stewart? The otherworldly talent has had a nasty streak of crashes that have people shaking their heads at both the randomness and the violence of his high-speed get-offs. I was looking the other way when he suffered his practice crash on a flat-but-rutty stretch below the announcer's tower at 'Dilla, but both
Doug Schepinzky
of Bridgestone ("That was the most violent crash I have ever seen") and Honda's
Shane Drew
("I have never seen a rider or bike cartwheel like that") were astonished that he even got up, never mind tried to finish practice.
If you watch the Racer X Film of the Saturday practice, Stewart's scrub into Gravity Cavity followed by his astonishing leap out showed that he was feeling it in New York. But when you push that hard, you sometimes push over the edge, and then bad things start happening to your body and mind.
It was wise for James to sit the rest of the afternoon. He has no chance in this championship now, and the track would get more brutal (but not necessarily slower) by the afternoon. James' agent,. David Evans, told me yesterday that he was probable for Thunder Valley this weekend, but no way will he be 100 percent. At least Colorado fans will get to see him this time, as last year's first-moto crash at 'Dilla knocked him out of several races.
At the post-race press conference, I asked RC what he thought about it all, since he went through his own crashing thing when he moved up to 250 SX in 1999, and what kind of advice would he give Stewart if he were inclined to do so?
Carmichael: "It's not like he got hurt on some gnarly quad section that he got creative on….. I think there is a lot going on besides what you guys see at the track. I don't really follow what he does, but obviously there is something wrong. The only one that knows it is him. Unfortunately, whatever anyone says, you still have to make your decisions.
"As far as advice, he wants to do what he wants to do," Carmichael added. "In the end, it's him. He has to do what makes him happy. If that happens, maybe things will start turning around. I just feel bad for the guy because he has taken some hard hits. I know when I moved up to the 250 class, I was getting tired of it. It hurts. You get to the point where you get tired of crashing. There might be that day where you don't get up and walk away from it. That's what I was concerned about. I just had to tighten up and get a better program."
For all of the hype we've all tried to get going for "Perfect Summers" the last year and a half since James moved up, he's taken one race win (Hangtown '06) to Carmichael's 17. No one could have guessed the kid would have so many bad races.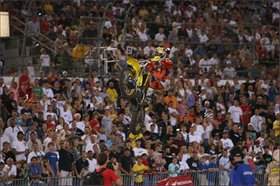 Unlike Travis, Stewart has been crashing due to competitiveness, not Evel Knievelness
photo: TFS
And for all of the crashes he's suffered lately, he's no
Travis Pastrana
, either. James' crashes come with speed, not recklessness. He may be trying to go faster than the bike will allow, but that's his competitive nature taking over, not his adrenaline jones or desire to out-stunt everybody else. The string of concussions and injuries that basically ruined Pastrana's racing career started on the last lap of the second moto here in 2001; let's hope James' unfortunate streak ended here Sunday morning.
After Unadilla, I heard some rumbles here and there that maybe Stewart is not the best man to join Carmichael on Team USA for September's Motocross des Nations, but I think he is, though not the way everyone else might. While I'm sure either Alessi or Villopoto would make a nice third man to the team, maybe we should think outside the box and talk about this lineup: RC and Windham on the 450s and Stewart on one of those very fast Pro Circuit KX250Fs. It would put two experienced guys up against the Belgians (Stefan Everts and Kevin Strijbos) and take a little bit of the pressure off Stewart and allow him—the best 125 rider ever, and based on what I saw him do at Glen Helen in '04, arguably the best 250F rider ever—to ease into that pressure-cooker of a race. Think about it: As fast as the teenagers Villopoto and Alessi are, they are no way as fast as Stewart would be on a 250F, and #4, #7, and #14 would be the absolute fastest American unit we've sent since '96, when MC, Jeff Emig, and Steve Lamson crushed everyone in Jerez, Spain. (Speaking of Emig, Simon Cudby shot a cool video interview of Fro Daddy as he gets ready for his return to Loretta Lynn's.)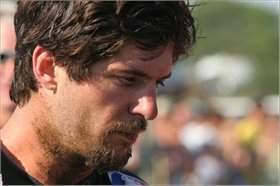 Should Team USA consider the resurgent K-Dub on the 450 and dropping Stewart down to the 250F?
photo: Matt Ware
By the way, RC had toyed around with the idea of riding the MX2 bikes, but that appears to be off the table now. And check this out:
Racer X
and DMXS Radio are teaming up at Loretta Lynn's to bring you a live webcast, direct from Loretta Lynn's Ranch, of the AMA Team USA 2006 presentation announcement on the evening of August 3. Stay tuned for more details.
And speaking of the MXdN, the promoter of this weekend's 2nd Annual Toyota Trucks Pro National at Thunder Valley in Lakewood, CO, has taken a page from the MXdN book and brought in three giant "Jumbotron" monitors for spectators to watch. David Clabaugh worked with Chet Burks Productions and the OLN team to get everything in place, including the big piece—a television production truck. The fans are in for treat, and here's hoping that the benefits will outweigh the costs and the whole series can start bringing in the super-expensive trucks and cameras and cables required to hard-wire the place, or that technology will catch up and wireless cameras will become more affordable. That's when we'll be able to watch the nationals live on the internet, just like the Grand Prix tour.
In the meantime, at least we the Racer X Webcast presented by Cycle News. It starts at 1 p.m. Mountain Time (3 back East) this Sunday at www.mxnationals.com. And you can keep track of lap times and races results throughout the weekend at www.amamotocross.com.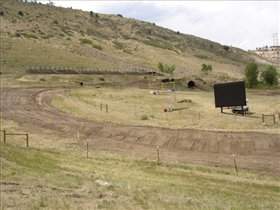 The fans are in for a treat at this weekend's Toyota Trucks Pro Nationals at Thunder Valley

photo: Scotty LaLonde

Clabaugh, who has really delivered as the newest promoter on the Toyota AMA Motocross circuit, also has an enlarged bleacher section. Also, according to the press release, "Toyota will provide spectators with the opportunity to test drive the 2006 Toyota Tundra. The ride and drive will allow fans to not only experience the vehicle but save them the step walk to
Thunder Valley
's best mountainside viewing. Participating fans will receive a complementary set of Toyota AMA Motocross tie downs upon completion of the drive. Also, preferred parking will be offered to the first 100 Toyota drivers – Toyota will provide those eligible with up-close parking and an event program."
For a glimpse at the Thunder Valley facility, make sure you check out Jason Hooper's exclusive Racer X Film of Saturday afternoons practice from Colorado.
Back to Unadilla. Going into the race, there was a lot of talk about RC's dislike of the place, and whether or not he was coming back. To make his last visit a little more enjoyable, the promoter Gregg Robinson made some nips and tucks to the circuit, which began hosting AMA races with the 1970 Trans-AMA, won by current AMA Board Member Jeff Smith on a BSA! Gregg and his crew had their work cut out for them, especially after a deluge wiped out most of the second set of practices on Saturday. Working late into the night, they somehow rescued the track.
Still, Windham was not a total fan of the changes, which included two tight hairpin turns in the infield, followed by a funky rhythm section that Villopoto and Nick Wey were doing better than anyone.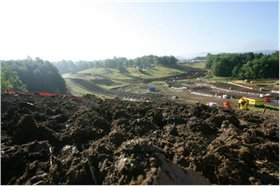 'Dilla has been hosting big-time motocross races since 1970
photo: Simon Cudby
"People talk about
Unadilla
as being natural and the hardest motocross track, but the three turns that were changes were all 180-degree turns," Windham said. "It really hurt the track. There is pressure to change the track. I have ridden here since '94 or '95, and you want a change, but change is not always better. I'm not a guy to complain about that. To get to the front, I had to do what I had to do. I was able to do it regardless of the changes. The changes made it more one-lined."
Carmichael said time and again that he wasn't coming back, though he did give the Robinsons and track consultant Bruce Stratton, the longtime pro, compliments for recovering the track after Saturday's downpour. "First of all, I have to give credit to the promoters today," said RC, who leaves Unadilla with eight wins in 10 career visits (imagine if he liked the place!) "I don't know if it was the rain or the new design, but I thought in areas, the track was a little bit better. I will be the first to give credit where credit is deserved. It doesn't really change my thoughts about this place, but you know what? It's a free world. We're allowed to have an opinion. As much as I didn't like this place, I have always done pretty good here…."
Hey, not to pimp the website or anything, but you really have to see Jason Weigandt's hilarious behind-the-scenes look at the Unadilla National? It's called " Behind the Motocross" and I'm not sure how he got people like RC, DV12, Danny LaPorte, Leticia Cline, Miss Erin Bates and Mr. Whitelock to participate, but it's good stuff! Check it out at Racer X Films.
Here's hoping that someday Weege, who I think is an exceptional announcer and student of the sport, and Ping, one fast, funny colorman, get to team up for some TV work. Those guys might have an Art Eckman/David Bailey-type chemistry, only with a higher voice (Weege) and fewer trophies (Ping).
And speaking of David Bailey, the Unadilla fans really gave it up for the Icon, dropping more than $2,100 in a bucket that Fubar set out at the Racer X booth (they also bought up more than 300 Ernesto Fonseca Powerbands). Countless people asked me about David's condition, so I asked Bailey himself if I could share some of the challenges he's facing right now.
This is from David himself:
"To everyone sending donations and prayers, my whole family thanks you. You all give me more strength than you know. I must say, while I appreciate your support, I realize there are others around the country that are trying to manage very sad and devastating blows. So, while there is a lot of attention on me right now, I would like to once again say thanks, but remind you to send prayers and good things their way also. I have a lot to share with you about that concept soon, so stay tuned.
"When I returned from the Hawaii Ironman in 2000, I got a little cocky with my health. I had always been healthy. At the same time I took on more traveling with TV and coaching, I quit training as much or at all. That kind of schedule didn't demand good nutrition either. The combination of more sitting, no exercise program, not the greatest diet and reaching my early 40's finally caught up.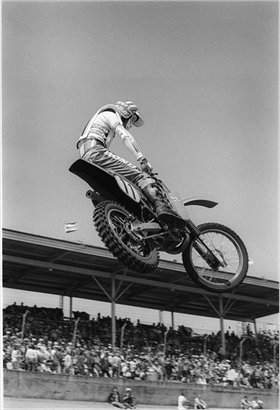 The Icon says thanks
photo courtesy of David Bailey
"I made it through one of these scares a few years ago, which just added to my confidence that I would always rebound, but at the WSXGP in Vancouver, I finally hit the wall. I really struggled to make the west coast rounds for WBR. Then, after the San Diego SX I was saturated with serious infections. Three months ago today, I had to have all the infected tissue cut out, which was to the bone but luckily not in it! Since then, things have not progressed and I have to have a more major surgery.
"Since I have to lay still 24/7 and can't sit, the rest of my body is taking a pretty good hit. I tried about a month ago to stretch a little and tore my patella tendon in half! The good knee doesn't bend anymore and I'm afraid to try.
"This next round of surgery will require another 2-3 months of not moving, so I'm a little worried about what my knees will be like then. There are other things, but that gives you an idea. I'm not writing this for sympathy, it's just an explanation to all of this fundraising and I feel you all are entitled to know how I am and what lies ahead.
"I will do everything possible to regain my health and show how much your generosity mattered.
"Thank you all again and I'll see you at the races."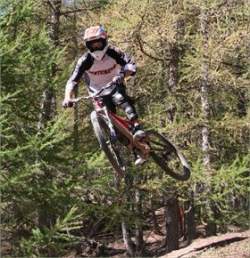 That's the one and only Jean-Michel Bayle showing his support of his hero with a Bailey '86 Trooper lid
photo courtesy of Marc Blanchard
A check came in from France for Bailey. It was for $1,000, and it was signed by none other than
Jean-Michel Bayle
, a disciple of Bailey's who went on to ride Hondas in America and wear JT gear and win AMA SX, AMA 250 MX, and AMA 500 MX titles, just like David.
Also, Andy Stacy, another old pro, who now runs Tuf Powersports in Illinois, brought in a few hundred dollars in donations. They also gave away two of the One Industries Bailey replica helmets, to bring the total he raised to $1,500 for his old rival. He already mailed the check to the Full Circle Foundation.
One more thing: If you want to help David and get something really cool for yourself in return, check out these David Bailey "Icon" mousepads, courtesy of the good folks at Smooth Industries. All proceeds will go directly to David.
Ernesto Fonseca can expect a lot of visitors and friends and well-wishers this weekend when the AMA motocross circus comes to town near the Colorado rehab facility he's staying at. In fact, I got a call from Budds Creek promoter Jonathan Beasley yesterday inquiring as to which room exactly Ernesto was in.
Also, check out the advertisement that American Honda put in the most recent issue of
Racer X
. That's got to be an early contender for advertisement of the year when AMA Pro Racing hands out the media and industry awards at the banquet in November. Well done, Honda.
One last thing about all of these injuries and great causes: If it seems like James Marshall, the young man who was unfortunately injured at the San Diego SX less than a month before Fonseca's injury, has been forgotten, it's probably because he just wasn't as well known. But that doesn't mean that help's not coming for the kid. In fact, Ping spoke to him last week and figured out how he can help, and he's putting together a Racer X plan with some other friends in the industry (including Moto XXX boss Kyle Lewis) to pimp a van out for James and deliver it to Texas for Marshall and his family. Even Bailey inquired about ways to help his fellow fallen rider. We're probably going to need help with this—who's in? Letters@racerxill.com.
Speaking of Ping, here's what he's hearing and seeing this week:
I posed the question last week, "Where the heck is Jay Marmont?" After digging a little, I found out. Jay has, in fact, hurt his knee and had surgery to repair it. The word is that KTM is sending him back to Australia to race the 2007 national and supercross seasons, then leaving in an option for him to return in 2008 if all goes well. Jay has had trouble building confidence after his nasty femur break, and his most recent injury is certainly not helping.
Be sure to watch the Unadilla races on OLN this weekend. The 450 class is missing James Stewart, but watching RC ride at Unadilla for the last time is worth the hour. There is also some great racing going on behind him, even though he would have to stop and wait almost a minute to see any of it. There is also a great interview with Chad Reed right before the second moto: Erin Bates catches Chad following the sight lap and just after he relieves himself next to the fence behind the starting gate. He chats it up with Erin while he's still getting the horse back in the barn, if you know what I mean. Anyhoo, it made me laugh. Erin is doing a great job at the track for OLN, and from the feedback I've gotten, her curly hair is a big hit.
Once again, the 250F class has some of the best battles you'll see all year. The second-moto slugfest between Ramsey, Grant, Villopoto, and Short is epic.
Ricky Carmichael seems to be changing his tune about his plans for 2007. The Makita Suzuki rider told me in an interview in last month's Racer X Illustrated that regardless of the points situation in either series next year, he would not compete in a full series. He cited the fact that he has been dealing with the pressure of racing for titles for too many years and he just wants to enjoy himself as the reason. Understood—he's earned it. However, this week, RC did an interview with David Izer and Kevin Kelly on DMXS Radio where he was leaving the option much more open than he was a few months ago. Ricky said (and I'm paraphrasing here) that if he was leading the national series next year and he seemed to be in the driver's seat for the championship, he would definitely consider racing the entire series. Let's all hope so.
Okay, what is going on with Destin, Florida? I knew Carmichael had a place there where he keeps his boat and vacations from time to time, but I thought it was a sleepy little town on the coast that was relatively remote. Now I hear that Kevin Windham spent time down there during the break in the series and I read in my, er, um, I mean in my wife's Star magazine that Britney Spears and rap superstar Kevin Federline have a condo there as well. Better hope MTV doesn't find out or they will move in like cockroaches during spring break and that pristine little spot will never be the same. Just ask Lake Havasu or Cancun residents.
Ernesto Fonseca will be at the race in Denver this weekend, so if you are planning on attending, be sure to say hello to Ernie or stop by the Racer X booth and pick up one of his Powerbands. All proceeds go toward his recovery aid. And Big E is setting Farber up with limited-edition #10 stickers to give to anyone who purchases an Ernesto Powerband.
I keep getting press releases regarding James Stewart's status. The first point that they are all quick to make is that James "did not hit his head in his latest crash" and that he is "just a little sore." But still, his series of crashes, starting with his Las Vegas get-off a few years ago, then Unadilla last year, then High Point, then Southwick and now Unadilla again, have got to be a point of concern for the Stewart camp.
After James' crash in practice last weekend, which was high-speed and violent, the Kawasaki rider sat up and looked dazed as he glanced side to side for a while in the middle of the track. To me, it looked eerily like one of Travis Pastrana's many head-bangers, and I really hope that James can put a stop to his string of crashes. The word I hear is that James has been trying to get a shock setting dialed in and some of his crashes are a result of not quite having that setup perfected. His Unadilla crash last weekend would seem to follow that logic, since the corner he crashed in was a high-speed sweeper, slightly off-camber, with braking bumps. If you don't have the rebound setting working right on a section like that, well, things can go wrong. Get well soon, James.
That's it from Ping.
Back to the racing. Davi Millsaps rode his butt off at Unadilla, grabbing both $500 Racer X Holeshot checks. When asked about his sudden proficiency at scoring holeshots, Millsaps said, "I lined up next to Carmichael and Windham in the first moto and got the jump and just got to the first turn first. In the second moto, I don't know. Honestly, I just pinned it and came out first."
Davi added that he liked the start at Unadilla: "It's downhill. It's not groomed, and it's not disked up. It's an equal chance for everyone. I think I'm as big as anyone out there on 450s, except for this small guy right here in the middle [Carmichael]. I just felt good on the starts."
Who knew Davi Millsaps would turn out to be a holeshot artist?
photo: Simon Cudby
Looking ahead to this weekend's race, #118 said, "I was out there two weeks ago riding the track. It's the same as last year. It's just as bad! The elevation is horrible and they are going to change the track this week, I guess. This race coming up is going to be good."
One guy who needs practice at not getting such good starts is Mike Alessi. After failing to make much of a dent in the second moto after a rare mediocre start, #800 said his problem in that situation is that he just doesn't have a lot of passing practice. He's always been such a good starter coming up through the minicycle ranks, and he rides mostly alone, since brother Jeff is still hurt. Said Mike, "We are going to change it up a little bit. I don't usually pass in practice. That's what I need to start working on right now. I need to work on passing, because I ride by myself up in the desert."
Mike said he's going to Perris Raceway or maybe Glen Helen or Competitive Edge, where they have open practices, and start riding with other people. As for losing the points lead to Villopoto that he's had since moto 1 of the series, Alessi said, "It's actually kind of good because I had so much pressure on me. Everyone was always saying, 'You can't lose the points lead.' That puts the pressure on him a little bit now. The hardest thing is to keep the points lead. Now that I lost it, I think it's good. Andrew and I are now the ones going for [Ryan] now."
Villopoto thought otherwise about having his first points lead as a professional. "It feels good," he said in the post-race press conference. "Now that I'm out front, I feel like it's mine to lose. I need to work on my starts. I could have had the holeshot in the second moto, but I mis-shifted or something."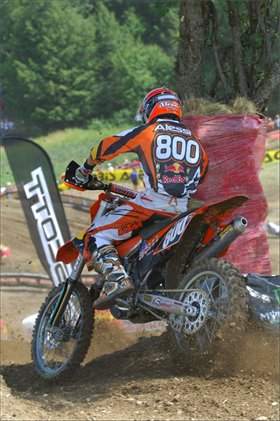 Now that he's been passed, is the pressure less for Alessi?
photo: TFS
Alessi missed the second-moto battle royale ahead of him, which
Andrew Short
described in Tour de France terms: "It was almost like cycling there for a while when whoever is in the draft is going to rocket into the front. Then it doesn't stick and you go backwards. It was pretty fun. I had some close calls; I'm sure all of us did. All of us were giving it everything we had. By the end of the race we were all pretty much spent."
Almost missed this: A reader on the other side of the planet send me a note about Chad Reed's most recent column in Australasian Dirt Bike magazine, where he confirms that he will still be on a Yamaha in 2007, working closely with the factory, though on his own team.
Reed wrote, "I chose to have it put in my contract that I can race the nationals, and if I do, I will be pitting under the factory Yamaha semi, as the team I'm riding for is going to be supercross-only. My other option is to not race the Nationals nand to be more available for my sponsors, to participate in other events and promotions, which could include X Games, supermoto and rally cars races."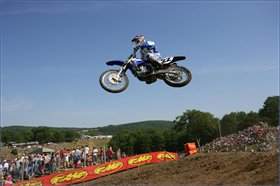 Chad Reed will ride blue in '07
photo: Simon Cudby
It also looks like Reed might ride the Motocross des Nations for his native Australia, possibly alongside Team Kawasaki's
Mike Byrne
, and then either
Brett Metcalfe
or
Andrew McFarlane
, both of whom have acquitted themselves well this summer with Yamaha of Troy.
And Team New Zealand could be Josh Coppins, Cody Cooper and Ben Townely (if he's healed up), with Shayne King as reserve.
Here's a reminder about a cool contest from Todd Lentz at EVS Sports: "Travis Pastrana's protective gear sponsor, is offering up a chance to win an all expenses paid weekend at Pastranaland. You can see first hand the location where much of the crazy Nitro Circus video footage is filmed and even do your own tricks into the foam pit. One lucky retail consumer and one authorized EVS stocking dealership personnel will win the trip of lifetime."
To get all of the details log on to www.evs-sports.com.
Well, that's Racerhead, and it came to you from Carmel-by-the-Sea, which is about a gold brick's throw away from the exclusive Pebble Beach Golf Resort on the California coast—I drew the short straw and had to go to the Red Bull United States MotoGP at Laguna Seca to watch Nicky Hayden, Kenny Roberts Jr. and Colin Edwards battle Valentino Rossi and the rest of the paved set. It's tough work, but someone's got to do it.…
Thanks for reading, see you at the races.