Hello, race fans! Welcome to the Number Cruncher, brought to you by Shift MX. This week we have another number that we think will surprise you. Real quick, try to think of as many racers that wore #24 as you can!

Not so easy, huh? This one took us a while to nail down, but after a major swan dive into the archives, we uncovered some really cool pictures of racers getting it done with the big two-four. We have found that when we crunch a number down that a common characteristic typically emerges. On this one, it seems that the guys that raced with the #24 had a penchant for grabbing big holeshots. The 30-second card just went sideways ... here comes #24!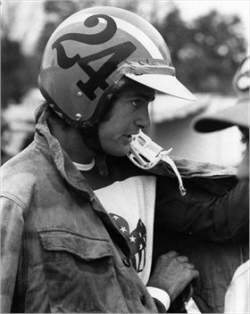 Jim Pomeroy

photo: Racer X Archives
First up we have a picture of Jim Pomeroy. He wore #24 in the 1975 Trans-AMA Series, which took place after he spent his third season on the 250cc World Championship tour in Europe. He started out hot, winning the opener on September 28 at Gainesville, Georgia (that's right, not Florida). But then he finished the tour, which was won by Roger DeCoster, in eight place. And by the looks of this pic, he wanted to make sure people saw his number on that high-tech crash helmet, and he didn't want that short-bill visor going anywhere!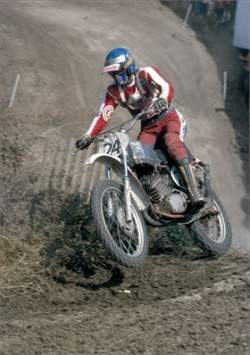 Rex Staten

photo: Racer X Archives
Man, check out the handlebars on this guy's hog! I'm not sure what looks scarier here, the baked adobe track surface in the background, the fuel that is seeping from the leaky gas cap, or the horse-jockey-style "protective" boots. And how about those cylinder head fins? Those look like something out of The Road Warrior. Awesome. Of course this is "Rocket" Rex Staten, and that baked adobe is none other than Carlsbad, home of the lost-to-history Hang-Ten United States Grand Prix of Motocross. The year: 1975.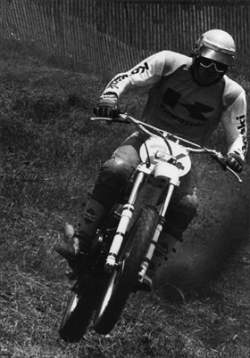 photo: Racer X Archives
This is another #24 that we don't know a lot about. DC says it's likely a Swede, either Torlief Hansen or Christer Hammergren. Either way, from the looks of those broad shoulders, he doesn't look like a cat you would want to meet in the parking lot after the race!
And here we have Rick Ryan in 1984. Ryan has always been a member of the "holeshot express." Whether it was rounding the first turn at a 125 National or being the first to the green flag at Coors Supercross, the Northern Californian was one of the most prolific starters in the sport's history. Ryan will always be remembered as a true privateer who won a 250cc supercross, shocking the world at the 1987 Daytona mudfest.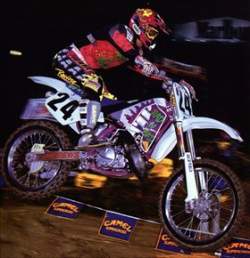 Fred Andrews
photo from the book Supercross '92
It seems like every week we do the Number Cruncher, Fred Andrews shows up. I was going to leave him out this time, but I had such a good laugh when I looked at this shot that I just had to run it. Just check out that white RM250 and day-glo Answer Racing ensemble! Lets say it together: "Rad and Bad!"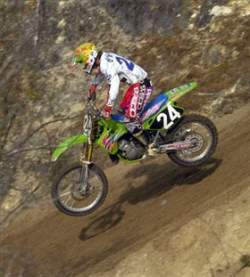 Mike Craig
photo: Racer X Archives
And sure enough, here's Michael Ray Craig again! Craig made the show in Number Crunchers 39, 43, and 17, and now here he is with the two-four. Craig, shown here at Gatorback in 1993, is now coaching his own little racer around: His son
Christian Craig
made it to Loretta Lynn's!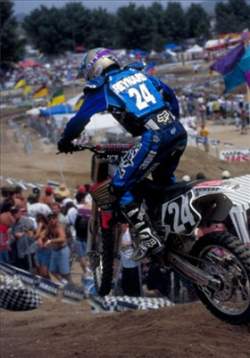 Robbie Reynard
photo: Chris Hultner
Robbie Reynard and Team Primal Impulse Honda had high hopes for 1997. Sadly, the two entities apparently shared the same curse as both had a lot of potential for success, but too many bumps in the road kept them from reaching their goals. As one of the early 125cc satellite teams, Primal Impulse was a good idea and had some really great chances to win a title. It was not to be, as Robbie continued to break the heart of the sport by hitting the deck time and time again. Years later, and in perhaps their strongest year, Primal Impulse had a chance to win the 125 West title, but then David Pingree got dropped in a couple of first turns and someone else took the #1 plate. It's funny, but I still have a Primal Impulse banner hanging on the wall in my bedroom at my parents' house.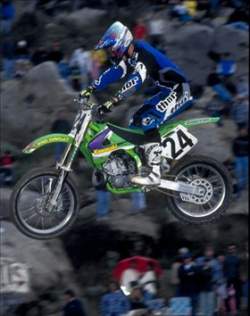 Phil Lawrence
photo: Racer X Archives
Here we have "Factory" Phil Lawrence riding a "privateer" KX250 at the 1997 Perris Invitational Supercross. Phil was one year removed from the Great Western Bank team of 1996 when this shot was taken. He pulled the biggest holeshot of his career at the '96 St. Louis Supercross. The race went down history as the one that broke "The Streak": Jeremy's McGrath's 13-race win streak came to an end at said event when Jeff Emig took the checkers and his first real main event victory.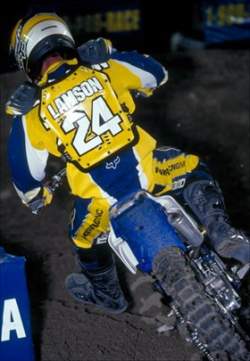 Steve Lamson
photo: Simon Cudby
This is an interesting shot of Steve Lamson at the 1999 Summercross at the L.A. Coliseum. Lamson is wearing
Fox Racing
's version of Jeremy McGrath Signature Line, "MC Limited." Which is kind of ironic, when you consider that Lamson played the unlucky role of the man who torpedoed the defective McGrath, his Honda teammate who had just jumped to Suzuki, at the '97 season-opening L.A. Supercross. And to think that two years later he would be at the same track wearing McGrath's signature gear as his Chaparral Yamaha teammate? It's a crazy world.
You know what else is funny? I personally hand-cut the "Lamson 24" on that chest protector when I worked for Todd Hicks. Lamson was also known to bang a lot of holeshots. Most of them came on his wicked fast CR125R he raced to two 125 national championships.
Number 24 currently rides along with emerging superstar
Josh Grant
. Grant burst onto the scene at the 2004
Hangtown
National. The young California-born speedster grabbed a monster holeshot and amazingly pulled away from the pack in the opening laps of the
Hangtown
Classic. Grant was breaking away from the pack when he did what he has slowly become famous for: He crashed! Each week Josh puts in some of the fastest laps of the 250F class and he has led at most of the events, only to crash out of the lead. He did achieve a personal milestone by winning his first three supercross races in the 2006 East Championship. He has also won a moto outdoors, but that first sweet overall victory has thus far eluded him. Its coming—he just needs to keep it on two wheels and he'll get it. And what is he doing in this picture? Leading the race after pulling the holeshot at
Unadilla
last weekend.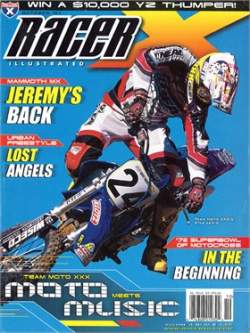 Kyle Lewis
And while he may wear the #23 permanently now, a few years ago when Moto XXX leader Kyle Lewis landed on the cover of Racer X, he was running the two-four. Kyle's career is winding down now, but he's had a long run at it and must be considered one of the most respected men in the entire 450 class.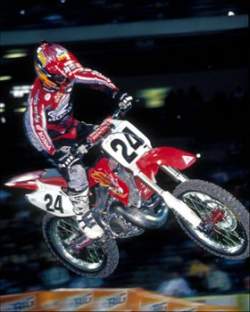 Ernesto Fonseca
photo: Simon Cudby
Last but definitely not least: Ernesto Fonseca wore the number 24 for several years before changing over to his current AMA permanent number, 10. Make sure you check out the Shift Number Cruncher next week, because it's going to be dedicated to The Fonz himself.
That's it for this week. I do have a treat for you old-school enthusiasts: If you can correctly name the three guys I have here at the bottom, e-mail me at andy@mxsports.com with your answers and mailing address and I will send you some stickers.