Between The Motos: Cole Gress
Summer time is here, and for kids in the motocross ranks that means two things: Loretta Lynn's and Ponca City. Kawasaki Team Green is especially fired up this year since they're celebrating 25 years this summer, but the Suzuki amateur squad has plenty of reasons to be proud, too, because they've been belting some big hits out of the amateur ranks lately. So we rang up Suzuki Sports Team Manager Cole Gress to get the 411 on Suzuki's amateur squad.

Well Cole I hate to start the interview this way, but unfortunately, it sounds like some of your big guns are out this summer before they even could get started!


Yeah, our big bike squad took a real beating this year. My number-one guy
Nico Izzi
took a big hit with a knee injury. He'll start riding again when everyone else is at Loretta's. So that was a big one. And of course
Ryan Dungey
got scooped up off of my amateur program to do bigger and better things. Which is good, because that's why I'm here, to move these guys into the pro ranks and get a Suzuki factory ride, and we did that. It just cost me two possible titles at Loretta's, but that's okay.
Well let's talk about Dungey. There's been a lot of talk about him since Roger DeCoster decided to sign him for next year, and he's still relatively unknown even on the amateur side. I remember on the podium last year at Loretta's when he won the Schoolboy title, he said, "I used to come here and just get top tens, and now all of a sudden I'm winning!" He's come really far really fast!
Oh yeah. It's really funny how that stuff happens. A little confidence goes a long way, and you combine that with a strong work ethic and determination, and it fits. And that's him. He struggled to find a fit, he was 145 pounds in the 85cc class going against Alessi and Villopoto when he was coming in, and he never really got to where he needed to be. Jeff Pinehart at PR2 really talked him up to me. So I had a slot for him in the Schoolboy class. He just lit it up after that, started winning races right away. Now it's snowballed. He's one of those guys that will do whatever it takes to win. It was snowing in Minnesota, so he hoped in the truck and drove himself down to Texas and stayed with John Mitchell. He would be in his room at 10 at night doing 200 situps. He's just unreal, whatever it takes, he will do, and he improved. So then he came out to California and went riding and he caught the eye of Roger. Big E at Answer was talking him up to Roger, and I told him he has what it takes. So Roger said, "I'll take him!" But the sad thing was, he signed him the week after the last area qualifier. So in the perfect scenario, he could have raced his area in the A and duked it out for the Horizon Award with
Josh Hill
. What a great story that would have been. Two kids who have already signed factory deals duking it out as amateurs one last time. But darn it, we missed it by a week. He had raced his qualifiers in the B class, and there's not much we can do. He could have stayed B and raced Loretta's, but we would really look like cherry pickers if he raced B class and then a week later he goes to
Millville
and races pro out of the factory rig!
So it's legal but it doesn't look right.
In the big picture, it doesn't look fair to the B class and what that class is all about. But he did race a Ponca Qualifier, so he will race the A class there.
I heard he's testing at Millville soon to get ready.
Yeah. So that's good, the way the kid goes, he's such a good starter. You can tell when you look in a kid's eyes. Some, it's like deer in the headlights and they don't know what's going to happen. But others, they know what they're going to do. He raced Mammoth in the pro class against McGrath. I told him, McGrath will feel you out for three laps, and then pour it on for laps four through seven. I told him if he could hang in there through seven, he might have a shot at eight through ten. And he told me he wanted it bad. And the kid holeshotted McGrath, and he did his damndest to beat him. And you can probably count on one hand the guys who could beat McGrath at Mammoth. The guy hauls up there, and Ryan hung with him for four laps. You can see that he wants it, and he's smart about it.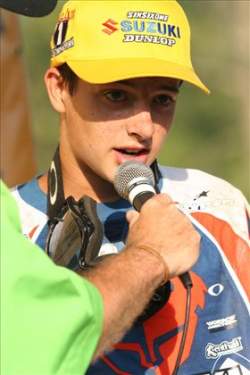 Nicco Izzi will have to wait until next year to get back on the podium.

What about Izzi?
He'll start riding in August, and we're going to keep him around. He's a smaller kid, so I would rather push him out six months late instead of six months early. So we'll let him get on a 450 and our new 250F for '07. He has a lot of titles at Loretta's, and he wants more and he wants the Horizon Award. We could have brought him up for Roger next year, but Izzi made the call himself. He wants to come in ready to win instead of just come in to see where he's at. So I was stoked, because that's kind of where I wanted him to be. We'll keep him in the A class next year through Loretta's and then move him up. I hope he'll be like a Villopoto, where he turns pro ready to roll.
Who else is on the team?
My other big bike riders, I have Jared Browne, who is last year looked like a favorite but he got hurt in his first moto at Loretta's. Brad Smith always does pretty darn well, too. The only B-level guy I have is Drew Gosselaar, but he broke his wrist before Mammoth. I think he's going to give it a shot though, he's going to try riding next week. We'll see. But my main goal is to sweep the 85 classes. I have a really good group, and the only one I'm missing is
Ian Trettel
.
Yeah he's out for the second year in a row.
Yeah. He tweaked his knee again. He works with Dr. Ting, and he's very progressive doctor. He learned some new things and with the way Ian got hurt, he asked us to let him fix it so we will never have to worry about it again. So we did it, and he's starting over again. It's gnarly for a little guy like that. He stays out at Todd Hicks' house in California, and he rehabs every day with Dr. Ting. But other than that, we're okay, and I think we can sweep the 85 ranks.
So who are the rest of your 85cc guys?
In 7-11 I have Jessy Nelson, Austin Politelli, Nick Desiderio and Justin Summers. Those four should be up there. In 12-13 I have
Eli Tomac
and
Jason Anderson
and Walker Brightwell. They all ride that place really well, so if we can scrap it up with that Barcia kid, we'll have a shot. Barcia is the man to beat for sure. In my opinion the class to watch this year is 14-15 and Supermini. You'll have four or five kids that are primed.
Blake Wharton
and Tyler Sjoberg are on my team, and they have national titles this year. And Terren O'Dell, Lowell Spangler and this Ty Worthington kid who has been really tearing it up lately. People are going to be surprised, but I think that's the most exciting one to watch. And another good one, I'm sure you've seen the entries, how about Schoolboy Mod. You have
Tyler Bowers
in there, and he's also racing four-stroke.
Yeah Tyler is huge! That's crazy that he's in that class. I don't think he even raced a 125 before.
Yeah, I think he went straight to the 250F when he was 12. And now he's racing a 125 a few years later.
Yeah I remember he used to battle with your boy Ben Lemay in 7-11, and then he got so big he moved right up.
Yeah well that will be a good one, because Lemay is really hauling right now on his 125. And I have Katin coming back in the Vet stuff. The vet class is gonna' be good, too. That's pretty cool of Emig to race an A class instead of two vet classes. Loretta's is going to be good. I'm kind of bummed on the big bike side, but next year we'll have a strong big bike team, and this year we'll more than make up for it in the 85cc classes.

Man, you've got me all pumped up for the races now! Do you enjoy this time of year?
It's my favorite time of the year. Loretta's is the big dance. The most hectic is the mini O's, because the bikes are new and the graphics have to get done and stuff like that. By now you're hitting a really good stride, everything has what they need on their trucks. We're good to go. The Regionals are actually more stressful than Loretta's.

Really?
Oh yeah. You have guys with Loretta Lynn's titles, and they'll have something go wrong, and they have to drive 1000 miles to go to their backup regional the very next regional. I had Anderson and Tomac, they had to drive all the way to Glenn Helen the next weekend just to get in. To me, the Regionals are way more stressful. At the National, I just say "Do what you can do, and if it's meant to be, it will happen."
Very nice. Thanks Cole, and good luck!
No problem, Jason.