Monday Conversation: Ryan Villopoto
Monster Energy/Pro Circuit's Ryan Villopoto was the strongest rider on a tough, hot day at Unadilla, and he left with the points lead thanks to a 2-1. In moto 1, he lost a battle to the end with Mike Alessi, but in moto 2, he drifted off the start to the left, giving himself a bad start and Alessi a worse one. The opening laps of that second moto were a classic four-way battle between Short, Villopoto, Grant, and Ramsey. Villopoto came out on top of that one, but Alessi didn't get to mix it up, only catching up to seventh.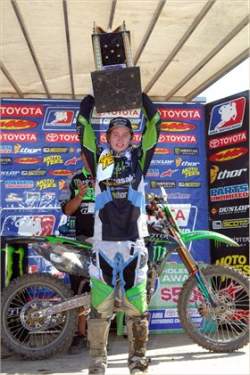 Ryan Villopoto hoists the first-place trophy for the third time in the last three races

Racer X: You're exactly halfway through your first full season at the nationals and you are the points leader. How does that feel?
Ryan Villopoto: I've never really done it, so it's something different. I'm not going to go out there and think about it a lot. It's just what happens. I lost some points in that first moto and stayed up there for the second. That really made it easy.
How did your trainer, Randy Lawrence, get you ready for this hot day?
Well, California has been really hot, like 108. It's been hot but not humid. It seemed like Red Bud and Budds Creek were hotter than this, but I don't know if it's the track that was tough and hard to ride and it makes it hard on you. It seems like I got more tired here.
Let's briefly step through your motos. In the first one, you had a moto-long battle with Alessi. Anything on the track that worked really well or didn't?
I was waiting for Mike to make a mistake. I knew he knew I was there. I don't know if I was enough to have him make a mistake. The track was one-lined, so you had to wait for something to happen.
You seemed to be pulling people on the big uphill by the mechanics. Was your bike really hooking up there?
In the first moto on the first lap, I just took that outside line [a big, sweeping left to an uphill]. It was super fast. Everyone was going to the inside and letting off after that drop-off. I just kept it matted.
How did your second moto go?
I made a mistake a little ways out of the gate. I just got in between gears or whatever. I think I would have had a good chance of getting the holeshot. I was pretty far out there. I think it may have helped me out a little bit, because Mike was behind me. That slowed him up even more.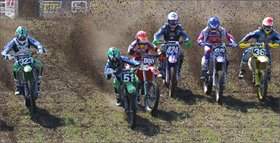 Monster Energy/Pro Circuit Kawasaki's Ryan Villopoto now has a three-point lead over Red Bull KTM's Mike Alessi in the 250F class

Hey how does it feel to have a Racer X cover?
It's good. That whole magazine has great pictures, and now I'm in some of them.
Do you get a magazine now and flip through it, and go, "There's me, there's me..."?
It feels good.
This thing with the Alessi rivalry, are you handling it pretty well? It seems like in the press conferences, you guys are cool. Are you keeping the off-the-track things okay?
I don't really talk to him off the track at all. Whatever happens on the track is what happens.