Donald Nederman hails from Katy, Texas, but he is originally from Michigan. He made a homecoming trek back to Red Bud for the Toyota AMA Motocross National and wanted to share his thoughts and observations with his fellow race fans here at Racer X Online.
My Red Bud experience goes way back to the fall Trans-AMA series in 1977. I was there in the snow; yeah I said it, snow. Bob Hannah, my childhood hero, won in the mud over the likes of Roger DeCoster, Pierre Karsmakers, and Brad Lackey. I've pretty much been to every professional race since then.
My first race was at Red Bud. The weather conditions weren't much different than my first Trans-AMA race. I made one complete lap around the track that probably took 20 minutes and we decided to call it quits for the day. I would return many times after that from 1979 through '84. I still remember Gene Ritchie yelling at the riders meeting about pit racing. He would say, "Mark Barnett never raced in the pits and neither should you." During my racing years I have witnessed the dawning of some amazing racing careers, most notably Jeff Stanton and Mike LaRocco. My congratulations to both of them for their success.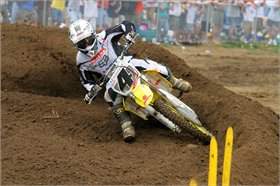 RC and the gang make it look easy
photo: Ware
That brings me to the 2006
Red Bud
National. A friend of mine, Joe Subart, owns some bikes and land with a track on it and invited me and some other friends to come over the Saturday before the national and ride. Joe had been riding for over twenty years and my other friends also had bikes and current riding experience. I, on the other hand, had not ridden a bike on a track in over 20 years. I did not want to get crazy and hurt myself so I took it easy. It was a lot of fun and a good reminder that RC and the gang sure make it look easy.
Early the next morning, Joe picked me up and we met with three other friends for breakfast—T.J. Webb, Brad Wilson from Texas, and Stosh Klevickas—then we drove about 50 minutes to Red Bud. The morning weather looked gloomy and the forecast for Buchanan was "heavy showers." It didn't matter to us. We were going to be at the "Bud" no matter what!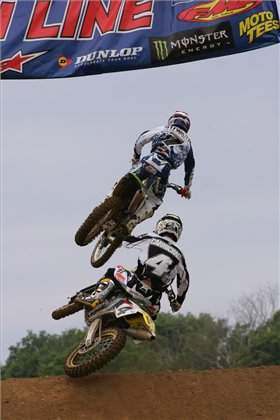 photo: John Clark
Now, I have been to three other national tracks besides
Red Bud
:
Millville
, Troy, and
Glen Helen
.
Red Bud
remains my favorite. The track actually circles mostly around a hill. This makes the spectators very happy. It has gone through a tremendous amount of changes since I raced back in the early '80s. The only thing that remains is the starting area through the ski jump and the Monza Wall. There was a double uphill jump where LaRocco's Leap is now but nobody, including the pros, ever thought of jumping it. This year the Ritchie family made even more changes to the circuit. As a spectator, I thought the changes were good.
Anyway, we arrived to pick up our pit-pass credentials, and we were stoked. I felt like royalty walking around the pits, checking out the rigs and motor homes. We saw the riders as they were lining up for practice and I kept thinking about what I would write about. I knew this wasn't going to be a Pulitzer Prize-winner but I wanted you to know what Red Bud is like. Television can never give a sporting event the justice it deserves. I remember when Mike LaRocco won the 2004 Indy Supercross. I was there. The wave of fans cheering him on lap after lap was a sight to behold. I, like the many around me, was in tears when he took the checkered flag. I felt like I was a part of it. But when I watched the telecast, I couldn't really hear the crowds or feel the excitement. It didn't have the same effect. You really have to be there.
For anybody who has ever raced, you know that practice is practice. You can go fast and race with somebody, but it doesn't mean anything. However, I did want to make our way over to LaRocco's Leap before the Motocross class took to the track. This was my friend Brad's first visit to Red Bud and I couldn't wait to see his expression after a top guy did the leap. The first time I saw someone leap it was Jeff Matasievich way back in the '90s. Ronnie Tichenor was on the sidelines at the time and I asked him if he was going to jump it. He said, "No way." To his defense, he was riding a 125 that day!
After practice they started the qualifiers for the remaining 30 positions left on the gate. We got a chance to see Ben Townley, who looked good in the first Lites qualifier, and Broc Hepler. The Motocross qualifiers featured Tim Ferry and Kyle Lewis in their respective heats. As the qualifying rounds were finishing, we made our way back to the pits to get a chance to see some of the riders prepare for the afternoon program. I thought maybe I should approach some of the riders, but I knew by following the sport that they are inundated with interviews, and I did not want to be a pest. I observed from a distance.
Before the start of the first Lites moto, Joe got us into the Parts Unlimited tent for lunch. He had raced as a professional some time ago, and his old sponsor, Michigan Engineering, was still on the sponsor list. Another reason I like Red Bud so much is because the Parts Unlimited tent is right in the start area of the track. It has a perfect view of the start and is so close to the action that you can easily catch roost from the pack. We were there for every start that day, and were even there when Carmichael made his second-moto pass on James Stewart.
The start of the Lites class had
Ryan Villopoto
with the holeshot around the long first and second turns. I don't know if it was strategy or not but
Martin Davalos
and a few others ran out of room in the first corner. Davalos appeared to hurt his shoulder (on Carl Stone's camera lens!) and I figured his day was over. I try to make it a point to be where the action takes place, but that is an impossibility at
Red Bud
. The crowds have grown to over 30,000 people. We used to be able to run from one side of the hill to the other to check out the action, but there are too many people to do that now. Now we just make our way around the track, taking breaks in different areas of the track to check out the action.
As the moto started winding down Villopoto had checked out. Andrew McFarlane held his own in second and Jason Lawrence looked like he was going to make his first podium appearance. He made a mistake and Mike Alessi took over.
The second Lites moto had Alessi out front and gone. Within the second or third lap, Villopoto settled into second but never gained any ground on Alessi. I was somewhat surprised, but Red Bud sometimes does that in the Lites class. I remember James Dobb in maybe '96 winning a first moto (over Chad Pederson) by a large margin only to find him absent in the second moto because he pretty much wore himself out in the first one. In '92 Mike LaRocco won the first moto only to crash on the first lap of the second moto to end his day. In 2003, James Stewart won the first moto easily and then crashed in the second moto and DNF'd. So I guess I shouldn't have been too surprised after all.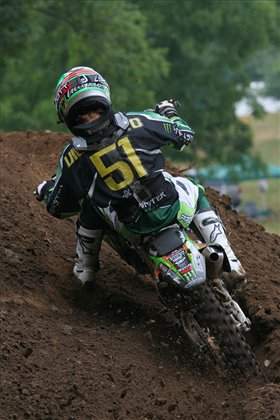 photo: Ware
We made our way over the starting area within the pits to see the Motocross class line up. I really was looking forward to seeing a good race between RC and
James Stewart
but it never materialized. Ricky pulled the holeshot both motos and except for a minor miscue in moto two he pretty much owned the day. A lot has been said about Carmichael, but I want it to be known that he is not the Lance Armstrong of motocross; rather, Lance Armstrong is the
Ricky Carmichael
of bicycling! He is simply that good. After seeing the greats come through this circuit over the years, in my opinion, only Bob Hannah in his prime could give Ricky a run for his money.
Anyway, the riders seemed to space themselves apart both motos which made the racing uneventful. Sometimes the pros make things look so easy and smooth that they can actually make the action appear boring. Remember folks, those guys are flying. It should be noted that on the last lap of the second moto Ricky gave Stewart a nod when they passed each other on different parts of the track. God only knows what that meant.
The highlight of my day took place before the second moto of the Lites class. We were walking through the pits towards the first turn when we walked past the Dunlop Tire rig. We saw Broc Glover standing with the other reps and I couldn't resist the urge to talk to him. You see, back in 1985 T.J Webb and I were at the national that year. In the section leading up to the finish line there was a long double jump. The jumps were so far apart that jumping them together didn't really present much of an advantage. But the top guys were doing it. We saw Glover jumping it in practice so we wanted to get a good view of him coming through the air by being at the next corner. Glover pulled the holeshot, and when he made the turn before the jump, we could hear him roaring up with his big Yamaha 490. Unfortunately for him, he had the front end too high, and although he made the landing safely, he couldn't brake in time to make the corner and went headlong right into the snow fence. T.J. and I were on the other side of that fence and had to scramble for cover. It was one of the most dramatic crashes I'd ever witnessed. T. J. ran to help Glover but I told him to wait, knowing that outside assistance could mean disqualification. Broc got up slowly and checked his bike, and after we held down the fence, he re-entered the race. Two laps later he was back up front.
When I approached Broc, I asked him what was the worst crash that he ever suffered at Red Bud and it only took a moment to recall what I just shared with you. He went on to tell us that he actually suffered a broken bone in his wrist that nagged him the rest of his career. He spent a lot of his time with us, telling us all about it, and made us all feel like we were his friends. I couldn't stop myself from asking him if he ever talks to Danny LaPorte or Bob Hannah. He laughed and said that he is good friends with Danny and talks to him from time to time. As for Hannah, no, he doesn't talk to Bob. One thing he did add was that Bob does still order a lot of tires. Is Hannah making a comeback soon? Anyway, thanks for your time, Broc. If you are in St. Louis next year, Mike Shannon's is on me.
One observation that I noticed is that before and after each moto
Chad Reed
would ride to and from the track in a golf cart with his wife on his lap. I don't know about anybody else, but a man with a million-dollar bank account, some righteous speed on the racetrack, and a hot wife is already a winner in my book!