Thursday Rev-Up: Unadilla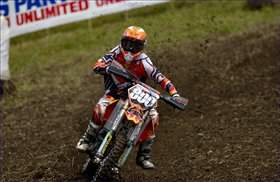 Can he escape Unadilla with the points lead?
photo: Trevor Hawk
Hello, everyone, and welcome to the Rev-Up. The 2006 Toyota AMA Motocross Series return to action this weekend at historic
Unadilla
Valley Sports Center. The track this weekend is about as primitive as it gets for professional motocross in America. Set way up in the hills of upstate New York, the
Unadilla
course looks like it should be somewhere in Europe. Some of the greatest moments in American motocross history have taken place at this venue. In addition,
Unadilla
plays host to some of the most infamous fans of all. For instance, the Hill People used to be complete maniacs, guzzling suds all morning long and shouting back and forth across Gravity Cavity, "The other side sucks! The other side sucks!" They were the original crazies, often stoked by announcer Larry Maiers, who felt that anyone who wasn't from America was a communist!
The Hill People remain at
Unadilla
, but with a far more watered-down demeanor. All the same, you can probably count on more than a few sunburned waffle bellies with bloodshot eyes spinning their T-shirts over their heads during the 450F class, screaming "Han-nah! Han-hah!" as
Ricky Carmichael
rides by. Things are changing and the sport is evolving, but
Unadilla
remains one of the last places where we can squint our eyes and see the sport the way it used to be. So let's go ahead and get Revved Up for another Thrilla at Una-freakin'-dilla!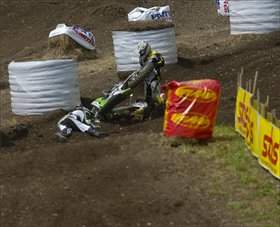 Hopefully we've seen the last of this.
photo: Trevor Hawk
Ricky Carmichael
has his kung-fu grip nestled tightly around the 450cc points chase. Take into consideration that he's not real fond of racing at
Unadilla
, while his main rival
James Stewart
said of 'Dilla on OLN after
Red Bud
, "I really like that track." With that combination, we just might have ourselves another barn burner! I'm not sure what would be the smartest move for these cats. If RC lays back and takes a 2-2, nobody should prod him too much. If James, still trying to find the right combination of speed and perseverance, rides conservative and takes another 2-2, nobody should prod him either. Let's just cross our fingers and hope that these guys play it cool and put on a good, clean show! We all remember the drama of last year; we don't need any of that.
What we do need is to get Reed, Windham, and Millsaps on the throttle! Windham beat Ricky straight-up in both motos here at the 2003 event, and Reed kept RC at bay for quite a few laps in moto 2 last year. But you know what? Nobody rides
Unadilla
quite like James. There is a good chance that #7 may show everybody the taillight this Sunday, and that's just what we need: a few more battles between Ricky and James!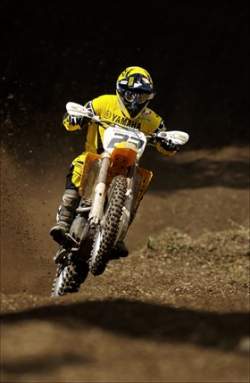 Reed might surprise some people this weekend.
photo: Trevor Hawk
The bread is really getting toasted in the 250F class.
Mike Alessi
now clings to a scant five-point lead and has a surging
Ryan Villopoto
breathing down his neck. Mikey Boy comes into this weekend on the heels of a convincing moto-2 victory at
Red Bud
, but he faces what may be his toughest challenge of the series this weekend.
Unadilla
is one of the most physically demanding tracks on the circuit. While Alessi has been very consistent, he's been know to display the fade sometimes. On the other hand, Villopoto has met every checkered flag with a lap time that was as fast or faster than when he took the green. I think the real challenge to both of these guys is going to come from the Kiwi … at least I was thinking that until DC just called Ben and found out that he does, in fact, have a separated shoulder after a practice crash at RC's place. Damn, this guy can't get a break! Get well soon, BT101.
Well,
Broc Hepler
is going to be there, and I say keep an eye out for Hepler because he simply laid wood on everybody here in 2005. (And if you missed Matt Ware's really cool Racer X Film of how this East Coaster lives, check it out
here
.) Of course,
Brett Metcalfe
and Andrew McFarlane have been podium threats every weekend, and
Josh Grant
is due for a win,
Andrew Short
wants revenge from
Red Bud
, J-law is suddenly knocking on the door, and
Nathan Ramsey
is overdue.… Wow, this one is going to be good!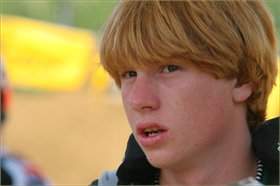 Can RV take over the points lead?
photo: Matt Ware
It's been two weeks of hibernation for the boys, and they should all be hungry to get back to the grindstone. The silly season is almost upon us and there are a lot of guys that need to dig deep and put in some performances. There is a horde of amateurs clawing their way up to The Show, and that could provide a spark that guys like Matt Walker and
Nathan Ramsey
may need to show their true winning potential.
On a personal note, I have to tell you that I am really Revved Up right now. The first motocross video I ever had was a VHS tape of the 1985 USGP when Johnny O'Mara ran out of gas and handed the win to The Hurricane. I wore that tape out watching it over and over. I've been in the sport for 25 years, and I have yet to step foot on the sacred grass of
Unadilla
. This weekend I am going to stand in Gravity Cavity for the first time and finally get to yell, "The other side sucks! The other side sucks!" I'll tell you all about the race come Sunday night after the race!