Hello, race fans! Welcome to the Number Cruncher, brought to you by Shift MX. We have a couple requests to kick off this week's rockin' addition. The first comes from Michele, who has written in to us a couple of times with requests. Her latest one was such a random request that I just had to run it.

"During the 1991 season Jason Buttle from England wore the #47."

Wow, I had never heard of that guy! But "Bad" Billy Ursic had. He dug into his trusty stack of Hi Flyer cards and dug out Jason's card from the 1991 Red Bud National. From the sounds of the card, it looks like Jason scored some points but bailed big in moto 2.


And for request number two, we have Mike Kochman, who said:
"My favorite #47 is Fred Andrews. Fred ran #47 in 1985 in the 125 outdoor nationals on a CR125R. This is the year, Fast Freddy began dating his current wife and my former neighbor [Amy]. Fred was a great inspiration to me that year. I had just started racing ,and he would take me to the track sometimes. I thought it was the coolest."

Well, Mike, I can see how you might have a vivid memory of your neighbor, the former Amy Maurer. If I recall, she was the stunning model of Rad 'N Bad Arenacross Series, plus many of their posters! In fact, I have one of those posters, which Fast Freddy graced the cover of, hanging in my old room in Emporia, Kansas. Fred had some super-cool black-and-pink riding gear and was actually #24 while doing a mild whip.
Forty-seven is a really cool number to me. I grew up riding and racing in the Midwest, primarily in the Kansas/Missouri area around the same era that four-time AMA champion Jeff Emig did. I was a couple of years behind him and his brother, Bryan. Together, the Emig brothers were the heroes of all of the local tracks. Every time it rained a bunch, they were the first two guys to go out and cut in the track. Every time somebody built a new double, they were the first to jump it (Jeff would be the first to whip it).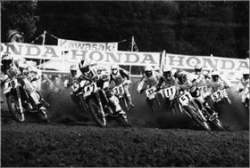 photo: Racer X Archives
Of course, Jeff was #47, and he wore it at Loretta Lynn's in the late 1980s, when he used to race #51 Damon Bradshaw in the 125 A and 250 A classes. Actually, he ran #47J when he went out West to race the Golden State Nationals. The Emig family is a true racing family, with all of the members involved. The father, Gary, constructed some of the baddest engine and bike modifications in the nation, and sister Paige would hand out popsicles at some of the super-hot races, like the GNC Good Times National. Today Paige and Gary own and operate Emig Racing, which produces high-end triple clamps and accessories, while Bryan has his own hop-up shop in the works called Strategic 3. Meanwhile, Jeff is still riding and racing and will be going for titles seven and eight at the 2006 Loretta Lynn's championship.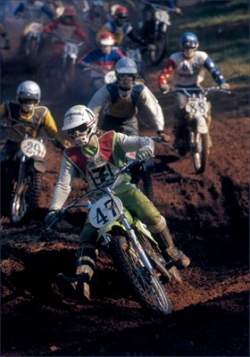 Billy Grossi
photo: Dick Miller Archives
Okay, let's take it back a notch or 30. Check out this picture of Billy Grossi looking about as sano as it gets (for 1974 or so). Then a Kawasaki factory rider, Billy had a complete Kawasaki uniform incorporating what may have been the first outside sponsor in the history of motorcross, with 7-Eleven gracing the front of his kitchen-apron-style chest protector. Also make note of the Skeletor-style Koho facemask, and the handwritten "Grossi" adorning the front of it. Sweet!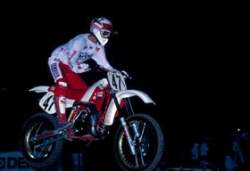 Alley Semar
photo: Kinney Jones
Check out this stylish-looking Yamaha rider hitting the panic-rev at the '86 Anaheim SX. That's none other than Alley Semar, who made the main that epic night. Semar hailed from Louisiana and had a nice career before hooking up with fellow bayou product
Kevin Windham
as his career was just getting going. All these years later, Alley is still with K-Dub, though I'm guessing Kevin picked up his riding style somewhere else!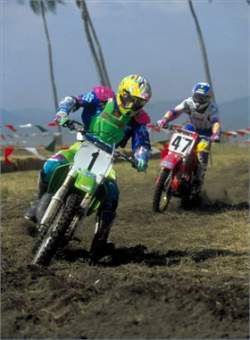 Pedro Gonzalez chasing down The Chicken
photo: Racer X Archives
Check out Pedro Gonzalez here chasing down Jeff Matiasevich (#1) at the 1992 Acapulco SX. Pedro would eventually progress from his # 47 privateer Honda ride to become a member of Mitch Payton's powerhouse 125 squad, where he would become the first Mexican-born motocross racer to win a 125cc supercross main event, at the '94 San Jose SX.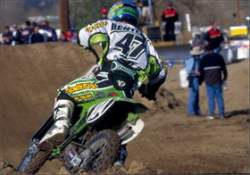 Shae Bentley
photo: Eric Johnson
Pictured here in the waning moments of his career, Derrick Shae Bentley is perhaps one of the biggest "what if?" riders in motocross history. As an amateur, he was one of the only kids on the planet that could beat
Ricky Carmichael
in a heads-up race. While this was a rare occasion, "Derrick Shae" (as Art Eckman used to call him) possessed that superhuman speed that marked his arrival to the professional circuit with high expectations. When he won the 2000 125cc West Region SX title, it looked like he was on his way to the top. Unfortunately, Shae would go on an awful streak of injuries that ultimately brought an early end to his career, leaving many us of to ponder what could have been.
By the way, Shae had a very unusual bike setup that saw him race with his handlebars extremely far forward with his clutch lever sticking almost straight up and down due to a bad wrist. A couple of shoulder injuries later saw Shae running bars almost on the tank – but the sky-shot clutch lever remained. Be that as it may, Bentley was regarded as one of the hardest working and likable riders on the circuit, and it is truly a shame that he didn't have some better luck.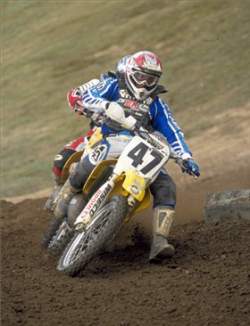 Barry Carsten
photo: Simon Cudby
We have already featured Barry Carsten in the Number Cruncher, but as one of the gnarliest iron men in the history of the sport, he deserves every nod he gets. Carsten has held a national number longer than most of us have been riding, and in 2000, he was # 47. I am proud to say that I have been knocked over a berm by "Big Bore" Barry in an arenacross race. I remember seeing that he was in my heat race and thinking to myself, Ha, that old man hasn't got the juice to run with me! As I was picking up my bike on the opposite side of a berm, I realized the wily vet from Jersey has quite a few tricks up his MSR jersey sleeve.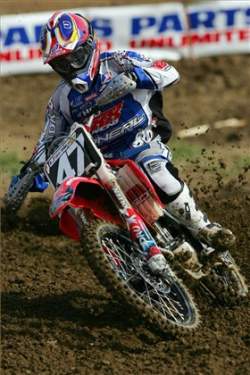 Matt Lalloz
photo: Simon Cudby
Matthieu Lalloz is on the tail end of a long line of French racers. Since his arrival in the States, Matthieu has done a lot of bouncing around. Arriving in 2003 as a member of Team Suzuki, he began 2004 with the #47 riding for the new Holigan Racing team on Yamahas. Things didn't work out for Matt in SX, and he ended up riding out the nationals for Moto XXX. He might be a sign that the trend of French racers coming over and winning 125cc/250F supercross races and titles has come to an end … unless the Pourcels show up!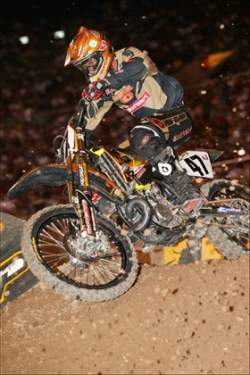 Tyler Evans
photo: Simon Cudby
Tyler Evans was all about racing in 2005, as he went out and kicked some major butt on the track. Tyler took the # 47 to an eighth-place finish at the Seattle SX on his way to 11th overall in the series standings.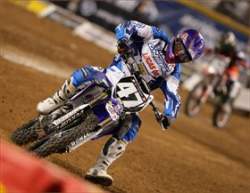 Sean Collier
photo: Simon Cudby
Sean Collier is the current holder of the magnificent #47. Sean is doing the number proud this year with some very strong rides in both supercross and motocross. At Phoenix, the Star Racing/Lucas Oil Yamaha rider ran at the front and came within a lap of his first podium. At Budds Creek, Collier ran at the front for most of the first moto before finishing in a very impressive ninth overall on the day. I used to be Sean's rider rep when he rode for Shift/Fox while he was on 85cc machines, so it's cool to see him and his father at the races enjoying success.

Finally, a funny one. Today, we got an email from former Suzuki factory rider Dale Spangler of Ohio about switching jobs—he's going from Carl's Cycle Sales to a new position at Pro Moto Billet, "an emerging company producing high-quality off-road products based in Nampa, Idaho."

Anyway, DC is old friends with Dale (who was originally from Ohio), and he remembered a photo of Dale from a Fall Classic back in 1994 or so when they ran the track backward at High Point. He asked Dale if he remembered, and Dale wrote back:

"No, I think I ran 53 that year because I rode my buddy Rick Boepple's bike and that happened to be his number. I'm not sure who ran 47 that year at the Fall Classic. Could it have been Chad Lough, Steve Childress, or Damien Plotts maybe? Man, that was a fun race backward. I remember it like it was yesterday."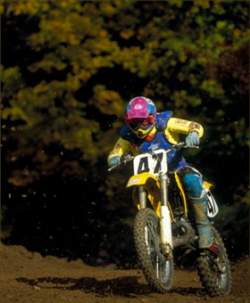 Dale Spangler
photo: DC


But DC, who has a really, really good memory, sent Dale this photo and said, "Are you sure this isn't you?" Spangler's reply:

"You are right! I just spoke to my buddy Rick and he said he ran that number one year at Loretta's and that number was left over from then. So, I was #47 for that one race! I can't remember that gear or running that number at all. Thanks for reminding me!"

Another happy ending for the Shift MX Number Cruncher. (And DC seems to remember yet another fast Ohioan, David Hand, wearing 47, but he couldn't find the photographic evidence. I say we just go with it!)

That's it for this week. I dropped a couple of hints in this week's edition of the Number Cruncher. If you figured them out and have some cool old-school or new-school information or pictures, send them to me at andy@mxsports.com.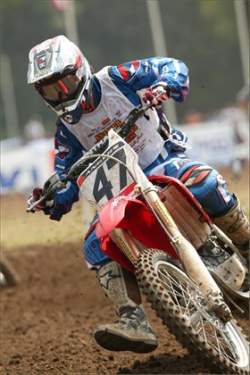 Langers at Loretta Lynn's circa '04
photo: Simon Cudby