Bench Racing Ammo: Unadilla History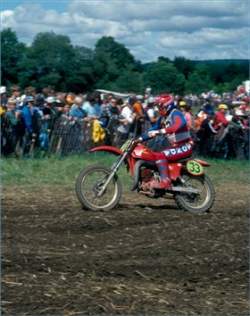 The big man, Marty Tripes, won the 1978 United States 250cc Grand Prix at Unadilla.
photo: Dick Miller Archives
This Sunday marks the halfway point of the 2006 AMA Toyota Motocross Nationals, as the series rolls into the
Unadilla
Valley Sports Center complex in New Berlin, New York. The
Unadilla
track is probably the most historical venue on the AMA tour, as it began holding professional motocross races back in 1969. Throughout the next 30 years,
Unadilla
hosted professional AMA National events, along with Trans-AMA and Trans-USA events, early Inter-Am events, several 250cc United States Grand Prix races, and the 1987 FIM Motocross des Nations. For this installment of Motosport Outlet Bench Racing Ammo, we've decided to take a look back at some of the historic events held at this legendary track.
The Trans-AMA series began in 1970 and both 250cc and 500cc machinery was used—four 250cc races and four 500cc races. The series began in LaRue, Ohio, in October and the second race of the series was held the following weekend at Unadilla. The winner of that event was England's Jeff Smith, who took the win on a BSA thumper. The top American was Maine's Peter Lamppu (who was actually from Finland, then moved to Canada). At the end of the eight-race series, which concluded on November 29 in Puyallup, WA, England's Dave Nicoll was crowned champion, with Dick Burleson finishing as the top American in fourth. As a result, he was named AMA National Champion, even though there was no true national series.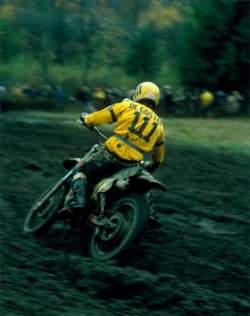 Roger DeCoster gets his mud groove on at the '75 Trans-AMA.
photo: Dick Miller Archives
Coincidentally, it would be 33 years before another thumper won at 'Dilla. That's when
Kevin Windham
knocked off then-CR250 mounted
Ricky Carmichael
in two thrilling motos aboard his Factory Connection CRF450. And Mr. Smith, the man who won on his BSA in 1970, is now on the AMA Board of Directors.
The '71 Trans-AMA Series was expanded to 12 events but was restricted to 500cc machines only. Unadilla was the fourth stop on the series, which was won by Belgium's Sylvain Geboers on Suzuki. The Trans-AMA Series continued through '78, with epic battles between Roger DeCoster and Bob Hannah highlighting the later years, and then the name of the waning series changed to the Trans-USA tour, which ran from 1979-'81.
Unadilla also hosted several Inter-Am events, beginning in August of 1971, when Czech rider Vlastimil Valek won. The series ran through '75, but events were only held at Unadilla from 1971-'73. Top American riders competing in this series included Gary Jones (who won the '72 championship), Jim Weinert, Marty Tripes, Brad Lackey, John DeSoto, Bob and Billy Grossi, Kent Howerton, Steve Stackable, and 1975 AMA 250cc National Champion Tony DiStefano.
The natural-terrain Unadilla course also attracted World Championship motocross throughout the late '70s and '80s. A round of the 250cc GP series was first held here in 1978 and was won by Marty Tripes. The next two years, this event was won by Suzuki's Kent Howerton. England's Neil Hudson finally put a stop to the American domination of this event when he won the 1981 250cc USGP. But after that, Americans won regularly—especially when Jeff Stanton came onto the scene in 1990 for Team Honda. (He raced the 250cc USGP in '89, too, only in the 125cc Support class!) In 1992, after Stanton won his third straight 250cc USGP, the event was moved to Budds Creek in Maryland, where it failed to take hold like it had in New York.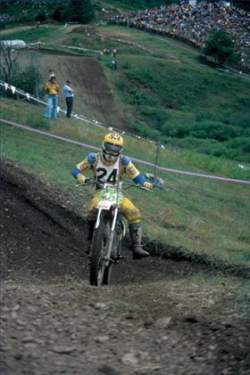 1978 again, this time though, it's Husqvarna factory rider Chuck "Rising" Sun.
photo: Dick Miller Archives
Quite possibly the most storied event held on the
Unadilla
soil, one that was even plastered on the side of U-Haul trailers, was the 1987 Motocross des Nations. It was a muddy affair, won by the homeland team consisting of Bob Hannah, Rick Johnson, and Jeff Ward.
But the longest-running series held at Unadilla is the AMA Motocross Championship Series, which began here on July 16, 1972 and has continued on and off to this day. The first event was a 250cc race, won by Hacienda Heights, CA's Gary Jones on a Yamaha. The following year, the AMA 250cc series returned and was won by Pierre Karsmakers, but the series didn't return to Unadilla until August of 1976 with the 500cc series, which ran for two years—won by Marty Smith and Steve Stackable, respectively—and then returned from 1989-'91. The 125cc AMA Motocross Series didn't begin holding events here until '89, when a young Damon Bradshaw won on the #45 Yamaha. The 250cc Nationals finally returned in '93, the year after the Grand Prix moved south. The winner? Team Kawasaki's Mike Kiedrowski.
Every top rider in the world has competed at the Robinson family farm, from Joel Robert, Roger DeCoster, and Heikki Mikkola to Stefan Everts (who finished fourth overall in the 1997 250cc national here) and Josh Coppins (sixth overall in 2002). Even AMA newcomer and 2004 MX2 World Champion Ben Townley raced here back in 2002 (he finished 10th overall via 9-13 moto scores.) The best of all time here? Gotta be seven-time AMA Motocross National winner Ricky Carmichael.
If you can't make it to the 2006 Unadilla National, be sure to tune into the Racer X Webcast presented by Cycle News at mxnationals.com beginning at 1 p.m. EST on Sunday afternoon.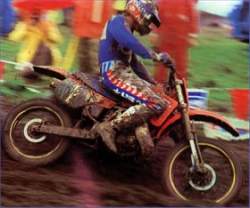 Ricky Johnson and fellow Team USA riders Jeff Ward and Bob Hannah won the '87 MXdN at 'Dilla.
photo: Courtesy of World Cross