Monday Conversation: Dusty Klatt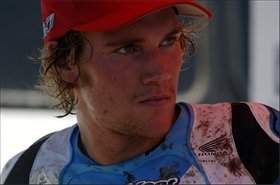 Blackfoot Honda's Dusty Klatt

After winning back-to-back MX2 Western Canadian Championships with Honda Canada Blackfoot Fox Racing, 21-year-old Dusty Klatt made his full-time rookie debut in the MX1 class this year. He's been on a tear ever since. After five-time champ and teammate Jean-Sébastien Roy swept the season opener in Quebec, Klatt has won eight consecutive motos in commanding fashion. The rookie now has a 31-point lead over the defending champ with four rounds remaining. It was another impressive weekend for Klatt in Regina, Saskatchewan. We caught up with him to ask about his thoughts on the series and his plans for possibly heading to the U.S. next year. To check out Racer X Canada's Photo Report from the race, click here.
Racer X: Congratulations, Dusty. Obviously, that was a good day for you.
Dusty Klatt: It was good, better than I expected. The past two weeks were pretty much disappointing for me. It just hasn't rained at home and it's been horrible. I haven't been able to do an actual moto for the whole two weeks, which definitely bummed me out. I've just been trying to stay at the gym and do as much off-bike training as I can, riding BMX. So coming into the weekend I was a little skeptical about how it was going to go. I figured maybe it could have been JSR's weekend to step it up, but his shoulder was bugging him a little bit. I actually ended up feeling a lot better than I figured I would—my arms weren't pumping up. That was my main concern, that my arms were going to be a little bit of a problem for me, but … it turned out good and today I felt great through both motos and I was able to push right to the end.
Tell me a little bit about that first moto. You were up front on the first lap and then you went down. What happened?
Right after the finish-line jump, I was coming into the corner and the front end just popped up over the rut, so I just washed out. I stalled the bike, got up as quick as I could, and put it in neutral and tried to get started as quickly as I could.
Do you have any idea how many people went by you?
There had to have been at least six or eight people by the time I got up. I know I was 29 seconds behind JSR by the time I got up. I wasn't expecting to catch right up; I was just hoping to get up into second by the time I got going. By the time I worked into second, it was only a few laps later, maybe three or four, and I was putting in good lap times, so I just reeled JSR in and was able to get by and ended up pulling a 40-second lead. It was a little mind-boggling, I thought, but I'll take it.
And second moto, you just checked out?
Yeah, I was able to get the holeshot and kind of ride my own race. I didn't have to deal with anyone, no roost, so that was definitely nice. I figured I would have had the holeshot in the first moto if I had stayed on the inside. I ended up drifting out a little and Willard was able to get by me. In the second moto, I made sure that I got another good start and just hugged the inside and was able to come away with it. It worked out well.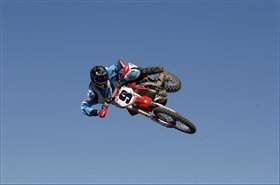 Klatt now has a 31-point lead over Jean-Sebastien Roy

You have a 31-point lead halfway through the series and a big win streak going. Did you expect any of this to be happening the way it's happening?
To win eight motos in a row, I'd have to say no, definitely not. I expected good battles for me and JSR and for us to be up there. I knew I could run his speed and it was just a matter of being ready when the time came. You know, I am ready. I wouldn't say I was 100 percent ready for this weekend—it was horrible. But I am coming out East next weekend. The Monday after Morden, I am flying out and staying in Ontario for the rest of the year, so, it should be good.
Were you expecting a few tighter battles with JSR? I know he's been struggling with a shoulder injury.
I was definitely expecting things to be a little bit closer. I definitely wasn't expecting a 40-second lead, that's for sure. I feel good, and I just have to keep on top of things and make sure I stay on top of the box for the rest of the series. It should all come together, and I hope it does to finish the year off.
Like it or not, the most popular question right now is, if you win this championship, will that be the last we see of you in Canada?
I'm not giving out any names, no nothing, but things are looking promising to head down south for next year, so … we'll keep it at that for now. I'd just like to give a big thanks to Honda Canada, Blackfoot, Fox, PR2 Motors, FMF, Red Bull, Oakley, Michelin, Renthal, Works Connection, everyone. Everyone has been putting in a solid, hard effort this year, and thanks for that. My mechanic, Pete, he's on top of everything. Dean's been telling me he's been working on my bike way longer than everyone else, and he just double-checks everything. So that's good. I'm pumped about my bike and my mechanic for making sure everything is going to work for me on the weekend. I'm just going to concentrate on what I have right now and focus and try to come out with this championship. I'll worry about going south later, after this is over.
Some people have been quick to write JSR off. How much respect do you have for him as a competitor and as a teammate?
I have a lot of respect for him. Anyone who doesn't give that guy respect is fooling themselves. He's a five-time champ. What can you say to that? To be quite honest, I never actually knew of JSR until I turned pro, but he's a great guy to be around. He's helped me out with things, and I think we've kind of learned things from each other. He's a great guy to hang out with, and he's been very supportive of me winning. He's not being too hard on himself, but we're both making sure that we're ready when the weekend comes. He's a good guy. You can't write him off. The series is only half over; we still have four weekends left. Who knows? I could wad up this weekend or next weekend. You never know, anything can happen. He's going to be there right until the end, so I'm definitely not counting him out.
Do you have plans to race any of the U.S. Nationals when the Canadian series is over?
Honestly, probably not. Sure, it would be nice to go down. I could go down there and try to prove something, but it's not worth it to go down there and race my practice bike when you line up next to everyone and you're 12 horsepower under everyone else. It's stupid, really. It's not worth the time and it's not worth the money out of my pocket. I've got things to pay for right now, like my truck. If I can finish the series and pay for that, I'll worry about next year and put in rides down there after that. We'll just have to wait and see what happens.
I'm not sure if you read Motonews or not, but there has been a lot of bench-racing about how you'd do in the U.S. Last week, Davey Coombs came to your defense and had some positive things to say about you. When you do decide to go south, what do you think it will be like with those kinds of expectations?
I think for supercross, it's still going to be a little bit of a learning experience for me. Kids down there have ridden supercross [for a long time]; there is so much of it. There's not even one supercross track in Canada that I know of. I think I can do well down there outdoors. I'd like to be on the big bike outdoors, and things are actually sounding promising for that, so it should be good. I just hope I make it healthy through the supercross season and I can be ready when the outdoors comes. I'd definitely like to step it up and make every main in supercross. Top 10 would be nice.
At the season opener in Ste-Julie, you were really excited to get out there and race. Are you still feeling that way?
I've felt that way every race since then—until this one, just because my week was so bad. I can't wait to leave home right now. I've just had enough of it. The tracks are so dry, and they are never prepped. I can't wait to head east, and I actually feel like I should be able to step it up even another notch after the break for the last three rounds. I'll be able to up my training and keep on it. I'm definitely looking forward to it.