Where Are They Now: Kenny Keylon
Sometimes "Where Are They Now?" subjects are easier to find than others. In this case, we found one of our past heroes right there where we were! On Sunday morning, we spotted former AMA National winner and Honda factory rider Kenny Keylon, from Brooksville, Florida, roaming the infield at Red Bud.

What's Kenny up to these days? "I have a commercial lighting business that I run," Keylon says. "That's what I started doing after motocross, and four years ago I started my own business. So that's what I've been doing since I stopped racing—changing light bulbs!"


Kenny's claim to fame comes from the day Honda upgraded him from production equipment to a works bike and he promptly went out and won the St. Petersburg, Florida, AMA 250 National in 1982. Unfortunately, Keylon suffered a devastating knee injury in 1983 that ended his days with Team Honda. His son Kyle is now a promising amateur prospect, though, so Kenny is once again aware of the differences between getting a factory ride and not.

"It's not near as big of a difference in the bikes now," Keylon says. "Now it's about getting under the big tent. Back then, the bike was 150 percent of the difference. The first time I rode it, I couldn't believe it. Now it's more about just getting the support."

Expect the Keylon name to pop up in racing circles a lot more soon as Kyle moves toward a pro career. "Next year I think we're going to run some East Coast supercrosses and see how he does," Kenny says.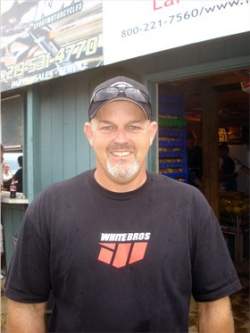 Kenny today
Photo by Jason Weigandt
This leads to the obvious question: Is Kyle fast because of the influence of his dad? Apparently, having a father who once won an AMA National doesn't carry as much clout as you think! "The guy who had Dade City Raceway, Randy Yoho, does a lot of schools, and he has really taken Kyle under his wing," Keylon says, adding with a laugh, "Kyle doesn't always listen to me, you know. It's that father-and-son thing!"
Does Kenny, long considered one of the best U.S. sand riders, get to ride much himself? "I hardly get to ride anymore, but I still do a little bit with Kyle. I stay busy with him racing all of time—we have to work on the bikes a lot and travel and still try to make a living. But I love it. This stuff, motocross, it's like drugs. Once you start, you can't get rid of it."