Thursday Rev-Up: American Motocross Now
Hello, everyone, and welcome to the Rev-Up. The 2006 Toyota AMA Outdoor Nationals will be idle for this weekend. Now this is no fun, of course, although personally speaking, I could use a break. So with 10 days in our way until Unadilla, I thought I would do another one of my "State of the Union" articles.


I believe our sport is on the cusp of another transitional period where a lot of things are going to change, most of them for the better, some maybe not so much. Change is a constant thing in a growing sport and life in general. Time rolls on and we have to stay on the beat and roll with the punches. And speaking of punches, it seems like we sure have taken a lot of heavy hits lately—more on this later. The writing on the wall tells me things are definitely going to look, sound, and feel different as we approach the end of the first decade of the millennium. Everything that has a beginning has an end, including
Ricky Carmichael
's incredible career, which has already begun to wind down. I don't know about you guys, but the inevitability of Carmichael's removal from AMA pro competition pretty much has me in a state of disbelief. All the same, some good may come of it.
It seems like yesterday that I received the news that he had beaten then-125-class king Steve Lamson in the spring of '97 at Gatorback to win what was only the second AMA National of his career. Nine years and 14 (going on 15) major AMA titles later, it's all going to come to an end. What did RC do for the sport? I remember hearing criticism about him not being marketable or really not playing much of a role in promoting the sport. But that was early on. Once he figured it all out, Ricky did much more than sell gear, bikes, and tickets. While he might not have been as good at those things as, say, Jeremy McGrath or
Travis Pastrana
, he did something else, something I feel is just as important: Ricky singlehandedly increased the integrity of our sport with his work ethic and determination. Just when it looked like there may have been 10,000 mini Seth Enslows running around once the MC era was over, Ricky changed the way you have to ride if you wanted to win. He made it so you have to ride hard the whole moto, you have to train, you have to be disciplined, and you have to want it more than anything else in the world.
Ten years from the time he started, the sport is a much better place, and some credit goes to Carmichael. If you haven't gotten out to attend an outdoor national this year to see him go, do it now. Get out to
Unadilla
, Lakewood,
Washougal
, or any of the other upcoming outdoor nationals, because the man is still carrying the mail and we are running out of time to watch The GOAT while he is at his best.
So what is going to happen when he leaves? The immediate future is in the hands of
James Stewart
, although his tenure at the top may not be as long as Ricky's. The 20-year-old has already made a pile of money, and how long can his body take the beating it has already suffered? I was 60 yards away from him when he stacked it up at
High Point
; I just saw his
Southwick
crash earlier in the week on OLN. Both of those were possible career-enders. I mean, those were extremely brutal and dangerous crashes. People have been saying it all year, and I will reiterate: The crashes have to stop, and they have to stop right now. His focus has to sharpen, which means maybe slowing down at times to win, because if the crashes don't stop, the concussions might start repeating and expanding the damage, or his knees and wrists and shoulders could became as fragile as those of a Pastrana or a Robbie Reynard.
I have known the Stewart family for over a decade, and I would like nothing better than for James to complete his dreams of being AMA Supercross and AMA Motocross Champion. He is so fun to watch,. and he really loves winning. And of course, his marketability is good for the whole sport. He would be the first kid to take it from a title in the 51cc class at Loretta's to the top of the podium at the supercross banquet in Vegas. It's going to happen, but how many times? Just as Ricky has been there to capitalize on his mistakes, Reed will be right there next year, and maybe even guys like Millsaps and Tedesco and more. Stewart can run the show all right, but he has to finish, too. Maybe his smooth but still very fast efforts at
Southwick
(the crash was mechanical) and
Red Bud
are a sign of things to come, and that certainly bodes well for his long-term future.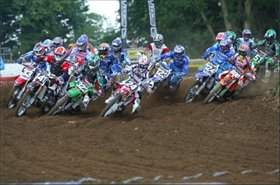 The 250F class of today will make a fine 450 class in the years to come
Then what is going to happen when James leaves? I see things getting very, very interesting. I really believe this is when we are going to see the sport reach a new pinnacle. We will at long last have the parity we have been looking for in our premier division. Imagine the 2010 450cc Anaheim 1 main event with names like Millsaps, Langston, Short, Villopoto, Alessi, Hepler, Grant, Lawrence, Hahn, Townley, and maybe Pourcel or Searle or Rattray…. Almost a dozen guys that have virtually the same chance of winning as the other. This is what it used to be like! Barnett, Lechien, Wardy, Johnson, Glover, O'Mara, Bailey, Hannah—those guys used to throw down every Saturday night with no certainty of who would win.
Hell, if that doesn't get you fired up, think about the 250F class at the same race in 2010!
Austin Stroupe
, Sean Hackley,
Dominic Izzi
,
Kyle Cunningham
,
Jimmy Albertson
, Matthew Lemoine,
Matt Boni
,
Ryan Dungey
,
Wil Hahn
,
PJ Larsen
, Jase Lewis, Brock Tickle … I could go on and on.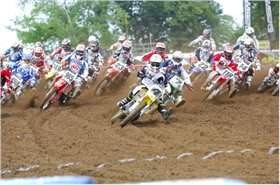 In the meantime, we can still appreciate some fantastic talent in the premier division.
I think our sport is in fine shape. Some of the other major motor sports like NASCAR have a major problem on their hands, in that they are experiencing a strange shortage of drivers—they have more big sponsors and good rides than they do good drivers. Wow, wouldn't be a nice problem to have? Not to fret, I really believe that kind of mainstream support is coming our way. Like it or not, a hell of a lot of synergy is being drawn between motocross and NASCAR. Soon we will see some cross-marketing take place between sponsors. Actually, it already is. No Fear and SoBe sponsored that cat Boris Said who was on the pole at Daytona this week. We just have to hope that our governing bodies make the right moves and have the right people in place to massage this scenario into reality.
But we have our problems—the biggest and most frightening of which is the same as it ever was: riders getting injured. The math is there: more people riding and more bikes being sold, so proportionally more riders are getting hurt. But that doesn't make it any better when you hear about the next injury—not like the one this week.
I want to extend my thoughts and prayers to Billy Whitley and his family. Billy's son Hunter suffered a broken T-3 vertebra, and he had surgery today to try to repair what they could. Billy is about as top-shelf as they come, and I have known him since I was 16 years old. Billy took care of me when I was a rookie on the arenacross circuit and always had my back. Hey, brother, I'll be praying for Hunter and your group.
People, we have to be as proactive with the safety issue as we can. Like everything else in the world, technology leads the way, then we slowly catch back up. Let's get caught back up, dammit.
Like Weege said, the sport of motocross is alive and well. It truly is. Motocross has taken care of me since I was 4 years old. I am 29 this year, and I have a job in motocross. I survive on motocross. The leaps and bounds we have made in the past ten years are going to make sure a lot more people are able to live their dreams racing motocross for a living. The Mt. Rushmore of American motocross with Hannah, McGrath, Carmichael, and Roger DeCoster is a grand monument for the upcoming kids to look up to. The state of American motocross is good. And it's going to get better.
Thanks for reading, see you next week.