Privateer Profile: Jacob Marsack
Allenton, MI's Jacob Marsack has been quite a success story so far in 2006. The 20-year-old privateer is in this third year as a professional, and he scored two 13th-place finishes in the 450 class at the San Francisco and Seattle Supercrosses. While coming off of his best finish at Budds Creek, Jake suffered a terrible practice crash that resulted in a broken pelvis and an end to his 2006 season. In between playing poker and channel-surfing, Jake found time to talk to us for this installment of the Sponsorhouse.com Privateer Profile. Be sure to show Jake and his sponsors support by clicking on the links at the bottom of the page.
Racer X: Jacob, we heard you suffered a pretty bad crash last week. How are you feeling?

Jacob Marsack
: I've been better. I broke my pelvis in four places.
Wow. Well, before we get into that, let's look on the bright side of things: That was a heck of a ride you put in at Budds Creek a couple weeks ago. Although you finished 22nd overall, you went 20-18 in your motos. Tell us about that day.

Well, the qualifiers didn't go too well because I hurt my arm, but I made it into the main. I had a pretty bad gate pick and I was on the outside and I got shoved out and was in the 30s after the second corner. But I worked up and I stayed in 20th the first moto. My dad helped me out and was putting 20th on the pit board each lap. We used a lot of communication that moto to stay up there. In the second moto I got a little better start and worked up to 16th. I was staying there pretty good and then, two laps till the end, I got held up by a rider and got a little tired and got passed by two guys. I tried passing them back but just couldn't do it and ended up 16th.
I know you scored a bunch of points in supercross, but I believe those were your first points in an outdoor national thus far this season.

Yeah, those were the first this year. Last year I only scored two points all season.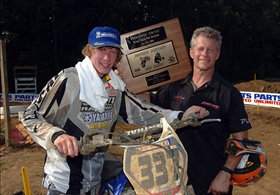 Marsack picked up a plaque and $1,000 from the Southen Maryland Dirt Riders at Budds Creek
photo: Carl Stone

You also received an award from the Southern Maryland Dirt Riders for your effort. What exactly did you receive?

I got a plaque and $1,000. It's a nice little bonus. They brought me up on the podium. I guess they chose one privateer in each class that they thought deserved it most, and they chose me. I'm really thankful for that, and it definitely helped because I'm sitting around doing nothing now.
It seemed like a perfect weekend to score your first national points outdoors and carry some confidence into your home state of Michigan. Unfortunately, the week prior to Red Bud is when you crashed. What happened?

Yeah, after Budds I just took the week off and just worked out and didn't ride much. The next week I was hitting it really hard, riding and training. I rode Monday, Tuesday, and Wednesday. I was running a lot and felt like I was going pretty good, and then on Thursday I was riding on my track behind the house, just play-riding with Clark's [Stiles] mechanic through a whoop section I built. They're just like roller whoops. But they said I was just tripling through and wheel-tapping one jump, and when I did that I went sideways and started swapping and the bike pile-drove me right into the next whoop. I hit my head really hard and broke my scapula in my shoulder and the bike landed on me and broke my pelvis, burned me, and put a hole in my arm, which I had to get stitched up. They then picked the bike off of me, put me on a piece of plywood, and took me to the hospital.
Wow, Jake, that's terrible. At this point, have you thought about when you may possibly be back on a motorcycle?

Yeah, they said it would be six to eight weeks, but then I have to go through therapy and all that. The pelvis is feeling pretty good, but I've been staying off of it, obviously. But I've been getting around pretty good on crutches, so I'm staying positive. At least I have some time now to catch up with some of my friends. I checked my voice mails today and one of them is getting married.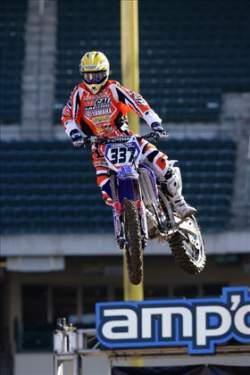 photo: Simon Cudby

Sitting on the couch is a huge change of pace for you, because since the opening round of the Amp'd Mobile World SXGP Series in Toronto back in December, you've been going at it full-bore, haven't you?

Yeah, it's definitely a change of pace. Even before Toronto, I was down in Alabama practicing. The season really never stops for us, but it's definitely different sitting on the couch watching TV and playing poker.
This is your third year racing professionally, so what's the major difference from this year compared to the others?

I think riding with good riders and being on a team. I've learned a lot from my teammates, and I've had good accessibility to some good tracks. And stepping up to the bigger class helped because I've learned a lot riding with the faster riders.
How did the deal with Team SoCal Racing come up?

It was pretty much continued from last year. I was on the MXPrivateer.net team in 2005, and this team came about and one thing led to another and I was asked to join this team. We definitely made some huge strides, and we have some really good riders. Clark Stiles taught me a lot and I rode down in Alabama with him quite a bit. He taught me some different training techniques, as well.
Do you think the SoCal Yamaha team will be around for a while?

Yes, they definitely should. We had a good team this year, and I think it's a team that's coming up.
While watching No Fear's The Great Outdoors: The Privateers DVD, you and your father, Jim, are featured on the video quite a bit. It seems like your dad is your number-one fan and supporter.

Oh yeah, my dad is definitely the big supporter. Without him, I wouldn't be where I am today. He also contributes a lot to our team, which is really good. He's also my mechanic, and we make a good team. We have some tricks that we use—just anything to gain any advantage. From that video, he's known as the Peanut Butter and Jelly Man!
Yeah, he's rumored to make a gourmet PB&J. Well, thanks for your time, Jake, and good luck in the healing process.

Thanks a lot, Billy.
www.vortexracing.com

www.sidisport.com

www.shoei-helmets.com